Psychology
Defense Mechanisms. Defense mechanisms are automatic psychological processes that protect an individual from anxiety and the awareness of internal or external threats or stressors.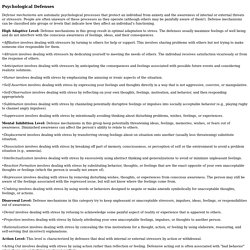 People are often unaware of these processes as they operate (although others may be painfully aware of them!). Defense mechanisms can be classified into groups or levels that indicate how they affect an individual's functioning. High Adaptive Level: Defense mechanisms in this group result in optimal adaptation to stress. Brain on Religion. Principles of NeurotheologyBy Andrew B.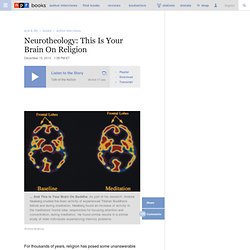 NewbergPaperback, 284 pagesAshgateList price: $29.95 "Neurotheology" is a unique field of scholarship and investigation that seeks to understand the relationship specifically between the brain and theology, and more broadly between the mind and religion. As a topic, neurotheology has garnered substantial attention in the academic and lay communities in recent years. Future Predicted. Later today you are going to do something, something you don't know about yet.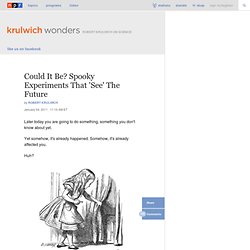 Yet somehow, it's already happened. Somehow, it's already affected you. Huh? One of the most respected, senior and widely published professors of psychology, Daryl Bem of Cornell, has just published an article that suggests that people — ordinary people — can be altered by experiences they haven't had yet. Loner Guide. Miina Matsuoka lives by herself in New York City.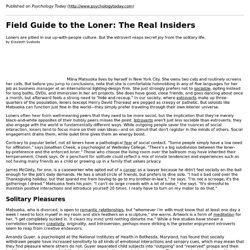 She owns two cats and routinely screens her calls. But before you jump to conclusions, note that she is comfortable hobnobbing in any of five languages for her job as business manager at an international lighting-design firm. She just strongly prefers not to socialize , opting instead for long baths, DVDs, and immersion in her art projects. Rosenhan Experiment. Rosenhan's study was done in two parts.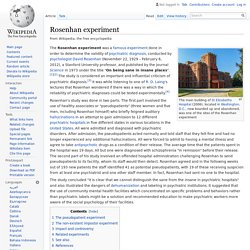 The first part involved the use of healthy associates or "pseudopatients" (three women and five men) who briefly feigned auditory hallucinations in an attempt to gain admission to 12 different psychiatric hospitals in five different States in various locations in the United States. All were admitted and diagnosed with psychiatric disorders. After admission, the pseudopatients acted normally and told staff that they felt fine and had not experienced any more hallucinations.
Bizarre Experiments. By Megan Wilde 1.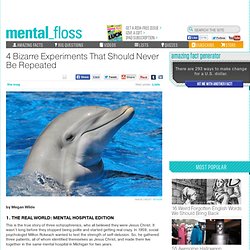 The Real World: Mental Hospital Edition This is the true story of three schizophrenics, who all believed they were Jesus Christ. Ethics.
---