Business and Entrepreneur
The U.S. Small Business Administration. WaSP InterAct Curriculum. The Foundry | David Eccles School of Business. Ticks - Elegant time tracking software for freelancers. Elegant time tracking for freelancers Ticks is a simple time tracking utility that runs from the Windows task tray.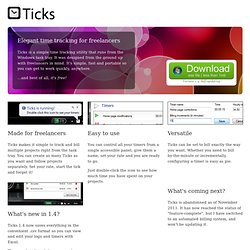 It was designed from the ground up with freelancers in mind. It's simple, fast and portable so you can get to work quickly, anywhere. ...and best of all, it's free! Hyper Island | Full-time Programs & Executive Education. KAOSPilot. Khan Academy. We educate change makers - Knowmads. Free Online Courses, Workplace Skills Training, Interactive Education and Multimedia Learning | ALISON.
MyEJ Home. Kickstarter. The Edmundites Society of Saint Edmund.
---