CSS3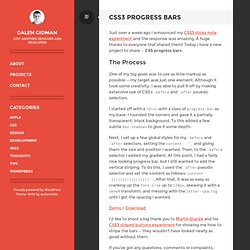 Just over a week ago I announced my CSS3 sticky note experiment and the response was amazing. A huge thanks to everyone that shared them! Today I have a new project to share — CSS progress bars.
Galen Gidman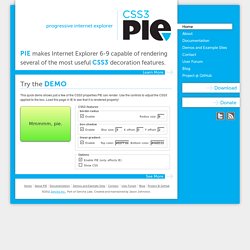 PIE makes Internet Explorer 6-9 capable of rendering several of the most useful CSS3 decoration features. Learn More This quick demo shows just a few of the CSS3 properties PIE can render. Use the controls to adjust the CSS3 applied to the box. Load this page in IE to see that it is rendered properly! Mmmmm, pie.
CSS3 is hot these days and will soon be available in most modern browser. Just recently, I started to become aware to the present of CSS3 around the web. I can see some of the websites such as twitter and designer portfolios websites are using it. Also, I have started to implement it to my own project as well and I really love it! However, it will take a while to ditch CSS2 though. I did some search around the web and there are heaps of CSS3 examples that are really make my eyes wide opened!
18 Incredible CSS3 Effects You Have Never Seen Before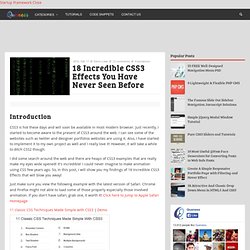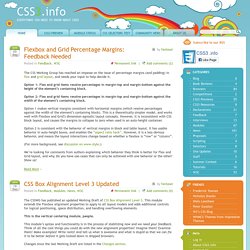 The CSS Working Group has published an updated Working Draft of CSS Grid Layout. This CSS module defines a two-dimensional grid-based layout system optimized for user interface design. This is publication is a major update: not only has the draft generally been reorganized and much of the prose rewritten to fill in missing details, avoid repetition, improve precision and terminology, and ensure alignment with Flexbox, but it's switched to a new positioning model. The old grid layout model uses properties to indicate the starting row/column and the item's span.
There are wonderful times for us web-designers. CSS3 has finally arrived and it's here to stay. With an equal high support among all modern browsers we have great possibilities right at our fingertips.css3files.com is not only here to guide you through the often dense jungle of the CSS3 syntax, but it also wants you to encourage to use CSS3 right now!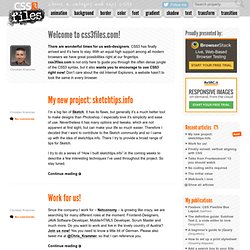 How To Get The Most Out Of CSS3
CSS3 is a diverse language that unlocks many more possibilities in design, especially if you wish to obtain that sleek design component without the use of heavy graphics or even too much server-side coding. CSS3 is currently still in development, but you can still use it for your website provided that you know what browsers it functions in. Some browsers that allow CSS3 compatibility would be: Firefox 3.6 and up, Internet Explorer 8 and up, Opera, Google Chrome and Safari. Now, here are some of the cool things that you can do to get the most out of CSS3.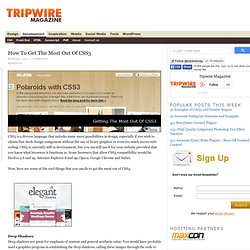 Ever since the announcement of in 2005, the development of the level 3 of Cascading Style Sheet or better known as CSS3 has been closely watched and monitored by many designers and developers. All of us excited to get our hands on the new features of CSS3 – the text shadows, borders with images, opacity, multiple backgrounds, etc, just to name a few. As of today, not all selectors of CSS3 are fully supported yet.
Beginner's Guide to CSS3