Colour Psych
Beyond Pink and Blue: A Look at Gender Colors. It goes beyond culture.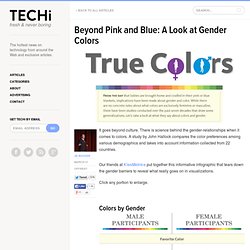 There is science behind the gender-relationships when it comes to colors. A study by John Hallock compares the color preferences among various demographics and takes into account information collected from 22 countries. Our friends at KissMetrics put together this informative infographic that tears down the gender barriers to reveal what really goes on in visualizations.
Click any portion to enlarge. Colors by Gender. Colours In Cultures. His And Hers Colors – Men, Women, And Two Thousand Color Names. Picture a happy couple – let's call them Dick and Jane – out furniture shopping.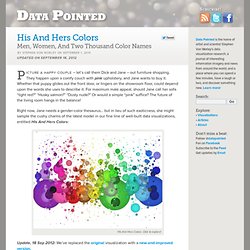 They happen upon a comfy couch with pink upholstery, and Jane wants to buy it. Whether that puppy glides out the front door, or lingers on the showroom floor, could depend upon the words she uses to describe it. How do colors affect purchases? For retailers, shopping is the art of persuasion.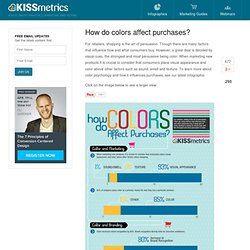 Though there are many factors that influence how and what consumers buy. However, a great deal is decided by visual cues, the strongest and most persuasive being color. When marketing new products it is crucial to consider that consumers place visual appearance and color above other factors such as sound, smell and texture. Colors of the Social World (Wide Web) [Infographic + Video] by COLOURlovers. When a social network like Twitter allows a user to select a theme to represent themselves in the digital world, that user is choosing to identify their digital persona with colors...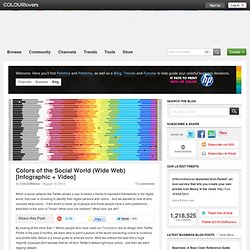 And we wanted to look at who chooses what colors... If the world is made up of people and those people have a color preference... what then is the color of Texas? What color are mothers? Color Theory Infographic - Josh's on-again off-again. Color of the year 2010.
---