Survivalist
How to Kill a Chicken | Hip Chick Digs. ***Warning: This is a pretty graphic post about how to butcher a chicken, complete with pictures and lots of description.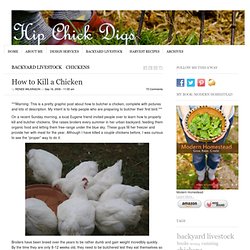 My intent is to help people who are preparing to butcher their first bird.*** On a recent Sunday morning, a local Eugene friend invited people over to learn how to properly kill and butcher chickens. She raises broilers every summer in her urban backyard, feeding them organic food and letting them free-range under the blue sky. Boobytraps & How To Make Improvised Booby Traps – Illustrated Designs. In warfare, a booby trap is an anti-personnel weapon that has a psychological attraction for enemy soldiers.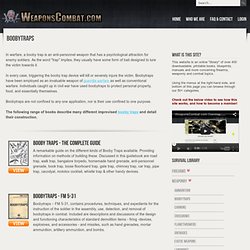 As the word "trap" implies, they usually have some form of bait designed to lure the victim towards it. In every case, triggering the booby trap device will kill or severely injure the victim. Boobytraps have been employed as an invaluable weapon of guerrilla warfare as well as conventional warfare. Pole Shift Survival Information. Survival. Survivalist. Improvised Munitions Handbook | Liberty References. Home. Urban Survival Tools is a First Aid Kit and Survival Kit making company and online retailer.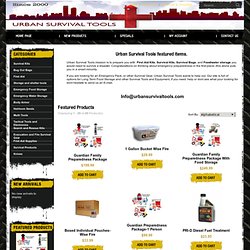 We produce products you will need to survive any emergency or wilderness situation. Our main offerings include: Urban Survival Kits,Bug Out Bags and First Aid Supplies. HOMEMADE OUTDOOR GEAR. Now available FREE on an offline 4xDVD set to Third World/Developing Countries - 4000 Electronic Books online and offline with Practical Technical Development Information for the Third World. Agriculture, Health, Education, Small Industries etc etc. Pack a Backpack for Camping. From Wired How-To Wiki A well-packed sack will save your back.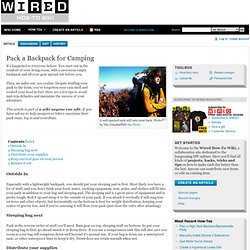 Photo by The Glasshalffull via Flickr. It's happened to everyone before. How to Make a Bug Out Bag. Editor's note: This is a guest post from Creek Stewart of Willow Haven Outdoor.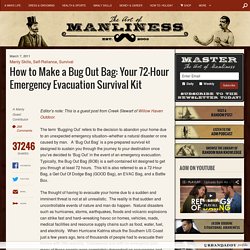 The term 'Bugging Out' refers to the decision to abandon your home due to an unexpected emergency situation–whether a natural disaster or one caused by man. A 'Bug Out Bag' is a pre-prepared survival kit designed to sustain you through the journey to your destination once you've decided to 'Bug Out' in the event of an emergency evacuation. Typically, the Bug Out Bag (BOB) is a self-contained kit designed to get you through at least 72 hours. This kit is also referred to as a 72-Hour Bag, a Get Out Of Dodge Bag (GOOD Bag), an EVAC Bag, and a Battle Box. Dandelions. By Anita Sanchez Whether you love them or hate them, dandelions are among the most familiar plants in the world.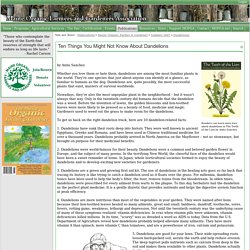 They're one species that just about anyone can identify at a glance, as familiar to humans as the dog. Tautline Hitch. © Copyright 2014 John E Sherry.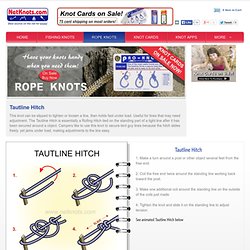 All rights reserved Disclaimer: Any activity involving rope can be dangerous and may even be life threatening! Survival Gear Review. Top 10 Survival Downloads You Should Have. Modern Survival Online There are tons of good downloads in the Survival Database Download section of this website.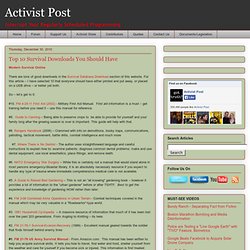 For this article – I have selected 10 that everyone should have either printed and put away, or placed on a USB drive – or better yet both. So – let's get to it: #10. FM 4-25-11 First Aid (2002) - Military First Aid Manual. Custom Tree House Plans, DIY Ideas & Building Designs. No, really: would you want to design, build and live in an real fantasy tree house all year round?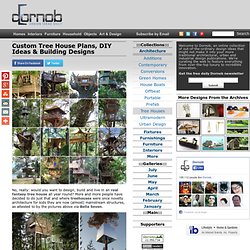 More and more people have decided to do just that and where treehouses were once novelty architecture for kids they are now (almost) mainstream structures, as attested to by the pictures above via Bella Seven. Many modern tree house designs and home designers and custom builders take a site-specific approach and construct their tree buildings around not only views and rooms but also have to account for access and structural support in unique and novel ways.
Some of the results are little auxiliary spaces intended for guests or vacations while others are fully developed tree homes with everything need for daily living. While a lot of attention is paid to lofty plans by fashionable designers, there are many people who continue to use quite conventional home-building plans, techniques and materials to construct tree homes and cabins that look much like ordinary residences on the ground below. Cold Weather & Back Country Skiing Snowboarding Survival. BACKPACKING LIGHTWEIGHT - Backpacking & Hiking Resources. How To Be A World-Class Survivalist in 5 Simple Steps. Joy Paley Activist Post With the recent econopocalypse, it's no wonder that people are becoming more interested in what it would take to survive after our current society has undergone a major shift.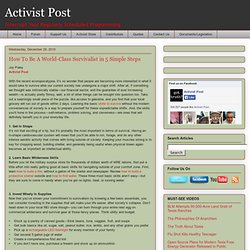 After all, if something we thought was intrinsically stable—our financial sector, and the guarantee of ever increasing wealth—is actually pretty flimsy, well, a lot of other things can be brought into question too. Take out a seemingly small piece of the puzzle, like access to gasoline, and you find that your local grocery will run out of goods within 2 days. Learning the basic skills to survive.
10 Skills Every Survivalist Should Learn. Yurt Buildng. Here is a free copy of my book Build your own yurt, written in 1995, It has been used by a great many people who have built their own yurts. Our designs have progressed enormously since 1995. For a much more comprehensive guide see The Complete Yurt Handbook or see the rest of our website.
The Fantastic Four – 4 Essential Wild Edible Plants that May Just Save Your Life | Tactical Intelligence. Did you realize that knowing just 4 wild edible plants could one day save your life? If there were any four categories of plants that I would recommend all people to know how to use and identify it would be these: Grass, Oak, Pine, and Cattail. For the knowledgeable survivor, knowing just these four plants can make the difference between life and death if stranded in the wilds – for each one is an excellent food source which can sustain you until help arrives. Throughout this week and part of the next, I'll be going into details on how you can prepare and eat these plants.
For now though, here's a quick overview into what they have to offer: Grass. How to Forecast Weather | Ever wondered how to forecast the weather without actually using instruments? Check the Clouds: Clouds can tell us a lot about the weather. For example, they can tell us if it's going to be warmer on a particular night by simply being there. That's because they prevent heat radiation from escaping.
---