Archeology
The Ten Commandments, also known as the Decalogue, are a set of biblical principles relating to ethics and worship, which play a fundamental role in Judaism and Christianity. They include instructions to worship only God and to keep the sabbath, and prohibitions against idolatry, blasphemy, murder, theft, dishonesty, and adultery. Different groups follow slightly different traditions for interpreting and numbering them. The Ten Commandments appear twice in the Hebrew Bible, in the books of Exodus and Deuteronomy.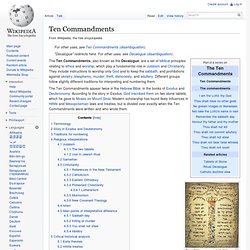 How at the Castle of Corbin a Maiden Bare in the Sangreal and Foretold the Achievements of Galahad: illustration by Arthur Rackham, 1917 The Holy Grail is a dish, plate, stone, or cup that is part of an important theme of Arthurian literature.
Holy Grail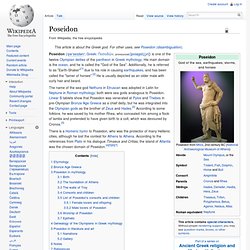 Poseidon (/pəˈseɪdən/; Greek: Ποσειδῶν, pronounced [pose͜edɔ́͜ɔn]) is one of the twelve Olympian deities of the pantheon in Greek mythology. His main domain is the ocean, and he is called the "God of the Sea". Additionally, he is referred to as "Earth-Shaker"[1] due to his role in causing earthquakes, and has been called the "tamer of horses".[2] He is usually depicted as an older male with curly hair and beard. The name of the sea-god Nethuns in Etruscan was adopted in Latin for Neptune in Roman mythology; both were sea gods analogous to Poseidon. Linear B tablets show that Poseidon was venerated at Pylos and Thebes in pre-Olympian Bronze Age Greece as a chief deity, but he was integrated into the Olympian gods as the brother of Zeus and Hades.[2] According to some folklore, he was saved by his mother Rhea, who concealed him among a flock of lambs and pretended to have given birth to a colt, which was devoured by Cronos.[3]
Ancient Greece
Scientists draw ancient squid using its own 150 million-year-old ink | MNN -...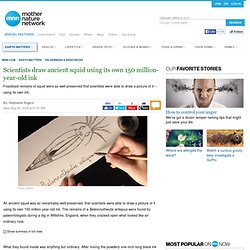 Photo: BNPS
Skeleton Squadron & Ancient Shore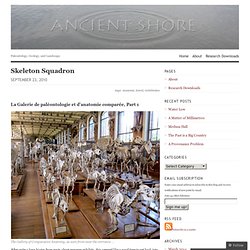 La Galerie de paléontologie et d'anatomie comparée, Part 1 The Gallery of Comparative Anatomy, as seen from near the entrance ... After quite a long hiatus from posts about museum exhibits, this seemed like a good time to get back into the subject. We have visited some strange and wondrous museums in the past few months, but the strangest and most wondrous of all has to be this old museum close to the Gare d'Austerlitz in Paris.
User:Colin Douglas Howell/Dinosauria size comparison table - Wikipedia, the...
Radiation still so intense, the area is highly dangerous. A heavy layer of radioactive ash in Rajasthan, India, covers a three-square mile area, ten miles west of Jodhpur. Scientists are investigating the site, where a housing development was being built. For some time it has been established that there is a very high rate of birth defects and cancer in the area under construction. The levels of radiation there have registered so high on investigators' gauges that the Indian government has now cordoned off the region.