Archeology
Ten Commandments. The Ten Commandments, also known as the Decalogue, are a set of biblical principles relating to ethics and worship, which play a fundamental role in Judaism and Christianity.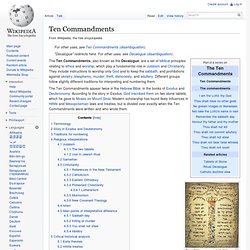 They include instructions to worship only God and to keep the sabbath, and prohibitions against idolatry, blasphemy, murder, theft, dishonesty, and adultery. Different groups follow slightly different traditions for interpreting and numbering them. Terminology[edit] Holy Grail. How at the Castle of Corbin a Maiden Bare in the Sangreal and Foretold the Achievements of Galahad: illustration by Arthur Rackham, 1917 The Holy Grail is a dish, plate, stone, or cup that is part of an important theme of Arthurian literature.
A grail, wondrous but not explicitly holy, first appears in Perceval le Gallois, an unfinished romance by Chrétien de Troyes:[1] it is a processional salver used to serve at a feast. Chrétien's story attracted many continuators, translators and interpreters in the later 12th and early 13th centuries, including Wolfram von Eschenbach, who makes the grail a great precious stone that fell from the sky. Poseidon. There is a Homeric hymn to Poseidon, who was the protector of many Hellenic cities, although he lost the contest for Athens to Athena.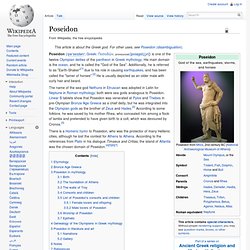 According to the references from Plato in his dialogue Timaeus and Critias, the island of Atlantis was the chosen domain of Poseidon.[4][5][6][7] Etymology The earliest attested occurrence of the name, written in Linear B, is 𐀡𐀮𐀆𐀃 Po-se-da-o or 𐀡𐀮𐀆𐀺𐀚 Po-se-da-wo-ne, which correspond to Poseidaōn and Poseidawonos in Mycenean Greek; in Homeric Greek it appears as Ποσειδάων (Poseidaōn); in Aeolic as Ποτειδάων (Poteidaōn); and in Doric as Ποτειδάν (Poteidan), Ποτειδάων (Poteidaōn), and Ποτειδᾶς (Poteidas).[8] A common epithet of Poseidon is Γαιήοχος Gaiēochos, "Earth-shaker," an epithet which is also identified in Linear B tablets. Another attested word 𐀁𐀚𐀯𐀅𐀃𐀚, E-ne-si-da-o-ne,[9][10] recalls his later epithets Ennosidas and Ennosigaios indicating the chthonic nature of Poseidon.[11] Ancient Greece. Latin Mottos, Latin Phrases, Latin Quotes and Latin Sayings. History: Ancient History in-depth. Scientists draw ancient squid using its own 150 million-year-old ink | MNN -...
An ancient squid was so remarkably well-preserved, that scientists were able to draw a picture of it using its own 150 million-year-old ink.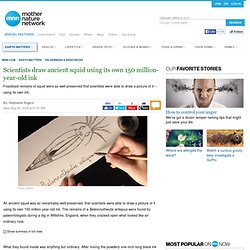 The remains of a Belemnotheutis antiquus were found by paleontologists during a dig in Wiltshire, England, when they cracked open what looked like an ordinary rock. What they found inside was anything but ordinary. After mixing the powdery one-inch-long black ink sac with an ammonia solution, the ink they created was of good enough quality to draw the squid-like creature and write its Latin name. Skeleton Squadron & Ancient Shore. La Galerie de paléontologie et d'anatomie comparée, Part 1 The Gallery of Comparative Anatomy, as seen from near the entrance ...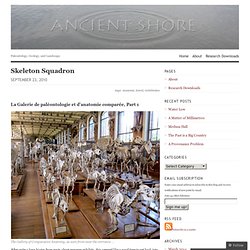 After quite a long hiatus from posts about museum exhibits, this seemed like a good time to get back into the subject. We have visited some strange and wondrous museums in the past few months, but the strangest and most wondrous of all has to be this old museum close to the Gare d'Austerlitz in Paris. User:Colin Douglas Howell/Dinosauria size comparison table - Wikipedia, the... Ancient City Found in India, Irradiated from Atomic Blast. Radiation still so intense, the area is highly dangerous.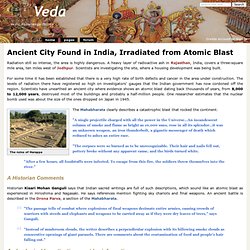 A heavy layer of radioactive ash in Rajasthan, India, covers a three-square mile area, ten miles west of Jodhpur. Scientists are investigating the site, where a housing development was being built. For some time it has been established that there is a very high rate of birth defects and cancer in the area under construction. The levels of radiation there have registered so high on investigators' gauges that the Indian government has now cordoned off the region.
---