Management Techniques
5 clés du management transversal
Problem-Solving Skills From MindTools
Find the fundamental cause, and you're half way there. © iStockphoto The 25+ tools in this section help you solve complicated business problems. By using these techniques, you can start to deal with problems that might otherwise seem huge, overwhelming, or excessively complex.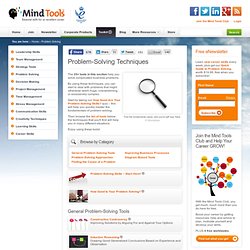 Mission d'expertise en gestion de projet 3D « Cubix Project Management
Cubix propose des missions d'expertise en gestion de projet 3D. Le principe de ces missions est de s'adapter au besoin du client et de lui développer une solution sur mesure basée sur le modèle 3D: Ces missions se basent sur des méthodes standards qui s'appuient sur celle du WBS 3D. Elles utilisent les outils de planification standards du marché et les structurent autour du concept WBS 3D. Les thématiques abordées tournent autour du cube WBS, et concernent la maîtrise et le contrôle des délais, des coûts, des risques, ainsi que les tableaux de bord et rapports .
Cubix Project Management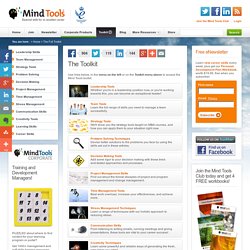 You are here: > Home > The Full Toolkit Use links below, in the menu on the left or on the Toolkit menu above to access the Mind Tools toolkit. Leadership Tools Whether you're in a leadership position now, or you're working towards this, you can become an exceptional leader!
Le perfologue, le blog pro de la performance et du techno manage
Qu'est-ce que l'Analyse SWOT ?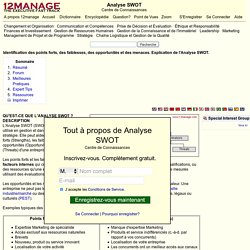 SWOT Analysis (Analyse SWOT)