Management Techniques
5 clés du management transversal. Comment coordonner une diversité d'activités et faire coopérer des équipes aux contraintes et objectifs différents ?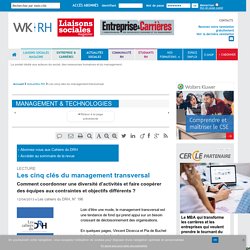 Loin d'être une mode, le management transversal est une tendance de fond qui prend appui sur un besoin croissant de décloisonnement des organisations.En quelques pages, Vincent Dicecca et Pia de Buchet tentent d'apporter des réponses aux questions que se posent nombre de managers : sans pouvoir hiérarchique, comment porter la responsabilité d'enjeux forts ? Comment affirmer et faire reconnaître leur légitimité managériale ? Comment faire collaborer et coopérer les contributeurs ? Quelle stratégie adopter ? Problem-Solving Skills From MindTools. Find the fundamental cause, and you're half way there. © iStockphoto The 25+ tools in this section help you solve complicated business problems.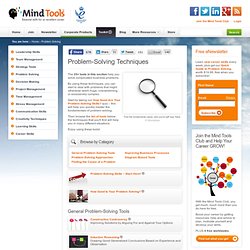 By using these techniques, you can start to deal with problems that might otherwise seem huge, overwhelming, or excessively complex. Gestion de Projet. Cubix Project Management. Mind Tools - Management Training, Leadership Training and Career Training. The Mind Tools Full Toolkit. Use links below, in the menu on the left or on the Toolkit menu above to access the Mind Tools toolkit.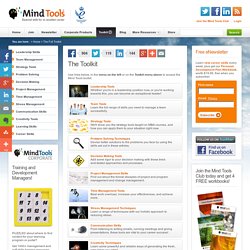 Leadership Tools Whether you're in a leadership position now, or you're working towards this, you can become an exceptional leader! Team Tools Learn the full range of skills you need to manage a team successfully. Le perfologue, le blog pro de la performance et du techno manage. Le quotidien du manager de terrain Par Alain Fernandez Depuis 2004, le perfologue (www.piloter.org/blog) est le blog pro dédié au management de la performance.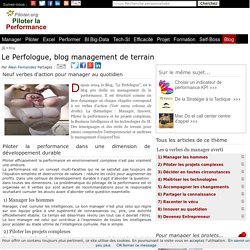 Il est structuré comme un livre dynamique où chaque chapître correspond à un verbes d'action (Voir menu supérieur). La thématique : Manager, Innover, Piloter la performance et les projets complexes, la Business Intelligence et les technologies du SI. SWOT Analysis (Analyse SWOT) Qu'est-ce que l'Analyse SWOT ?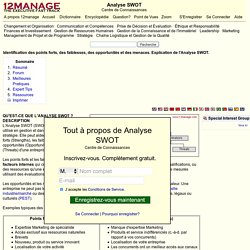 Description L'Analyse SWOT (SWOT analysis) est un outil, utilisé en gestion et dans la formulation de la stratégie. Elle peut aider à identifier les points forts (Strengths), les faiblesses (Weaknesses), les opportunités (Opportunities) et les menaces (Threats) d'une entreprise particulière.
---