Bombay I+D
Flickr Time, The MOMMENT. At that time, what were you doing.
Photos
We Read, We Tweet: Visualizing the New York Times through Twitter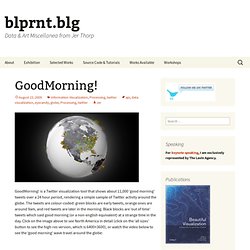 GoodMorning!
GoodMorning!
Herman Miller
What Do You Suggest takes a seed from you (or gives you something random) then guides you on a journey through language and the collective lives of Google users. Using data from Google to make suggetions on where you might like to go next, What Do You Suggest is an experimental and interactive environment designed to explore how we use language and search on the internet. You can read more about the site on my blog. As part of this experiment, I'm recording some data about how people use the site and the paths they choose to explore.
What do you suggest?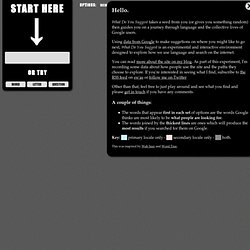 Zoho:Lab - End of Year Top Album Charts = UI/UX Data Visualisation Example
Bicycle Built for Two Thousand
Nebul.us
Argon