Bombay I+D
Flickr Time, The MOMMENT. At that time, what were you doing. Twitterfountain. Photos. We Read, We Tweet: Visualizing the New York Times through Twitter. Twitter Friends Network Browser. Tweet Topic Explorer. We Feel Fine / by Jonathan Harris and Sep Kamvar. GoodMorning! GoodMorning!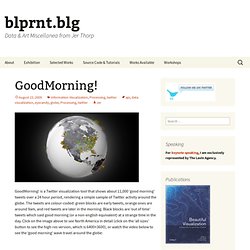 Is a Twitter visualization tool that shows about 11,000 'good morning' tweets over a 24 hour period, rendering a simple sample of Twitter activity around the globe. The tweets are colour-coded: green blocks are early tweets, orange ones are around 9am, and red tweets are later in the morning. Black blocks are 'out of time' tweets which said good morning (or a non-english equivalent) at a strange time in the day. Click on the image above to see North America in detail (click on the 'all sizes' button to see the high-res version, which is 6400×3600), or watch the video below to see the 'good morning' wave travel around the globe:
Personas | Metropath(ologies) | An installation by Aaron Zinman. Fizz — Social Network Visualization — by Bloom. Herman Miller. Newsmap. What do you suggest? What Do You Suggest takes a seed from you (or gives you something random) then guides you on a journey through language and the collective lives of Google users.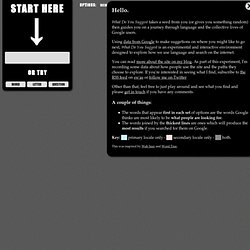 Using data from Google to make suggetions on where you might like to go next, What Do You Suggest is an experimental and interactive environment designed to explore how we use language and search on the internet. You can read more about the site on my blog. As part of this experiment, I'm recording some data about how people use the site and the paths they choose to explore. Zoho:Lab - End of Year Top Album Charts = UI/UX Data Visualisation Example. Bicycle Built for Two Thousand. Nebul.us. MTA.ME. Argon. Ball Pool. Mentionmap - A Twitter Visualization.
---