Leadership and Organizational Behavior
Integrative Thinking is the ability to constructively face the tensions of opposing models, and instead of choosing one at the expense of the other, generating a creative solution of the tensions in the form of a new model that contains elements of the individual models, but is superiors to each.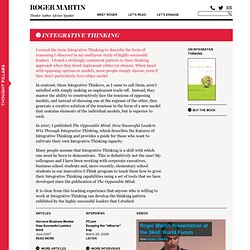 Integrative Thinking « Roger Martin
In politics and social science , power is the ability to influence the behavior of people. The term authority is often used for power perceived as legitimate by the social structure . Power can be seen as evil or unjust , but the exercise of power is accepted as endemic to humans as social beings. In the corporate environment, power is often expressed as upward or downward. With downward power, a company's superior influences subordinates. When a company exerts upward power, it is the subordinates who influence the decisions of the leader (Greiner & Schein, 1988).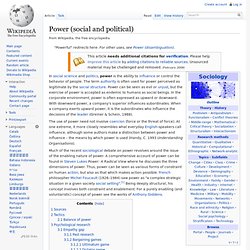 Integrative thinking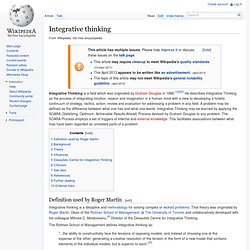 Integrative Thinking is a field in Applied Mind Science which was originated by Graham Douglas in 1986.
The overconfidence effect is a well-established bias in which someone's subjective confidence in their judgments is reliably greater than their objective accuracy , especially when confidence is relatively high. [ 1 ] For example, in some quizzes, people rate their answers as "99% certain" but are wrong 40% of the time. It has been proposed that a metacognitive trait mediates the accuracy of confidence judgments, [ 2 ] but this trait's relationship to variations in cognitive ability and personality remains uncertain. [ 1 ] Overconfidence is one example of a miscalibration of subjective probabilities . [ edit ] Demonstration The most common way in which overconfidence has been studied is by asking people how confident they are of specific beliefs they hold or answers they provide.
Overconfidence effect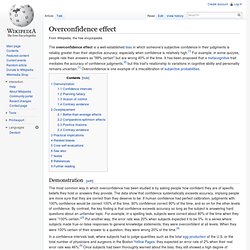 Framing in the social sciences refers to a set of concepts and theoretical perspectives on how individuals, groups, and societies organize, perceive, and communicate about reality .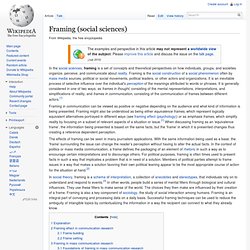 Confirmation bias (also called confirmatory bias or myside bias ) is a tendency of people to favor information that confirms their beliefs or hypotheses . [ Note 1 ] [ 1 ] People display this bias when they gather or remember information selectively, or when they interpret it in a biased way . The effect is stronger for emotionally charged issues and for deeply entrenched beliefs. For example, in reading about current political issues, people usually prefer sources that affirm their existing attitudes.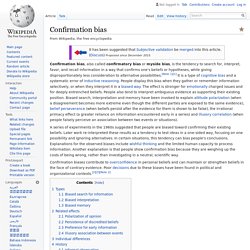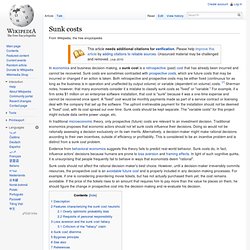 Sunk costs
In economics and business decision-making, sunk costs are retrospective (past) costs that have already been incurred and cannot be recovered. Sunk costs are sometimes contrasted with prospective costs , which are future costs that may be incurred or changed if an action is taken. Both retrospective and prospective costs may be either fixed (continuous for as long as the business is in operation and unaffected by output volume) or variable (dependent on volume) costs.
Status quo bias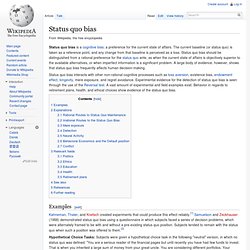 Status quo bias is a cognitive bias ; an irrational preference for the current state of affairs. The current baseline (or status quo) is taken as a reference point, and any change from that baseline is perceived as a loss. Status quo bias should be distinguished from a rational preference for the status quo ante, as when the current state of affairs is objectively superior to the available alternatives, or when imperfect information is a significant problem. A large body of evidence, however, shows that an irrational preference for the status quo--a status quo bias--frequently affects human decision-making. Status quo bias interacts with other non-rational cognitive processes such as loss aversion , existence bias, endowment effect , longevity , mere exposure, and regret avoidance. Experimental evidence for the detection of status quo bias is seen through the use of the Reversal test .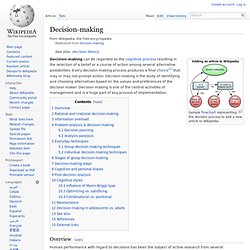 Sample flowchart representing the decision process to add a new article to Wikipedia. Decision making (decision from Latin decidere "to decide, determine," literally "to cut off," from de- "off" and caedere "to cut") can be regarded as the mental processes ( cognitive process ) resulting in the selection of a course of action among several alternative scenarios. Every decision making process produces a final choice . [ 1 ] The output can be an action or an opinion of choice. [ edit ] Overview Human performance in decision terms has been the subject of active research from several perspectives.
Decision making
A cognitive bias is a pattern of deviation in judgment.
Anchoring or focalism is a cognitive bias that describes the common human tendency to rely too heavily on the first piece of information offered (the "anchor") when making decisions.
Anchoring
Organizational culture is the collective behavior of humans who are part of an organization and the meanings that the people attach to their actions.
Organizational culture
Emotional intelligence ( EI ) is the ability to identify, assess, and control the emotions of oneself, of others, and of groups. It can be divided into ability EI and trait EI .