Addons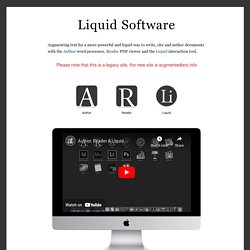 In detail: Doing the keyboard shortcut for Liquid (by default cmd-shift-2 but it's entirely customizable) produces the Liquid interface, a control bar, as shown in the video above. You can now click on menu items, or for more speed, as shown in step 3 above, use the keyboard shortcuts which you can see next to the commands. For example next to References you'll see (R) and once 'r' is activated you can do (W) which is the shortcut for Wikipedia, as shown to the right of Wikipedia. This takes just one second for an even moderately familiar user compared to the usual 10 seconds.
STAY CONNECTED Connect to Twitter, Facebook, Youtube, Foursquare and more... in one place STATUS SYNC Update your status across all your services at once EASY SHARING Share links, images & videos across all your networks YOONO EVERYWHERE Available for Windows, Mac and Linux. Supported Services Facebook MySpace YouTube Twitter Flickr FriendFeed LinkedIn MSN AIM GTalk Yahoo Chat Foursquare Click Allow Button Above from Firefox Click Install Now After downloading, Restart Firefox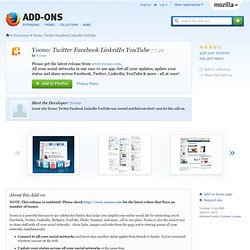 NOTE: This release is outdated. Please check http://www.yoono.com for the latest relase that fixes an number of issues. Yoono is a powerful but easy to use sidebar for Firefox that helps you simplify your online social life by connecting you to Facebook, Twitter, LinkedIn, MySpace, YouTube, Flickr, Yammer, and more...all in one place.
Yoono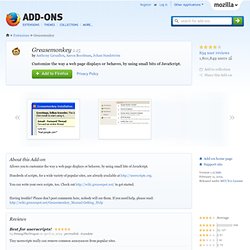 Privacy Policy This Privacy Policy governs the manner in which Greasemonkey collects, uses, maintains and discloses information collected from users (each, a "User") of the Greasemonkey Application. This privacy policy applies to the Application and all products and services offered by Greasemonkey. Personal identification information