Organise documentation
Get flash to fully experience Pearltrees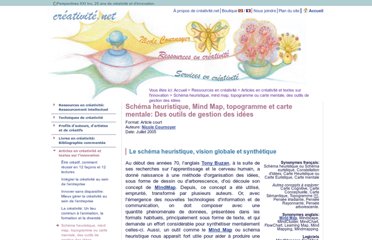 Format: Article court Auteure: Nicole Cournoyer Date: Juillet 2005 Le schéma heuristique, vision globale et synthétique Synonymes français: Schéma heuristique ou Schéma euristique, Constellation d'idées, Carte Heuristique ou Carte Euristique, Carte mentale Autres concepts à explorer : Carte Cognitive, Carte Conceptuelle, Carte Sémantique, Topogramme [ 1 ], Pensée irradiante, Pensée Rayonnante, Pensée arborescente. Synonymes anglais: Mind Map , Mindscape, MindCluster, MindChart, FlowChart, Learning Map, Mind Mapping, Mindmapping.
A concept map is a diagram showing the relationships among concepts . It is a graphical tool for organizing and representing knowledge . Concepts, usually represented as boxes or circles, are connected with labeled arrows in a downward-branching hierarchical structure. The relationship between concepts can be articulated in linking phrases such as "gives rise to", "results in", "is required by," or "contributes to". [ 1 ] The technique for visualizing these relationships among different concepts is called "concept mapping". Concept maps are used to define the ontology of computer systems, for example with the object role modeling or Unified Modeling Language formalism.
Concept-mapping and mind-mapping software are used to create diagrams of relationships between concepts, ideas or other pieces of information. It has been suggested that the mind mapping technique can improve learning/study efficiency up to 15% over conventional note taking . [ 1 ] [ edit ] File format
A wiki ( i / ˈ w ɪ k iː / WIK -ee ) is a website which allows its users to add, modify, or delete its content via a web browser usually using a simplified markup language or a rich-text editor . [ 1 ] [ 2 ] [ 3 ] Wikis are powered by wiki software . Most are created collaboratively . Wikis serve many different purposes, such as knowledge management and notetaking .
Rhizome is a philosophical concept developed by Gilles Deleuze and Félix Guattari in their Capitalism and Schizophrenia (1972–1980) project. It is what Deleuze calls an "image of thought", based on the botanical rhizome , that apprehends multiplicities . [ edit ] Rhizome as a mode of knowledge and model for society Gilles Deleuze and Félix Guattari use the term "rhizome" and "rhizomatic" to describe theory and research that allows for multiple, non-hierarchical entry and exit points in data representation and interpretation. In A Thousand Plateaus , they oppose it to an arborescent conception of knowledge, which works with dualist categories and binary choices.
View of very basic outline with graphics. Notepad view in Ecco Pro . An outliner is a computer program that allows text to be organized into discrete sections that are related in a tree structure or hierarchy .
Hand-drawn and computer-drawn variations of a mind map. A mind map is a diagram used to visually outline information. A mind map is often created around a single word or text, placed in the center, to which associated ideas, words and concepts are added. Major categories radiate from a central node, and lesser categories are sub-branches of larger branches. [ 1 ] Categories can represent words , ideas , tasks , or other items related to a central key word or idea. Mindmaps can be drawn by hand, either as "rough notes" during a lecture or meeting, for example, or as higher quality pictures when more time is available.
Plato , one of the first philosophers to discuss ideas in detail even though it is said that whatever Plato spoke was Pythagorean in theory An idea is a name or mental impression. [ 1 ] Ideas are often construed as representational images; i.e., images of some object . In other contexts, ideas are taken to be concepts , although abstract concepts do not necessarily appear as images. [ 2 ] Many philosophers consider ideas to be a fundamental ontological category of being . The capacity to create and understand the meaning of ideas is considered to be an essential and defining feature of human beings .