SDR
Practical Wireless - FUNcube Dongle Article. The April edition of Practical Wireless magazine has a special treat for all satellite enthusiasts and VHF/UHF listeners - a two page article on the AMSAT-UK FUNcube Dongle radio.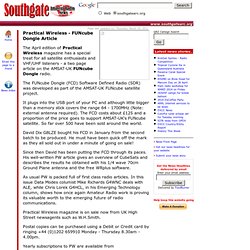 The FUNcube Dongle (FCD) Software Defined Radio (SDR) was developed as part of the AMSAT-UK FUNcube satellite project. It plugs into the USB port of your PC and although little bigger than a memory stick covers the range 64 - 1700MHz (Note: external antenna required). The FCD costs about £125 and a proportion of the price goes to support AMSAT-UK's FUNcube satellite.
So far over 500 have been sold around the world. David Dix G8LZE bought his FCD in January from the second batch to be produced. FUNcube. Order your FUNcube Dongle Pro | FUNcube Dongle. Folks, *** Currrently I am out of stock, although I am aware that Martin Lynch has inventory available: *** For UK customers only: please note that from today (30 April 2012) Royal Mail have increased the cost of Special Delivery from £5.45 to £5.90.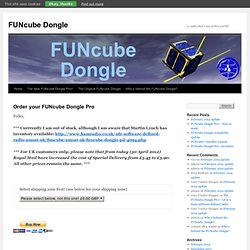 All other prices remain the same. Softrock Software Defined Radio Homepage (www.wb5rvz.com) Software Defined Radio This site is devoted to the area of Software Defined Radio (SDR), more specifically, the "Softrock" series of technology sampler kits and the GenesisRadio.Com SDR transceiver.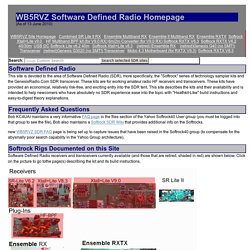 These kits are for working amateur radio HF receivers and transceivers. These kits have provided an economical, relatively risk-free, and exciting entry into the SDR tent. This site describes the kits and their availability and is intended to help newcomers who have absolutely no SDR experience ease into the topic with "Heathkit-Like" build instructions and easy-to-digest theory explanations. Frequently Asked Questions.
---