jQuery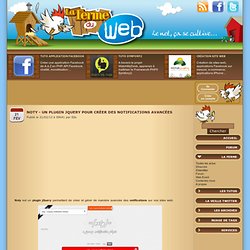 Noty - Un plugin jQuery pour créer des notifications avancées
Noty est un plugin jQuery permettant de créer et gérer de manière avancée des notifications sur vos sites web. Envoyer des alertes, messages de confirmation ou d'erreur est essentiel dans un site web pour ne pas perdre l'utilisateur. Et plutôt que d'utiliser des alert ou confirm javascript ... (qui le fait encore ?)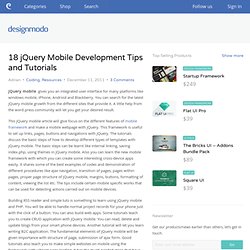 18 jQuery Mobile Development Tips and Tutorials
jQuery mobile gives you an integrated user interface for many platforms like windows mobile, iPhone, Android and Blackberry. You can search for the latest jQuery mobile growth from the different sites that provide it. A little help from the word press community will let you get your desired result. This jQuery mobile article will give focus on the different features of mobile framework and make a mobile webpage with jQuery. This framework is useful to set up links, pages, buttons and navigations with jQuery.
jQuery Notification Menu | Codebase Hero
Welcome to my portfolio. My name is William AGAY, I'm studying systems administration and network. I am passionate about development, self-taught for over 4 years.
Faire un effet loupe sur des images avec un plugin Jquery : ImageLens
Big Spaceship | Labs Blog - jQuery Plugin: CodeExplorer v0.1
We've been looking to provide a higher-quality, spam-free experience at the plugins site for some time, and a major error on our part forced us to shut down the current site before we could put the new one in place. We are developing a new site, and you can follow along with its development on GitHub . For more information about this transition, including steps you can take as a plugin author to prepare, please read our post about what's going on . The requested page could not be found.
ppTexterea : gestion des textarea | jQuery Plugins
Author: Christian Bach Version: 2.0.5 (changelog) Licence: Dual licensed (just pick!)under MIT or GPL licenses. Please with sugar on top! Don't hotlink the tablesorter.js files. Download it and host it on your servers.
jQuery plugin: Tablesorter 2.0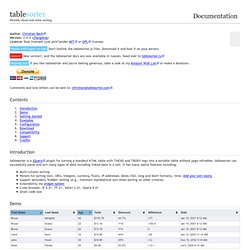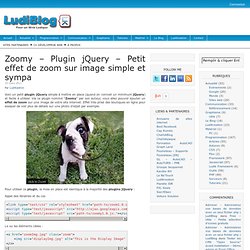 Voici un petit plugin jQuery simple à mettre en place (quand on connait un minimum jQuery) et facile à utiliser. Via ce plugin nommé "Zoomy" par son auteur, vous allez pouvoir ajouter un effet de zoom sur une image de votre site internet. Effet très prisé des boutiques en ligne pour essayer de voir plus de détails sur une photo d'objet par exemple.
Zoomy – Plugin jQuery – Petit effet de zoom sur image simple et sympa
JUSH - JavaScript Syntax Highlighter
JavaScript Syntax Highlighter can be used for client-side syntax highlighting of following languages: HTML, CSS, JavaScript, PHP, SQL, HTTP and SMTP protocol, php.ini and Apache config. JUSH is available also as jQuery and WordPress plugin . Features Highlights languages embedded into each otherLinks to documentation of all languagesColors can be easily modified via CSSRecognizes complete PHP syntax including __halt_compiler, heredoc, backticks, {$} variables inside strings, namespacesWorks in all major browsers including Internet Explorer, Firefox, Opera, Google Chrome Online demo Download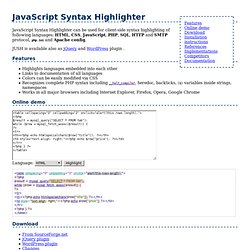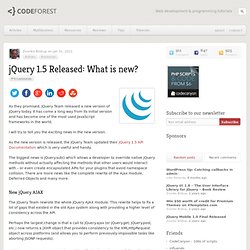 codeforest
As they promised, jQuery Team released a new version of jQuery today. It has come a long way from its initial version and has become one of the most used JavaScript frameworks in the world. I will try to tell you the exciting news in the new version. As the new version is released, the jQuery Team updated their jQuery 1.5 API Documentation which is very useful and handy.
Setting up Reveal modals is only three easy steps. Attach the needed files, drop in your modal markup then add an attribute to your button. Reveal is awesome because it's easy to implement, is cross-browser compatible with modern browsers (with some graceful degradation of course) and lightweight coming in at only 1.75KB.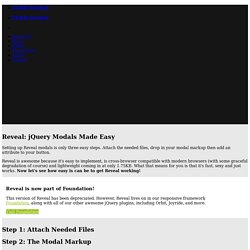 Reveal: jQuery Modal Plugin from ZURB - ZURB Playground - ZURB.com
We all know and love jQuery for its flexibility and many uses. But some of the most impressive jQuery applications are those that involve images. It really can allow you to do some useful stuff and even add a "wow" factor to your project. So here we've rounded up 10 jQuery plugins to help you display images in your next project. Slides is a crazy simple slideshow plugin for jQuery.
10 Useful jQuery Plugins for Images
Plugins jQuery pour manipuler vos tableaux
Jquery Advanced Ajax validation with CAPTCHA - TutorialCadet – Web Developer and Programming Tutorials.
January 17th, 2011 - Frontend, jQuery zAccordion is a jQuery plugin that lets you create horizontal accordions very easily. It provides a wide range of options like the timeout between the slides, a custom trigger (like "click" or "mouseover") and even an easing option to create more interesting horizontal accordions. What makes this plugin great is the minimal markup it requires in order to make it work (a simple UL list will do).
zAccordion – jQuery Horizontal Accordion Plugin | webtoolkit4.me
Screw – A jQuery Plugin | JasonLau.biz
Screw, a word I re-coined from scroll + view, is a jQuery plugin which loads HTML as a user scrolls the webpage. Screw will help you save bandwidth by only loading content as it is scrolled into view. Screw can also be used to create continuously scrolling, bottomless pages where content is appended to the bottom as the user scrolls. As of version 1.0.5, Screw supports both vertical AND horizontal scroll detection.
40 Exceptional jQuery Photo Gallery and Slider
qTip – Plugin jQuery – L'art du Tooltip
Il y avait fort longtemps que je ne vous avais pas fait d'article sur jQuery, à vrai dire, il y avait fort longtemps que je ne vous avais pas fait d'article tout court. Cette fois je vais vous parler d'un plugin jQuery assez sympa (du moins je l'apprécie) et qui va vous permettre de réaliser vos tooltips de manière esthétique, mais surtout avec beaucoup de possibilités, comme y insérer des images, du texte, des vidéos etc… Ce plugin jQuery, c'est qTip. Alors, comment utilise-t-on ce plugin ? Bien entendu on appelle les librairies, soit jQuery et qTip :
Ketchup is a small (3.4KB minified & gzipped) jQuery Plugin that helps you to validate your forms. Out of the box it has 18 basic validations and a bubble like style. But truly this Plugin wants to be hacked to fit your needs.
jQuery Ketchup Plugin - Documentation
Jquery Slider Filter | jQuery Slider
jMenu : horizontal navigations with unlimited sub-menus in jQuery ! - jQuery Menu
jQuery Plugin: rotate3Di - Flip HTML content in 3D - zachstronaut
Formation jQuery Plugin
JQuery Pagination Plugin | Blogasty09
XColor - Un plugin JQuery pour manipuler les couleurs d'éléments HTML
A jQuery Plugin For Face Detection On Images
jQuery UI CoverFlow II | Addy Osmani
Matt Lunn
mb.extruder
3D Wall Gallery
JQuery Form Wizard
Quovolver | a simple jQuery plugin for revolving quotes
30 jQuery Accordion Menus, Tutorials And Best Examples
40 Useful jQuery Techniques and Tutorials for Great User Interface
Awesome jQuery Plugins And Techniques To Create Visually Excellent Websites
jQuery Plugins - Plugins, Extensions & Tutorials for jQuery JavaScript Library
jQuery Ajax tutorials, jQuery UI examples and more! - The Ultimate jQuery List
Smashing Labs - gMap, Google Maps jQuery plugin
La carte de l'Europe cliquable en Css et jQuery | DevZone
JQuery Plugins | jquery plugins
jQuery Mobile Examples - JQM Gallery
Video+html5+Popcorn.js=hyper-video
25 Useful jQuery Plugins to Integrate Twitter into Websites with ease
jQuery Image Scroller Plugin | Viget Inspire
jQuery Mobile
10 Awesome Techniques and Examples of Animation with jQuery