Graphic design
::: Toko. Concept. Design. ::: +61 (0)4 136 133 81 ::: A_B_ peace & terror etc. The computational aesthetics of love & hate. Computational aesthetics. Processing.js. De.bezier.mysql. Processing.
Graphic Design - Grrrrrrraphic, My Woman!
LAIKA - Eine dynamische Schrift. BLA BLA BLA. This Is Tomorrow. Neubau Form+Typo. FontStruct | Build, Share, Download Fonts. CARNE® / Visual Arts Magazine. BibliOdyssey. AisleOne - Graphic Design, Typography and Grid Systems.
TypeNeu - Maintenance Mode. Serial Cut™ - Imagemakers since '99. 30 of the Best Web Typography Resources Online | Webdesigner Dep. It seems there are two camps among web designers: those who embrace web typography, experiment with it, and try new things in virtually all of their designs; and those who avoid it like the plague, opting to use standard, web-safe font stacks with little variation.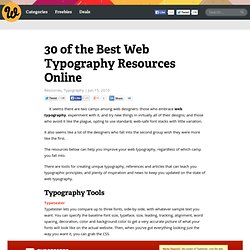 It also seems like a lot of the designers who fall into the second group wish they were more like the first. The resources below can help you improve your web typography, regardless of which camp you fall into. Four Random Files - Experimental Jetset. 25ah. Free Font Sharing - Free Windows & Mac Fonts. -+-+<<<///_VirusFonts_/_Home_///>>>+-+-
Lovely Package® . The leading source for the very best that pack. Counter-Print.co.uk. Swiss Legacy – Graphic Design and Typography. This video shows 50 years of work in under two minutes.
How many can you spot? Presents their new showreel. Nice work! Is the typefoundry of Atelier van Wageningen (typo)graphic designers, based in Amsterdam, The Netherlands. Ps.2 arquitetura + design. Schwartzco Inc. Vintage Logos. Daily Graphic Design Inspiration | InspireBit — 8 FREE Fonts For. 8 FREE Fonts For Your Upcoming Designs Best thing in Live are Free.
Well Yes particularly the Web is full of great Stuff for Free! On thing i Learned last year, when i started designing Websites and take action in the Creative Scene, is that you can already fail by choosing the wrong Font in your Design. Generic Work Process - v1.0. View complete list | Go to Admin Panel About this toolkit (version 1.0) This toolkit offers an overview of the methods and techniques which can be used throughout the user-centered design process.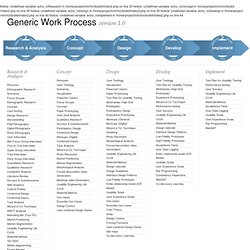 Note: this site is still under construction, for more information contact Bas Leurs (Rotterdam University of Applied Sciences, b.l.f.leurs@hro.nl)
---