Graphic design
Toko Twitter_Facebook 1-10 Selected projects A-Z All projects News Latest updates About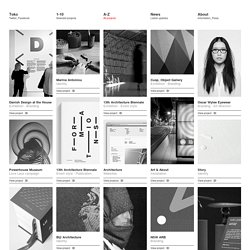 A_B_ peace & terror etc. The computational aesthetics of love & hate.
Nov 11, 2013 | Marius Watz: Sound as Data Workshop, ITP NYUDownload: See GitHub As part of my on-going ITP residency I am doing a few workshops on specialized code topics. This weekend I revisited my previous work on using sound as an input for visuals or geometry, using Processing and Minim. It was only a 3 hour workshop, but we covered the basics: Opening line in or sound file inputsAccessing sound bufferNormalizing volumeUsing damping to control FFT behavior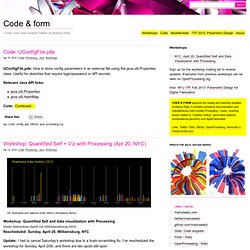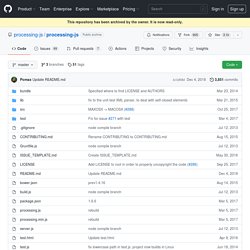 Processing.js 1.4.1 released! Processing.js 1.4.0! And then Processing 1.4.1!
de.bezier.mysql
Graphic Design - Grrrrrrraphic, My Woman!
LAIKA - Eine dynamische Schrift
BLA BLA BLA
This Is Tomorrow
Neubau Form+Typo
1] Neubau is a Berlin based design studio founded by Stefan Gandl in late 2001. The studio develops work for systems in print, on screen and in space. Neubau's work collection is made accessible through this public online archive. 2] The archive is in the process of being updated with the latest Neubau work and projects from the last decade [01-12]. 3] Close the sticky note [-] and browse through the archive by clicking the images of your choice. 4] This note is set in NB-International Pro™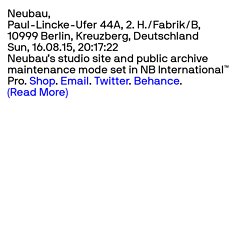 CARNE® / Visual Arts Magazine
Sketch record of Paris buildings & street scenes from the 2nd half of the 19th century Title: Vieille enseigne à l'ours rue du faugourg St Antoine n° 95Designed by: Jules-Adolphe ChauvetDate: 1894Collection Chauvet. Dessins sur Paris et ses environs, Paris (France) -- 11ème ArrondissementFormat: dess. sur calque appliqué : plume et encre, aquarelle ; 24,4 x 15,5 cmSource: Bibliothèque nationale de France, département Estampes et photographie Title: Un coin de la cour des Prévots, rue CharlemagneDesigned by: Jules-Adolphe ChauvetDate: 1890sCollection Chauvet. Dessins sur Paris et ses environs, Paris (France) -- 2ème et 3ème arrondissements Format: dessin sur papier beige : crayon, lavis d'encre brune, rehauts de gouache rose ; 24,9 x 14,3 cmSource: Bibliothèque nationale de France, département Estampes et photographie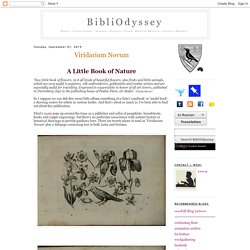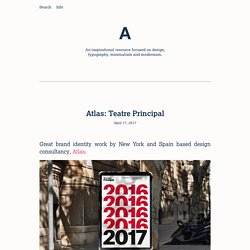 Hey folks, sorry for the long silence. I got a kid­ney stone, and I was out of com­mis­sion for a week. Feel­ing bet­ter now, so the posts will resume. Back to business.
TypeNeu - Maintenance Mode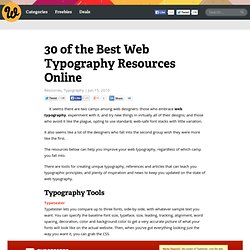 It seems there are two camps among web designers: those who embrace web typography, experiment with it, and try new things in virtually all of their designs; and those who avoid it like the plague, opting to use standard, web-safe font stacks with little variation. It also seems like a lot of the designers who fall into the second group wish they were more like the first. The resources below can help you improve your web typography, regardless of which camp you fall into.
Four Random Files - Experimental Jetset
25ah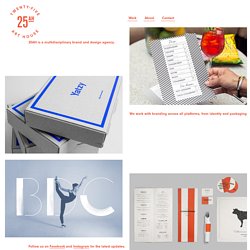 25ah is a Stockholm-based brand and design agency that uses commercial strategy as a solid foundation for creative and unconventional design and identity solutions. Our dedication to fully understand our clients needs helps us visualize great ideas and develop effective communication. Our close attention to detail and cross media expertise helps us bring complex concepts into finished products. By delivering results that exceed expectations we are proud to have gained the confidence of some of the worlds leading brands. We appreciate a challenge and work in all forms of media. Among our assignments you will find strategic visual communication for advertisement, packaging, magazines, brand identities, digital applications and exhibitions.
-+-+<<<///_VirusFonts_/_Home_///>>>+-+-
We are now selling our fonts as part of a package of fonts, enabling you to buy a combination of fonts more cost-effectively. There are six packages: – Cynical Scripts, which includes Echelon, Nixon Script and Sarcastic. – Hostile Encounters, which contains Bastard, False Idol and Infidel. – Orwellian Nightmare, which includes Doublethink and Newspeak. – Psychosomatic Fantastic, which includes Coma, Melancholia and Tourette. – Super Future, which includes Delux, Prototype and Prozac. – War Tourism, which includes Patriot, State Machine and Shock and Awe.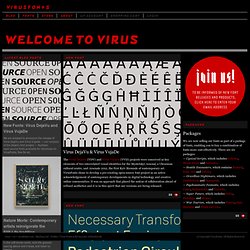 East Van Vodka March 31, 2014 | 0 Comments Designed by Cause+Affect | Country: Canada "Odd Society Spirits is a small-batch craft distillery in the heart of East Vancouver and Cause+Affect was responsible for its entire brand including naming, logo, brand story and website as well as the distillery and tasting lounge interior design and individual product naming and packaging design along with copywriting. East Van Vodka is the first spirit distilled by Odd Society, which opened its doors for business on Powell Street at the foot of Commercial Drive in late October 2014."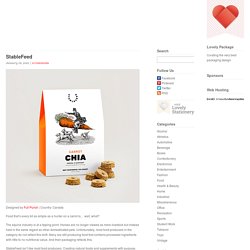 Swiss Legacy – Graphic Design and Typography
This video shows 50 years of work in under two minutes. How many can you spot? presents their new showreel. Nice work! is the typefoundry of Atelier van Wageningen (typo)graphic designers, based in Amsterdam, The Netherlands.
ps.2 arquitetura + design
Schwartzco Inc.
2013. Formerly known as Zizou Sans. Commissioned by Florian Bachleda at Fast Company. Available now from Commercial Type.
Vintage Logos - a set on Flickr
Daily Graphic Design Inspiration | InspireBit — 8 FREE Fonts For
Generic Work Process - v1.0