FBML/iFrams
New iFrames Facebook Page App With Fan Gate Option – from Wildfire. The clock is ticking to March 11th, 2011 when Facebook will no longer allow the creation of new FBML custom tabs/apps.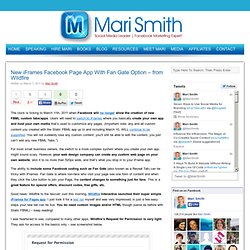 Users will need to switch to iFrames where you basically create your own app and host your own media that's used to customize any pages. (Important note: any and all custom content you created with the Static FBML app up to and including March 10, WILL continue to be supported. Facebook Page in an IFrame 10 steps | Digital Raindrops. While working on our WordPress to Facebook Plugin we discovered that from the 14th March 2011, we will not be able to add a page using the Facebook App and FBML, Facebook is moving to a more standard language.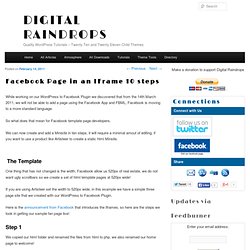 So what does that mean for Facebook template page developers. We can now create and add a Minisite in ten steps, it will require a minimal amout of editing, if you want to use a product like Artisteer to create a static html Minsite. The Template One thing that has not changed is the width, Facebook allow us 520px of real estate, we do not want ugly scrollbars so we create a set of html template pages at 520px wide! Selling on Facebook is easy | Talking E-commerce | Tips and Advice from Nick Watson. Feed Informer: Mix, convert, and republish feeds. JavaScript Tip: Browser Detection And Redirection.
JavaScript Tip: Browser Detection And Redirection by Larisa Thomason, Senior Web Analyst, NetMechanic, Inc.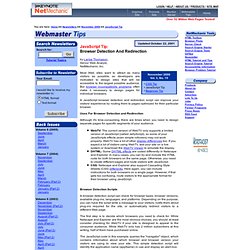 Most Web sites want to attract as many visitors as possible, so developers are motivated to design sites that will be accessible to the largest possible audience. But browser incompatibility problems often make it necessary to design pages for individual browsers. A JavaScript browser detection and redirection script can improve your visitors' experience by routing them to pages optimized for their particular browser. Adding an iFrame Application to your Facebook Fan Page – 2011. If you're NOT on the HyperArts Blog, CLICK HERE!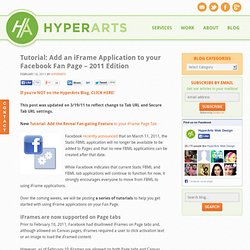 This post was updated on 3/19/11 to reflect change to Tab URL and Secure Tab URL settings. New Tutorial: Add the Reveal Fan-gating Feature to your iFrame Page Tab.
---