WWW
Formoid - Beautiful Web Form Generator
i must agree with you, this site is awesome ;) by blackhawk1990 May 23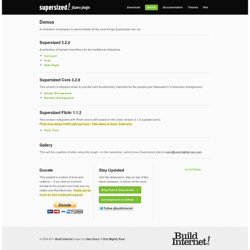 Supersized - Full Screen Background Slideshow jQuery Plugin
A collection of samples to demonstrate all the neat things Supersized can do. Supersized 3.2.4 A collection of sample transitions for the traditional slideshow. Carousel
As of the new version 2.1.0, zAccordion will not be tested in Internet Explorer 6 or Internet Explorer 7. zAccordion is supported in Internet Explorer 8 and the latest builds of Firefox, Chrome, and Safari. Version 2.1.0 — September 26, 2012 Added a destroyComplete option that is available after the accordion is destroyed. Renamed afterBuild to buildComplete to align with naming conventions.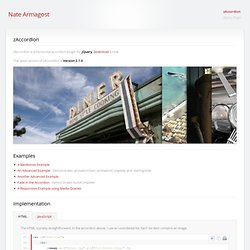 zAccordion - A Horizontal Accordion Plugin for jQuery
mustache, hogan, handlebars | Divya Manian
I have been working quite a bit with node and have had a chance to use Handlebars quite frequently. While it is an implementation of Mustache, it goes a bit further in providing some helpers like if/each/list/with etc along with the ability to register custom helpers you need. Since then, I have heard about Hogan which is almost equivalent but not. I wanted to just write down what I have discovered while investigating these. Mustache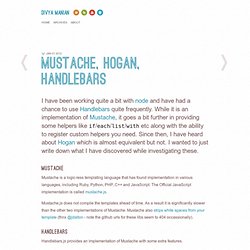 Pozycjonowanie i optymalizacja stron www - Lexy's SEO blog
to mobilny system płatności przygotowany przez Google. To pewnego rodzaju wirtualny portfel, za pomocą którego można płacić w sklepie czy restauracji. Szczegóły na jego temat można znaleźć w poniższym filmiku, jednak we wpisie tym chciałam się skupić na najnowszej funkcjonalności tego rozwiązania, a mianowicie – na stronach internetowych. Czytaj całość »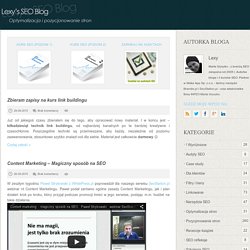 A microformat (sometimes abbreviated μF) is a web-based approach to semantic markup which seeks to re-use existing HTML/XHTML tags to convey metadata[1] and other attributes in web pages and other contexts that support (X)HTML, such as RSS. This approach allows software to process information intended for end-users (such as contact information, geographic coordinates, calendar events, and similar information) automatically. Although the content of web pages is technically already capable of "automated processing", and has been since the inception of the web, such processing is difficult because the traditional markup tags used to display information on the web do not describe what the information means.[2] Microformats can bridge this gap by attaching semantics, and thereby obviate other, more complicated, methods of automated processing, such as natural language processing or screen scraping.
Microformat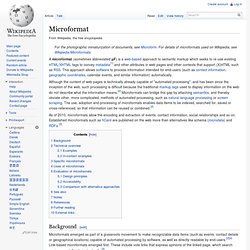 Google Also Ignores Geo-Meta Tags, But Bing Lives By Them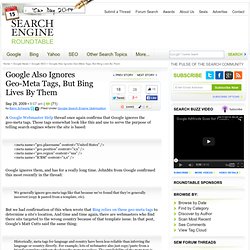 A Google Webmaster Help thread once again confirms that Google ignores the geo-meta tags. Those tags somewhat look like this and use to serve the purpose of telling search engines where the site is based: Google ignores them, and has for a really long time.
Pliki .htaccess służą do ustawiania różnych opcji związanych z konfiguracją serwera www. Za pomocą tych ustawień możemy blokować dostęp do niektórych katalogów, sprawić aby niektóre były dostępne na hasło, przekierowywać strony lub intepretować adresy URL tworząc tak zwane "przyjazne linki" a mówiąc bardziej fachowo korzystać z dobrodziejstw "mod_rewrite". Pliki .htaccess są dziś wykorzystywane w różnych CMSach takich jak Joomla czy WordPress. Przy pisaniu takich plików konfiguracyjnych można wspomóc się edytorem. Pozwala on na ustawienie dostępności strony, autoryzację, przekierowania itp. Utworzony w okienku kod można skopiować i wkleić do pliku w projekcie.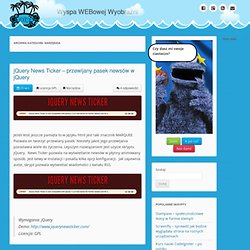 Narzędzia | Taipa.pl - Part 3
Heartcode CanvasLoader Creator | Smarter than an animated GIF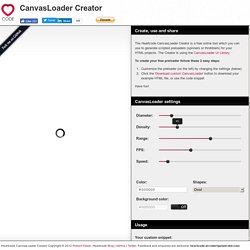 Create, use and share The Heartcode CanvasLoader Creator is a free online tool which you can use to generate scripted preloaders (spinners or throbblers) for your HTML projects. The Creator is using the CanvasLoader UI Library. To create your free preloader follow these 2 easy steps: