WWW
PSD2HTML.com is a technology-savvy company that is committed to high quality conversions of graphic web design into HTML and CMS like WordPress, Joomla and Drupal to provide a better user experience for websites. Once you see how much they can help in terms of overall design, responsiveness, and growth, you won't want to leave their sides. They have a research lab that is on the cutting edge of technology and are determined to keep it that way to give you, the customer, more of what you are looking at now and in the future.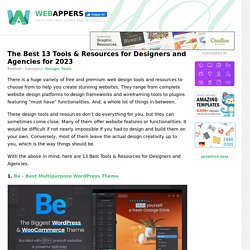 Gicons is a set of free icons designed by Guy Morris from Manchester,United Kingdom.GICONS are hand crafted,scalable vector icons for designers and developers. This particular pack comes with 100+ free custom icons in PSD and PNG format.All the icons are... Case is a stylish and elegant theme. Approach both corporate websites, and for photographers, designers, developers, agencies and many others. The theme has two Builder, and the second one its own popular Visual Composer. Now you can easily create any...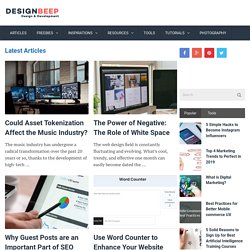 Formoid - Beautiful Web Form Generator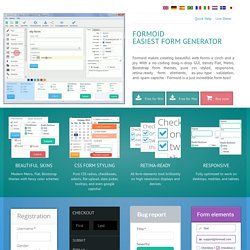 Overview The web form is a core method of interaction of any website and a clean, friendly, attractive form is absolutely vital to minimize errors or failed submissions. Formoid is an awesome tool combining latest design ideas and most advanced web techniques to help you create your best forms. GUI Wizard The Most Intuitive and Easy-to-use Form Builder - No more hand coding, just quick and easy drag-n-drop form-building. Creating simple and complex forms is a snap with Formoid! For Mac and Windows - Use Formoid on your preferred platform - it supports Mac OSX 10.6+, Windows XP, Vista, 7 or 8 Fully Customizable - Quickly and easily customize the layout, colors and style Color Schemes - Easily change the color of elements using pre-designed color presets.
This CSS tutorial will show you everything you need to know to create your own automated numbering shortcut that can be used for any kind of HTML elements. Watch Video Using a CSS Pseudo-Class is one way to gain added control over conditional styling in your projects, perfect for links and other interactive elements. This insightful video tutorial will help you understand how. Watch Video We are all familiar with the iPhone wiggle effect that happens when you hold your finger on an icon for a second, and this helpful video tutorial shows you how to do it entirely through CSS.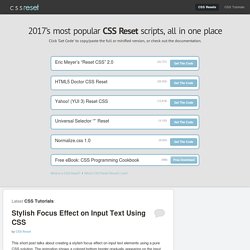 Making your app real-time is a huge boost and WebSockets give you the ability to add bi-directional communication over a persistent connection to your application to increase interactivity and user engagement. web-socket-js is a natural polyfill for the JavaScript WebSocket API transferring data through Flash Sockets when WebSockets aren't available. To use native WebSockets in versions of Firefox before 11, the prefixed MozWebSocket should be used. The protocol backing the Web Socket API has become an IETF standard, but Safari did not implement that version until Safari 6.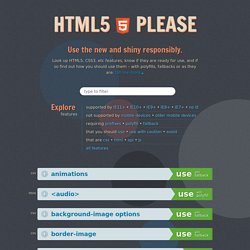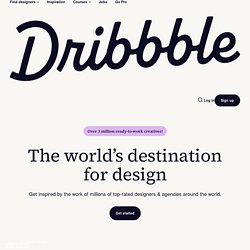 Toggle navigation What are you working on? Dribbble is show and tell for designers. Learn more Sign up ← Prev Next →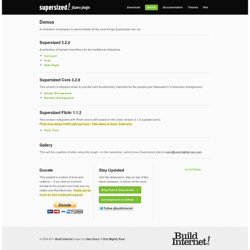 Supersized - Full Screen Background Slideshow jQuery Plugin
A collection of samples to demonstrate all the neat things Supersized can do. Supersized 3.2.4 A collection of sample transitions for the traditional slideshow. Carousel
As of the new version 2.1.0, zAccordion will not be tested in Internet Explorer 6 or Internet Explorer 7. zAccordion is supported in Internet Explorer 8 and the latest builds of Firefox, Chrome, and Safari. Version 2.1.0 — September 26, 2012 Added a destroyComplete option that is available after the accordion is destroyed. Renamed afterBuild to buildComplete to align with naming conventions.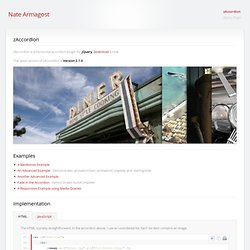 zAccordion - A Horizontal Accordion Plugin for jQuery
mustache, hogan, handlebars | Divya Manian
I have been working quite a bit with node and have had a chance to use Handlebars quite frequently. While it is an implementation of Mustache, it goes a bit further in providing some helpers like if/each/list/with etc along with the ability to register custom helpers you need. Since then, I have heard about Hogan which is almost equivalent but not. I wanted to just write down what I have discovered while investigating these. Mustache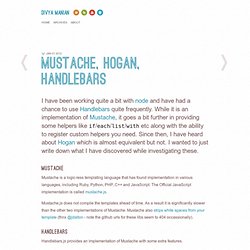 Pozycjonowanie i optymalizacja stron www - Lexy's SEO blog
to mobilny system płatności przygotowany przez Google. To pewnego rodzaju wirtualny portfel, za pomocą którego można płacić w sklepie czy restauracji. Szczegóły na jego temat można znaleźć w poniższym filmiku, jednak we wpisie tym chciałam się skupić na najnowszej funkcjonalności tego rozwiązania, a mianowicie – na stronach internetowych. Czytaj całość »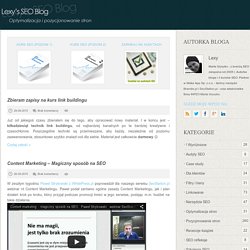 A microformat (sometimes abbreviated μF) is a web-based approach to semantic markup which seeks to re-use existing HTML/XHTML tags to convey metadata[1] and other attributes in web pages and other contexts that support (X)HTML such as RSS. This approach allows software to process information intended for end-users (such as contact information, geographic coordinates, calendar events, and similar information) automatically. Although the content of web pages is technically already capable of "automated processing", and has been since the inception of the web, such processing is difficult because the traditional markup tags used to display information on the web do not describe what the information means.[2] Microformats can bridge this gap by attaching semantics, and thereby obviate other, more complicated, methods of automated processing, such as natural language processing or screen scraping.
Google Also Ignores Geo-Meta Tags, But Bing Lives By Them
A Google Webmaster Help thread once again confirms that Google ignores the geo-meta tags. Those tags somewhat look like this and use to serve the purpose of telling search engines where the site is based: Google ignores them, and has for a really long time.
Sugiar jest biblioteką JavaScript pomocną podczas programowania. Stanowi niewielkich rozmiarów pokaźny zbiór funkcji, które w połączeniu z innymi frameworkami JavaScript pozwolą nam uzyskać lepszy efekt mniejszym nakładem kodu. Funkcje biblioteki pozwalają przeprowadzać operacje na ciągach, liczbach tablicach, datach, obiektach oraz wyrażaniach regularnych. Na stronie skryptu są opisane wszystkie dostępne funkcji, wraz z przykładami ich zastosowania. Link: http://sugarjs.com/ Licencja: Darmowa
Narzędzia | Taipa.pl - Part 3
What is favicon? A favicon (short for 'favorites icon'), are litle icons associated with a particular website or webpage, shown next to the site's name in the URL bar of most browsers. The most common sizes for favicons are: 16x16, 32x32, 48x48, 64x64, 128x128.
Heartcode CanvasLoader Creator | Smarter than an animated GIF
Create, use and share The Heartcode CanvasLoader Creator is a free online tool which you can use to generate scripted preloaders (spinners or throbblers) for your HTML projects. The Creator is using the CanvasLoader UI Library. To create your free preloader follow these 2 easy steps: