Technology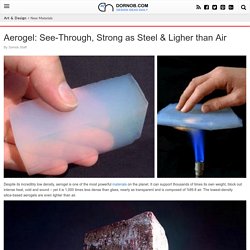 Despite its incredibly low density, aerogel is one of the most powerful materials on the planet. It can support thousands of times its own weight, block out intense heat, cold and sound – yet it is 1,000 times less dense than glass, nearly as transparent and is composed of %99.8 air. The lowest-density silica-based aerogels are even lighter than air. Despite its fragility in certain regards and its incredible lack of density, aerogel has amazing thermal, acoustical and electrical insulation properties as illustrated by the images here.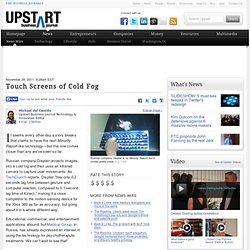 Russian Company Displair Creates Interactive Cold Fog Computer Screens - Video Vault
I t seems every other day a story breaks that claims to have the next Minority Report -like technology—but this one comes closer than any we've seen so far. Russian company Displair projects images into a cold fog and then uses an infrared camera to capture user movements. As TechCrunch reports, Displair "has only 0.2 seconds lag time between gesture and computer reaction, compared to 0.1 second lag time of Kinect," making it a close competitor to the motion-sensing device for the Xbox 360 as far as accuracy, but going about it in a whole different way. Educational, commercial, and entertainment applications abound, but Medical-Group , in Russia, has already expressed an interest in using the technology for psychotheraputic treatments.
The case for outlawing the practice of talking on cell phones while driving got a boost from the latest breakthrough from the innovation labs of Freie Universität Berlin. German scientists working there have installed a car with new technology that can read the driver's brain waves, thus allowing the car to be steered entirely by thought, reports Science Daily . Needless to say, you probably don't want to be distracted while driving this vehicle.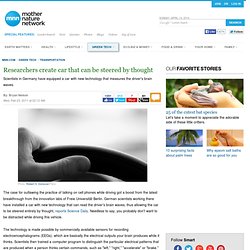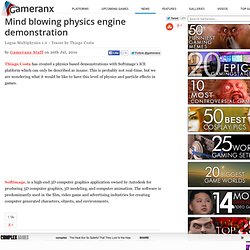 Thiago Costa has created a physics based demonstrations with Softimage's ICE platform which can only be described as insane. This is probably not real-time, but we are wondering what it would be like to have this level of physics and particle effects in games. Softimage , is a high-end 3D computer graphics application owned by Autodesk for producing 3D computer graphics, 3D modeling, and computer animation. The software is predominantly used in the film, video game and advertising industries for creating computer generated characters, objects, and environments.