Researching Trust
ID3 - idcubed.org - openPDS Project. In collaboration with ID3, the Human Dynamics group at the MIT Media Lab has created the openPDS software.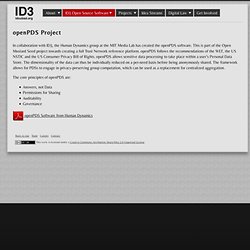 This is part of the Open Mustard Seed project towards creating a full Trust Network reference platform. openPDS follows the recommendations of the WEF, the US NSTIC and the US Consumer Privacy Bill of Rights. openPDS allows sensitive data processing to take place within a user's Personal Data Store. The dimensionality of the data can thus be individually reduced on a per-need basis before being anonymously shared. The framework allows for PDSs to engage in privacy-preserving group computation, which can be used as a replacement for centralized aggregation. In Personal Data We Trust? Trust is a relative term, open to a wide degree of interpretation.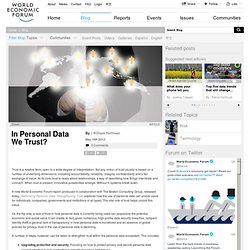 But any notion of trust usually is based on a number of underlying dimensions, including accountability, reliability, integrity, confidentiality and a fair exchange of value. At its core, trust is really about relationships, a way of describing how things interrelate and connect. Side Views - Should we ditch the idea of privacy? — Don Tapscott @ Sun May 13 2012. MAY 13 — Since I co-authored a book on privacy and the Internet 15 years ago I've been writing about how to manage the various threats to the security and control of our personal information.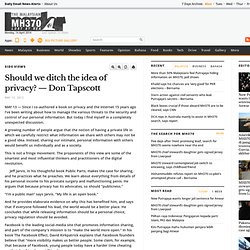 But today I find myself in a completely unexpected discussion. A growing number of people argue that the notion of having a private life in which we carefully restrict what information we share with others may not be a good idea. Instead, sharing our intimate, personal information with others would benefit us individually and as a society.
This is not a fringe movement. I/DW Attribute Provider Network (APN) Services | ID Dataweb. Customer Commons | About Us. What is Customer Commons?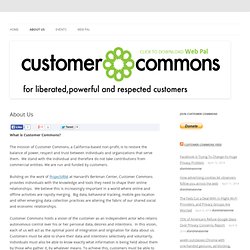 The mission of Customer Commons, a California-based non-profit, is to restore the balance of power, respect and trust between individuals and organizations that serve them. We stand with the individual and therefore do not take contributions from commercial entities. We are run and funded by customers. Building on the work of ProjectVRM at Harvard's Berkman Center, Customer Commons provides individuals with the knowledge and tools they need to shape their online relationships.
Internet Data Security | Trustworthy Computing | End to End Trust. A Crowd of One: The Future of Individual Identity (9781586483678): John Clippinger. Digital ID Coach » The secret life of your personal data. Home > history, records > The secret life of your personal data Maria Popova at Brain Pickings wrote about this great 3 minute video by Michael Rigley, a graphic design student.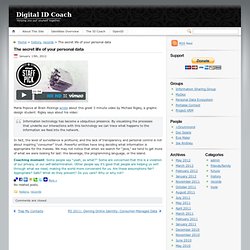 Rigley says about his video: Tim Berners-Lee: demand your data from Google and Facebook | Technology. Tim Berners-Lee, the father of the world wide web, has urged internet users to demand their personal data from online giants such as Google and Facebook to usher in a new era of highly personalised computer services "with tremendous potential to help humanity".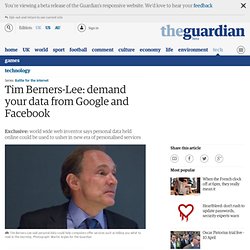 Berners-Lee, the British born MIT professor who invented the web three decades ago, says that while there has been an explosion of public data made available in recent years, individuals have not yet understood the value to them of the personal data held about them by different web companies. In an interview with the Guardian, Berners-Lee said: "My computer has a great understanding of my state of fitness, of the things I'm eating, of the places I'm at. What is smart disclosure? Citizens generate an enormous amount of economically valuable data through interactions with companies and government.
Earlier this year, a report from the World Economic Forum and McKinsey Consulting described the emergence of personal data as of a new asset class." The value created from such data does not, however, always go to the benefit of consumers, particularly when third parties collect it, separating people from their personal data. The emergence of new technologies and government policies has provided an opportunity to both empower consumers and create new markets from "smarter disclosure" of this personal data. Smart disclosure is when a private company or government agency provides a person with periodic access to his or her own data in open formats that enable them to easily put the data to use. Informing Consumers through Smart Disclosure. Posted by Cass Sunstein on March 30, 2012 at 08:19 AM EDT Today, the White House and the National Archives and Records Administration (NARA), with support from ideas42, will host a summit on Smart Disclosure – a new tool that helps provide consumers with greater access to the information they need to make informed choices.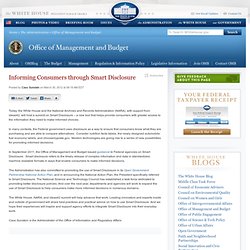 In many contexts, the Federal government uses disclosure as a way to ensure that consumers know what they are purchasing and are able to compare alternatives. Consider nutrition facts labels, the newly designed automobile fuel economy labels, and choosemyplate.gov. - PSFK. This article titled "Consumers to have access to personal marketing data held by businesses" was written by Mark King, for The Observer on Saturday 9th April 2011 23.06 UTC Consumers should get digital access to data held on them by companies under a scheme to be announced next week.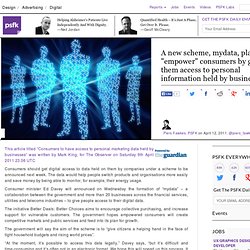 The data would help people switch products and organisations more easily and save money by being able to monitor, for example, their energy usage. Consumer minister Ed Davey will announced on Wednesday the formation of "mydata" – a collaboration between the government and more than 20 businesses across the financial services, utilities and telecoms industries – to give people access to their digital data. Digital ID Coach. Privowny. Anonymity Online. 5 companies turning your data into dollars — Cloud Computing News. 20 eye-popping DEMO 2012 tech products. Take Control of your Personal Data: An UMA perspective. Recently, the EU commission reviewed the Privacy Directive introducing new rules for the protection of personal data in a data sharing context.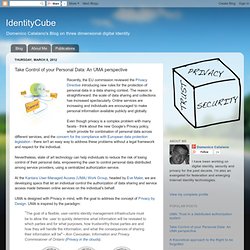 The reason is straightforward: the scale of data sharing and collections has increased spectacularly. Online services are increasing and individuals are encouraged to make personal information available publicly and globally. Even though privacy is a complex problem with many facets - think about the new Google's Privacy policy, which provide for combination of personal data across different services, and the concern for the compliance with European data protection legislation - there isn't an easy way to address these problems without a legal framework and respect for the individual.
Nevertheless, state of art technology can help individuals to reduce the risk of losing control of their personal data, empowering the user to control personal data distributed among service providers, using a centralized authorization service. Www.it.vt.edu/publications/pdf/Standard_for_Personal_Digital_Identity_LOA_Final-09June2010.pdf. Personal Levels of Assurance for Secure Online Authentication. Sites/default/files/PLOA White Paper - v1.01.pdf.
PLOA – Just What You Need to Know | Equals Drummond. On Friday I had a demo of PLOA – Personal Levels of Assurance — from it's architect, Jay Glasgow at AT&T. I've known Jay since he attended an XDI retreat hosted by Scott David at Whistler two years ago, and at that retreat I learned just how deeply Jay was thinking about the problems of federated identity and user-centric identity. Which is to say, plenty. PLOA is the outcome of Jay's analysis about how a large identity provider (IdP) like AT&T should go about providing not just a user-centric identity system, but a developer-friendly and relying party-friendly system (relying parties being the sites that actually need the identity assurance). The Pillars of Influence and How to Activate Cause and Effect. InShare356 Digital Influence is one of the hottest trends in social media and it is also one of the least understood.
Klout, PeerIndex, Kred among many others are investing millions of dollars to understand how our social media activity translates into influence. The market for influence is only heating up with more entrants expected to debut and acquisitions or mergers likely on the horizon. Within the last 90 days alone, Klout took in a Series C of $30 million from Kleiner Perkins at a whopping valuation of $200 million. Why You Should Quit Complaining About Klout And Other Influence Measuring Sites. Its time to quit all the whining and complaining about how Klout, Kred, Peer Index or whatever influence measuring site, doesnt measure EVERYTHING in influence. Look the smart people get it and instead of complaining are busy expanding their influence by creating great content and NOT FOR THE PURPOSE OF GETTING A HIGH SCORE. I'm tired of hearing how one person or company has metrics that are better.
Heres why its time to shut up: No system is perfect. Most all these companies are startups dealing with massive and fast growing social media sites. Your privacy is a sci-fi fantasy | Data Center. The assault on personal privacy has ramped up significantly in the past few years. From warrantless GPS tracking to ISP packet inspection, it seems that everyone wants to get in on the booming business of clandestine snooping -- even blatant prying, if you consider reports of employers demanding Facebook passwords prior to making hiring decisions. What happened? Did the rules change? Street Identity. A structural model for Identity based on certification, recognition, reputation and anonymity. Privacy management on social media sites. Klout and PeerIndex Don't Measure Influence. Brian Solis Explains What They Actually Do. Online identity verification service miiCard | FinovateEurope 2012. Domain name, web site hosting, email, registration.
The-sad-state-of-social-media-privacy-infographic.png (1000×2533) How Will We Collaborate if We Can't Trust Each Other. What is Trust? Paul Zak: Trust, morality -- and oxytocin.
---