Education and Research
UserGuidev1.1
ObituariesSubmitted by Lynn Zimmerman
We like to feel superior to the people who lived centuries ago, what with their shitty mud huts and curing colds by drilling a hole in their skulls.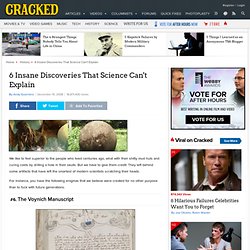 Science with Out of this World Info
Everything is Interesting
And we won't be forgetting the other, harder-edged meaning of wonder -- where "I wonder" equals "I ponder." We'll be adding in strong servings of thoughtful insight, so that the possibilities we dream of are anchored in reality.
2011: Program
2012: Full Spectrum
Amazing Other People Pearls of Interest
Welcome to the future! Below, you will find a speculative timeline of future history. Part fact and part fiction, the timeline is based on detailed research that includes analysis of current trends, long-term environmental changes, advances in technology such as Moore's Law, future medical breakthroughs, the evolving geopolitical landscape and more. Where possible, references have been provided to support the predictions.