Education and Research
UserGuidev1.1
Welcome! Whatever your climbing discipline or ability level, Rockclimbing.com is a website with information on equipment, clothes, routes, and techniques including bouldering, indoor, ice, and traditional climbing. Whether you are looking for your first pair of climbing shoes or the best backpack to haul your gear around you can find it all in our gear database. Browse thousands of pictures, videos, and route information, or join the discussion on the forums. New climbers: check out our introduction: rock climbing basics!
Rock Climbing Routes, Gear, Photos, Videos & Articles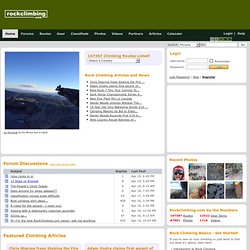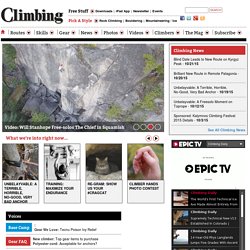 Climbing Magazine - Since 1970
Thanks for visiting Climbing.com! Whether you're an expert climber looking for the latest news and climbing videos, or a beginner who wants to learn more about rock climbing, Climbing.com is the place. Our Skills section is packed with expert climbing advice on how to rock climb, as well as training tips for rock climbing and bouldering. The Gear pages offer hundreds of field-tested reviews of rock climbing shoes, ropes, climbing harnesses, and every other type of climbing gear and mountaineering equipment. Check out our Routes section to plan your next rock climbing or bouldering trip.
We like to feel superior to the people who lived centuries ago, what with their shitty mud huts and curing colds by drilling a hole in their skulls. But we have to give them credit: They left behind some artifacts that have left the smartest of modern scientists scratching their heads. For instance, you have the following enigmas that we believe were created for no other purpose than to fuck with future generations. The Voynich Manuscript
6 Insane Discoveries That Science Can't Explain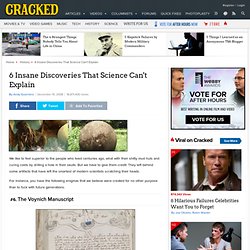 Science with Out of this World Info
Everything is Interesting
Melinda Gates and Bill Gates Why giving away our wealth has been the most satisfying thing we've done In 1993, Bill and Melinda Gates—then engaged—took a walk on a beach in Zanzibar, and made a bold decision on how they would make sure that their wealth from Microsoft went back into society. In a conversation with Chris Anderson, the couple talks about their work at the Bill & Melinda Gates Foundation, as well as about their marriage, their children, their failures and the satisfaction of giving most of their wealth away.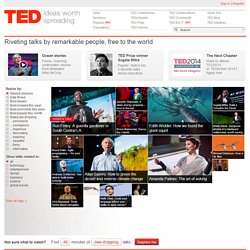 TED: Ideas worth spreading
And we won't be forgetting the other, harder-edged meaning of wonder -- where "I wonder" equals "I ponder." We'll be adding in strong servings of thoughtful insight, so that the possibilities we dream of are anchored in reality. One other change in 2011 is that, in response to community feedback this year, we are moving the conference one day earlier, so that it starts Monday evening and wraps up Friday afternoon. This allows people travel flexibility at weekends either side of the conference. A detailed schedule will be available closer to conference time, but the dates below will help you plan: Monday, February 28, 2011
2011: Program
2012: Full Spectrum
Amazing Other People Pearls of Interest
Welcome to the future! Below, you will find a speculative timeline of future history. Part fact and part fiction, the timeline is based on detailed research that includes analysis of current trends, long-term environmental changes, advances in technology such as Moore's Law, future medical breakthroughs, the evolving geopolitical landscape and more.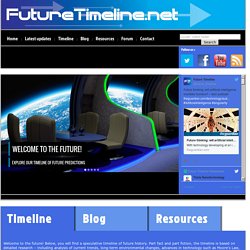 Future Timeline | Technology | Singularity | 2020 | 2050 | 2100 | 2150 | 2200 | 21st century | 22nd century | 23rd century | Humanity | Predictions | Events