You 'll have a few, won't you? #photographie 02
Women In Photography International. LA Photo. zReportage magazine - stories that need to be told - new picture essay every Tuesday. Too much chocolate. Two Way Lens. UNLESS YOU WILL. Urbansand | Photography. SPLOTCH | Visual Pulse. Subjectify. La Fototeca. Vaso De Agua - Image Blog. WATERFALL MAGAZINE. We can shoot too. Whats the jackanory ? — another fine hetherington™ product quality guaranteed. | women in photography | The New Breed of Documentary Photographers. Vewd - For documentary photographers. Welcome to ZoneZero - From the lightscreen. The PhotoBook. The Photo Exchange. The photographic dictionary. Crew [kroo]–noun1. the fruit of any of various trees belonging to the genus Prunus, of the rose family, consisting of a pulpy, globular drupe enclosing a one-seeded smooth stone.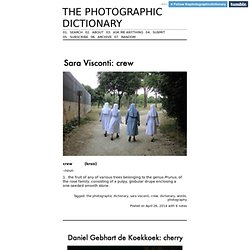 Cherry cher·ry [cher-ee]–noun1. the fruit of any of various trees belonging to the genus Prunus, of the rose family, consisting of a pulpy, globular drupe enclosing a one-seeded smooth stone. Spring–noun1. the season after winter and before summer, in which vegetation begins to appear, in the northern hemisphere from March to May and in the southern hemisphere from September to November. Connection con·nec·tion [kuh-nek-shuhn] –noun1. a relationship in which a person or thing is linked or associated with something else.
Cactus cac·tus [kak-tuhs]–noun1. any of numerous succulent plants of the family Cactaceae, of warm, arid regions of the New World, having fleshy, leafless, usually spiny stems, and typically having solitary, showy flowers. Urbanautica. It'll happen. LensWork Home Page. Light Leaks Magazine - Low Fidelity Photography. JPG: Your World in Pictures. The Julia Dean Photo Workshops | Expanding Photography in Southern California. LAY FLAT. New York Times Photojournalism - Photography, Video and Visual Journalism Archives - Lens Blog. Contemporary photography magazine. Little Birdy B. LOS ANGELES LEAGUE OF PHOTOGRAPHERS (LALOP) Love-pictures.org - found and taken photographs. Liz Kuball › Blog. I know, I know, you're up to your ears in Kickstarter emails from photographers, and I feel you, I really do.
But this one is different. My little sister, Cara, is part of a group called the New Craft Artists in Action (NCAA), based in Boston. That's them above (Cara is the cute one in the orange scarf). NCAA designs and makes basketball nets and installs them on public courts across the country where nets are missing. Here's a pic of a net Cara designed. LUCIDA MAGAZINE. Lunatic |Creative contemporary photojournalism. Organic Chemistry. Orion Magazine - nature / culture / place. Our Magazine. Mary Virginia Swanson | On Making and Marketing Art. Mrs. Deane : nothing is too amazing to be true. Non-digitally manip­u­lated hand print © Yaseen Al-Obeidy The Kuwait Weeks were born out of a con­ver­sa­tion I had with Kuwaiti pho­tog­ra­pher Mohammed Alk­ouh, who is cur­rently hav­ing a solo show at CAP Kuwait, which includes a num­ber of his recent stu­dio por­traits.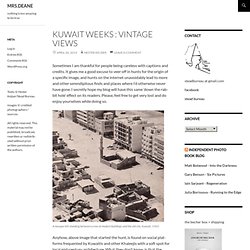 We talked about his encoun­ters in the tra­di­tional por­trait stu­dios, which gave him the love for the hand-colored image, and how for him those pho­tographs, like real life instances of Oscar Wilde's pic­tures of Dorian Gray, con­tained the pres­ence and the youth of a fam­ily mem­ber now in advanced age or even deceased. And how the vin­tage image has this mys­te­ri­ous time-warp qual­ity that we can­not shake off or stop being fas­ci­nated by — an addic­tion mer­ci­less tapped into and catered to by sev­eral online plat­forms, numer­ous photo books, col­lec­tions, some gal­leries, eBay sell­ers and auctioneers. Instal­la­tion view with self por­traits of Al-Obeidy over the years © Hes­ter Keijser. Out of Contxt. Nymphoto. Only Diptychs. Photo-eye | Photography Magazine, Photo Bookstore, Photography Gallery, Rare Photobook Auctions, USA Photo Guide, VisualServer Websites for Photographers. Photo Booth. April 16, 2014 Portfolio: Cathedrals of Ice This past February, thanks to an unusually cold winter, the sea caves along the Apostle Islands National Lakeshore, in northern Wisconsin, were accessible by foot for the first time in five years.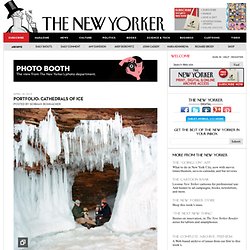 Visitors were able to walk two miles over the thick ice of Lake Superior to see the ice formations that run up the coastline. Erin Brethauer, a photographer living in North Carolina, visited the sea caves. Photoinduced.com: News, reviews and opinions on the world of photography. PhotoWings. Here are some excerpts from this fascinating interview: Malcolm Daniel on our shared photographic heritage.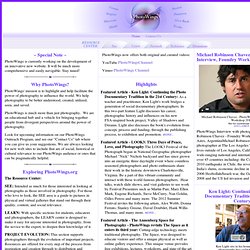 From a historical standpoint, there are things to be learned from the past. From a more spiritual aspect, great works of art have the power to move us, whether they're made now or whether they were made 50 years ago, 100 years ago or 1,000 years ago or more. And so each time we lose something that has that power, we've lost an opportunity to be changed by it. Malcolm Daniel tells the story of his predecessor Maria Morris Hambourg's forthright job interview with Philippe de Montebello, then museum curator and director at The Met. Photo-eye | BLOG. PHOTOGRAPHERS SPEAK. Welcome to Pictory ? Pictory. Pix Channel :: What Makes Photographers Click. Pixels and Prose - Online Photography Magazine.
POSI+TIVE MAGAZINE. Raw File. SEESAW MAGAZINE: Home. Selfportrait gallery. Shots Magazine. Prison Photography. PRIVATE n. 51 - Global Report 2. Purpose - webmag photographique. Current Issue - SuperMassiveBlackHole. The 37th Frame ? Celebrating the Best of Photojournalism. The Digital Journalist. The F Blog. Singular Images. SocialDocumentary.net | Create and Explore Social Documentary Photography Websites. Photographic Review: 10 Photography-Related Blogs You Should Read. The Photographs Not Taken. The Photography Post : The most current discussions on the state of photography. The Sartorialist. The Year in Pictures. iPi - The International Photographer Index at photoeye.com. Photography that aims at being true, not at being beautiful because, what is true most often is beautiful. - Journal.
The Online Photographer: Visual Culture Blog. Film is not dead it just smells funny. This is a photo blog. About Visual Overture Magazine - Visual Overture Magazine. Visura Magazine, Issue 11. Wall space | the flat file. Global Insight | Global Advertising Strategies. Thoughts on Photography. Through-the-lens. Wall space gallery | the flat file. Wan.der.lust.ag.ra.phy.
---