Photographes L-M-N
David Lindsey Wade | Photographer
The Wade Brothers photographed the global above the line campaign for Bacardi with BETC in Panama and Mexico. The images focus on the brand's famous heritage, and the incredible struggles that the family have overcome to get to where they are today – including fires, exile, prohibition and Cuban revolutionaries! Share This The Wade Brother's worked in collaboration with M&C Saatchi UK to launch a look for Reebok's new campaign, Reethym of Lite. The Wade Brothers collaborated with Gatorade's digital agency VML alongside Chiat Day to create still imagery for a wide variety of uses. Athletes were: Dwayne Wade, Ryan Lochte and Abby Wambach.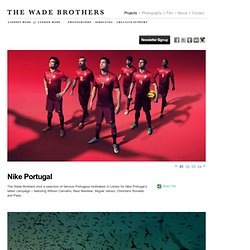 About Achim Lippoth, born 1968 in Ilshofen, Germany. Freelance Photographer since 1992, also directing commercial videos since 1998. Childhood is the central topic. His works are constantly on exhibition and regularly win international awards. The latest awards he got 2010 in Cannes and at the New York Festivals, current exhibitions took place in Galerie Paris Beijing (Paris), Shay Arye Gallery Tel Aviv and at Catherine Edelman Gallery Chicago.
Achim Lippoth Photographer
Stéphanie LACOMBE
Estelle Lagarde
Michael Light
Camouflage... Fred Lebain
Myoung Ho Lee
Spirit is Higher One woman, no knees, and a mountain that must be conquered Free Advice One week, 50 people, free advice about everything + coffee We're All Gonna Die 100 meters of human existence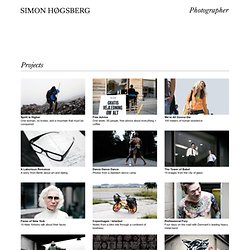 Byung-Hun Min was born in Seoul, South Korea in 1955. Min started out as a musician and vocalist, then a student of electronic engineering, before finally discovering photography. He turned to study photography in his late 20's at the Soon-tae Hong studio, from where he has pursued a successful career in photography. He has been awarded the Dong-A International Photography Salon's silver medal (1984). Min's black and white photography often represents nature and the environment; and his pictures aim to capture the essence of the Korean landscape. His photographs also draw references back to traditional Korean and East Asian art and culture, with a resemblance to Ink Scroll Paintings, floral themes, and a focus on simplicity and minimalist compositions.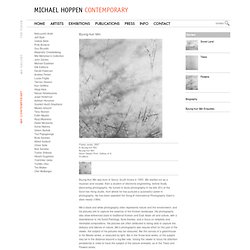 Michael Hoppen Contemporary - Artist - Byung-hun Min - Flowers -
MIMI MOLLICA | PHOTOGRAPHER | REPORTAGE
Didier Massard
Lisette Model
Zed Nelson - photographer
荒木経惟オフィシャルサイト araki nobuyoshi
荒木 経惟「写狂老人Aのフィルム・ノスタルジー」 Nobuyoshi Araki "Film Nostalgia" 会期:2011年5月7日(土)~5月28日(土) 会場:タカ・イシイギャラリー(東京・清澄) Nobuyoshi Araki "Film Nostalgia" Dates: May 7 – 28, 2011 Location: Taka Ishii Gallery (Kiyosumi, Tokyo) Opening reception: Wednesday, May 25, 17:30-19:00 写真っていうのは、まあ写真つーか人生は、ノスタルジーだと確信をもったわけだよ。 こういう光景に出会って。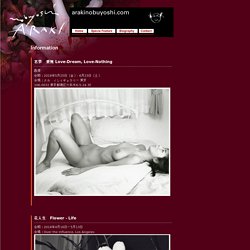 Jeremy Nicholls
Adeline Mai : Adeline Mai