Photographes L-M-N
David Lindsey Wade | Photographer
The Wade Brothers worked with Channel 4 in London to handle all the off air promotion for the 2012 Paralympics. "Forget everything you thought you knew about strength. Forget everything you thought you knew about humans. It's time to do battle. Meet the Superhumans." A battlefield of explosions set the backstory for their injuries.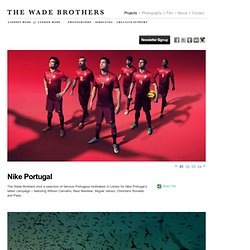 Achim Lippoth Photographer
Olivier Laban-Mattei
Stéphanie LACOMBE
Estelle Lagarde
Michael Light
Fred Lebain
Camouflage... Fred Lebain
Byung-Hun Min was born in Seoul, South Korea in 1955. Min started out as a musician and vocalist, then a student of electronic engineering, before finally discovering photography. He turned to study photography in his late 20's at the Soon-tae Hong studio, from where he has pursued a successful career in photography. He has been awarded the Dong-A International Photography Salon's silver medal (1984). Min's black and white photography often represents nature and the environment; and his pictures aim to capture the essence of the Korean landscape. His photographs also draw references back to traditional Korean and East Asian art and culture, with a resemblance to Ink Scroll Paintings, floral themes, and a focus on simplicity and minimalist compositions.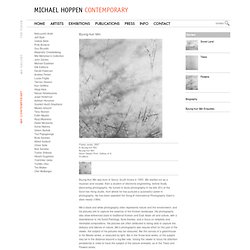 Michael Hoppen Contemporary - Artist - Byung-hun Min - Flowers -
@perpipon: c'est justement pour ça que sous ton premier commentaire tu trouveras un petit "éditer" (ou "edit" selon la version que tu utilises) qui te permet de corriger ton commentaire... by bil Feb 24
@perpipon : "ses sculptures" supposerait que R.Mapplethorpe ait fait des sculptures, or soit j'ai ratté un truc et Mappletorpe n'a jamais fait de sculpture... Manifestement un "les sculptures" générique rendrait ton premier commentaire plus compréhensible. Non? by bil Feb 24
MIMI MOLLICA | PHOTOGRAPHER | REPORTAGE
Tu as un accès à artnet? je n'arrive pas à trouver ses prix (juste pour savoir) by bil Apr 8
Didier Massard
Lisette Model
Zed Nelson - photographer
荒木経惟オフィシャルサイト araki nobuyoshi
荒木 経惟「写狂老人Aのフィルム・ノスタルジー」 Nobuyoshi Araki "Film Nostalgia" 会期:2011年5月7日(土)~5月28日(土) 会場:タカ・イシイギャラリー(東京・清澄) Nobuyoshi Araki "Film Nostalgia" Dates: May 7 – 28, 2011 Location: Taka Ishii Gallery (Kiyosumi, Tokyo) Opening reception: Wednesday, May 25, 17:30-19:00 写真っていうのは、まあ写真つーか人生は、ノスタルジーだと確信をもったわけだよ。 こういう光景に出会って。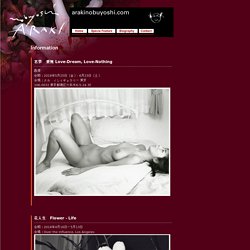 Jeremy Nicholls
Adeline Mai : Adeline Mai