About design...
ouch! et une idée simple qui fait mouche, une! by bil Jun 4
Orange - La collection printemps été 09 - Mozilla Firefox
tu n'as pas l'impression que ça tourne dans tous les sens juste pour RIEN? J'ai du mal à être convaincu par le coté "expérience réelle"; je me demande quel intéret il y a à "singer" un déplacement physique... by bil Apr 14
evolution_advertising.jpg (Image JPEG, 1086x683 pixels)
After months of hard work, we're at a point where almost all 100 million people around the world on Facebook are using the new design.
Facebook | Thoughts on the Evolution of Facebook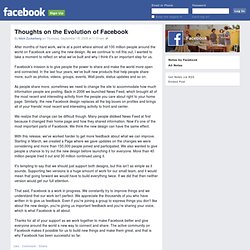 a propos des alpha perpétuelles des changements et du reste... by bil Mar 1
Qbic E-COMMERCE SITE