About design...
A Dark Pattern is a type of user interface that appears to have been carefully crafted to trick users into doing things, such as buying insurance with their purchase or signing up for recurring bills. Normally when you think of "bad design", you think of the creator as being sloppy or lazy but with no ill intent. This type of bad design is known as a "UI anti-pattern". Dark Patterns are different – they are not mistakes, they are carefully crafted with a solid understanding of human psychology, and they do not have the user's interests in mind.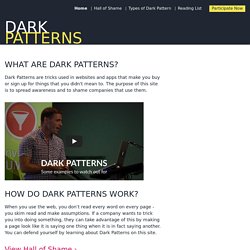 Orange - La collection printemps été 09 - Mozilla Firefox
evolution_advertising.jpg (Image JPEG, 1086x683 pixels)
After months of hard work, we're at a point where almost all 100 million people around the world on Facebook are using the new design. As we continue to roll this out, I wanted to take a moment to reflect on what we've built and why I think it's an important step for us. Facebook's mission is to give people the power to share and make the world more open and connected.
Facebook | Thoughts on the Evolution of Facebook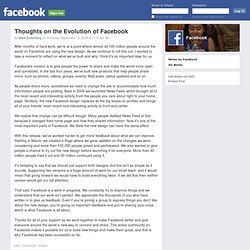 Qbic E-COMMERCE SITE