Graphic Organizers
Exploratree - Exploratree by FutureLab. Reading, Math, Science, Social Studies, Music, Art and PE Interactive Sites. | Patti's Tech Coach wikispace | | Using Interactive Math | What's New at School?
| Delmar El. Resources | MSDE | Kidlink | www.google.com | | MD Content Standards | Math Professional Day 2004 | Kidspiration Make 'n Take | Rdg and Math (gr. 3 and 4) | MSA Math review (gr. 2, 3, 4) | Math - 3, 4, 5 | WCBOE | | Unitedstreaming | PowerPoint Presentations and Jeopardy games | ESL | | Time For Kids World News | Thesaurus.com | WorksheetWorks.com. Creaza. Text 2 Mind Map – The text-to-mind-map converter. Mindmapping, concept mapping and information organisation software. Diagrammr. Popplet. Graphic Organizers. Enchanted Learning.
Advertisement.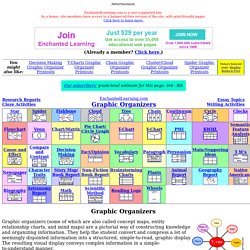 EnchantedLearning.com is a user-supported site. As a bonus, site members have access to a banner-ad-free version of the site, with print-friendly pages.Click here to learn more. (Already a member? Education Oasis. Harcourt. ReadingQuest | Reading Strategies for Social Studies. Reading Graphic Organizers and Printables.
On this page you will find various graphic organizers and printables you can use along with your reading selection.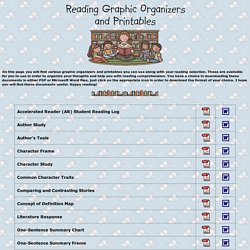 These are available for you to use in order to organize your thoughts and help you with reading comprehension. You have a choice in downloading these documents in either PDF or Microsoft Word files, just click on the appropriate icon in order to download the format of your choice. I hope you will find these documents useful. Adolescent Literacy - Classroom Strategies. Home » Classroom Strategies Explicit strategy instruction is at the core of good comprehension instruction.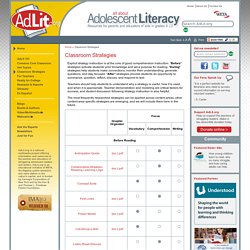 "Before" strategies activate students' prior knowledge and set a purpose for reading. "During" strategies help students make connections, monitor their understanding, generate questions, and stay focused. Recipes4Success. Online/Interactive Graphic Organizers. Click here for the new Vermilion Parish Interactives for the Louisiana 18 Literacy Strategies!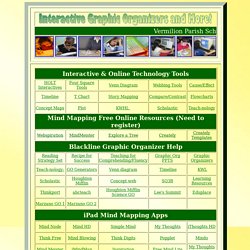 *The new interactive links below were shared via twiiter by Adam Brice (@adambrice via via @SimplyBox) Vermilion Parish Curriculum Page Vermilion Parish Schools Testing Links Graphic Organizers 18 Literacy Strategies Vermilion Parish Schools (Louisiana) Organizers. Graphic organizer, concept mapping, and mind mapping examples.
Graphic organizers can take many forms as per the table lower down. Graphic organizers can help motivate, increase recall, assist understanding, create interest, combat boredom and organize thoughts. Some more forms: Clock, Cluster/Word Web, Describing Wheel, E-Chart, Fact and Opinion, Five W's Chart, Flow Chart, Four-Column Chart, Garden Gate, Goal-Reasons Web, Hierarchy chart, Ice-Cream Cone, Idea Rake, Idea Wheel, , Inverted Triangle, ISP Chart, KWHL Chart, KWL Chart, KWS Chart, Ladder, Observation Chart, Persuasion Map, Planning Chart, Problem Solution Chart, Progress Report, Sandwich, Sense Chart, Sequence Chart, Spider Map, Step-by-Step Chart, Story Map 1, T-Chart, Think-Pair-Share, Ticktacktoe, Time Line, Time-Order Chart, Tree Chart, Venn Diagram.
Graphic organizers are valuable tools for teaching/instruction. Bubbl.us.
---