Webtools webcheck
Website value calculator. Estimate and get information and valuations. Analyse: Copyscape Plagiarism Checker - Duplicate Content Detection Software. Regional Internet Registries Statistics - RIPE NCC Allocations - Germany (DE) - IP address allocations. Germany (DE) - IP address allocations Data from RIPE NCC website as of: Sun Apr 06 2014 de.1api 1api GmbH 20080523 93.190.232.0/21 ALLOCATED PA 20080213 2a02:18::/32 de.1stcom DNS:NET Internet Service GmbH 19990607 212.86.32.0/19 ALLOCATED PA 20000531 212.91.224.0/19 ALLOCATED PA 20001120 217.70.128.0/20 ALLOCATED PA 20071008 79.140.112.0/20 ALLOCATED PA 20100222 178.20.88.0/21 ALLOCATED PA 20110707 2a02:2d80::/32 20111121 2a03:fc80::/32.
SEO Analysis, Free SEO Tools, Online Professional SEM Toolbox. Anonymity test: What is my IP address? Webartikel ABC - Autor werden, Online Redakteur werden, online Texter werden. Push 2 Check. IP Address Lookup. DNS BlackList results: bl.spamcop.net cbl.abuseat.org xbl.spamhaus.org Most recent complaints on 77.185.208.234.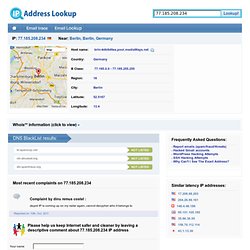 For bhabegger. Check Username Availability at Multiple Social Networking Sites. PageRankGraph. Facebook Trends. Home. Jetwick Twitter Search. The Standard for Online and Internet Influence. INPROMO Social Media Planner. Webmaster tools - seo internetmarketing.
Adressen ONLINE: Firmenadressen und Privatadressen für Ihre Neukundengewinnung. Allgemeine Geschäftsbedingungen (Stand: 01.07.2012) 1.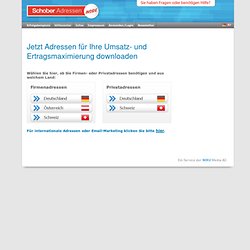 Allgemeines 1.1 Diese Geschäftsbedingungen sind Bestandteil aller unserer Angebote und Verträge über Adresslieferungen, Dienstleistungen oder sonstige Geschäfte mit unseren Kunden abgeschlossen im Webshop unter www.schober.com und gelten auch für künftige Geschäfte mit diesen. Allgemeine Geschäftsbedingungen des Kunden verpflichten uns nicht, auch wenn wir diese nicht ausdrücklich zurückgewiesen haben.
Vertragspartner ist die NIKU Media AG, Bramenstraße 5, CH-8184 Bachenbülach. Analytics - Your social media mgmt center. Free Monitoring Test Tools by WebSitePulse. Enter specific URL (example The Website test verifies the server status, downloads the full HTML content and measures the response time of the test website.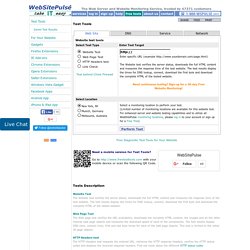 The test results display the times for DNS lookup, connect, download the first byte and download the complete HTML of the tested website. The Web page test verifies the URL availability, downloads the complete HTML content, the images and all the other internal web page objects and measures the download speed of each of the components. Twitter Grader | Get Your Twitter Ranking. Website Kostenrechner zur Kalkulation des passenden Webbudgets @website-kosten.com. Definieren Sie zuerst Ihr Projekt mit dem für Webprojekte allgemein gültigen Frage­katalog*.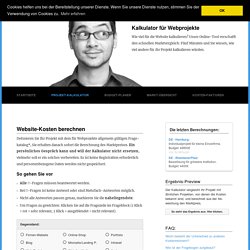 Sie erhalten danach sofort die Berechnung des Marktpreises. Ein persönliches Ge­spräch kann und will der Kalkulator nicht ersetzen, viel­mehr soll er ein sol­ches vor­bereiten. Es ist keine Regis­tra­tion er­forderlich und personen­be­zo­gene Da­ten werden nicht gespeichert. Zehn SEO-Tipps für Online-Shops « ABAKUS Newsletter. Für viele Online-Shop Betreiber ist die Weihnachtszeit die wichtigste Zeit des Jahres.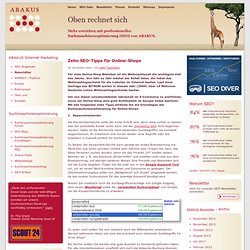 Von Jahr zu Jahr wächst der Anteil derer, die lieber das Weihnachtsgeschenk für die Liebsten im Internet kaufen. Laut einer Umfrage des BITKOM wollen in diesem Jahr (2009) über 14 Millionen Deutsche online Weihnachtsgeschenke kaufen. Namecheck - check username availability, domain names, trademarks. WebPagetest. Introducing The Conversation Prism Version 3.0. InShare237 If a conversation takes place online and you're not there to hear it, did it really happen?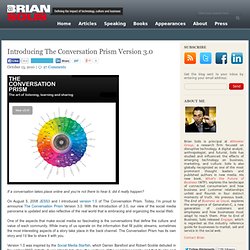 On August 5, 2008 JESS3 and I introduced version 1.0 of The Conversation Prism. Today, I'm proud to announce The Conversation Prism Version 3.0. With the introduction of 3.0, our view of the social media panorama is updated and also reflective of the real world that is embracing and organizing the social Web. One of the aspects that make social media so fascinating is the conversations that define the culture and value of each community. Google Adwords - Der Praxistest. Clue – A fun and easy way to test your site. Majestic-SEO : Control Panel. PageRank Recovery Tool. Majestic-SEO : Competitive Link Intelligence. Open Site Explorer: Link Popularity & Backlink Analysis Tool. Pelastop summelsarium. Dashboard: All Brands. SimilarSites.com - Easily Find Similar WebSites. Top 10 Free Tools to Create RSS for Any Website - create rss, feed43, feedity, Feeds, Free tools, make rss, Online Tools, RSS, syndication, tools, Web 2.0.
Www.Platinflirt.de - Platinflirt. Suma Tools | Homepage Tools zur Suchmaschinenoptimierung. Linktausch Bei MyLinkState einfach und komfortabel Links tauschen, speziell für deutsche Seiten gut geeignet.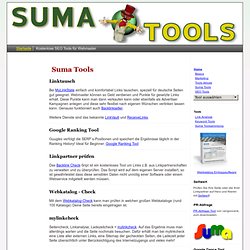 Webmaster können so Geld verdienen und Punkte für gesetzte Links erhält. Diese Punkte kann man dann verkaufen kann oder ebenfalls als Advertiser Kampagnen anlegen und diese sehr flexibel nach eigenen Wünschen verlinken lassen kann. Genauso funktioniert auch Backlinkseller. Free Webmaster Tools.
---