Desserts
Chocolate and Berries Yogurt Dessert Recipe. Ice Cream Chocolate Chip Cookies! Good Thursday everyone!!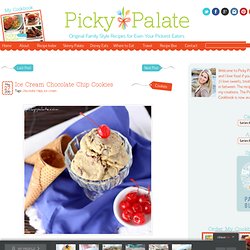 I am practically jumping out of my old computer seat dying to share my latest cookie with you :) A week or so ago as I was making the boys an ice cream shake, I started thinking…..hmmm I wonder how vanilla ice cream would work out in chocolate chip cookies? Well, can I just tell you it worked, and it's over the top INCREDIBLE! I used a creamy all natural vanilla ice cream by Breyers. Mini Peanut Butter and Nutella Cheesecakes | Just Everyday Me. 28 Dec 2011 One of the perks of being a student (and right now as I'm in the middle of college applications and interviews there don't seem to be many) is that you get a long Christmas break.
This is what I've done since Christmas: Chocolate Chip Cookie Dough Truffles | RecipeGirl.com - StumbleUpon. Chocolate Chip Cookie Dough Truffles I've never liked chocolate chip cookies.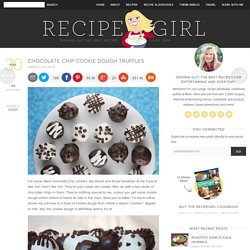 Go ahead and throw tomatoes at me if you'd like, but I don't like 'em. They're just a plain old cookie, after all, with a few studs of chocolate chips in them. Cute & Easy Mini Santa Hat Brownies | Picture the Recipe - StumbleUpon. *Post Edit:- I had forgotten to mention the step where the sugar goes in the recipe image below….as pointed out by several people in the comments.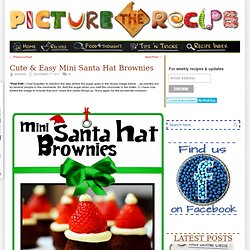 So, Add the sugar when you melt the chocolate in the butter. =) I have now edited the image to include that and I hope this clears things up. Sorry again for the accidental omission. Makes: 48 mini muffin sized brownies or 24 regular muffin sized brownies. Fudge Brownie Recipe Ingredients: 250gms (2 1/2 Sticks) Butter 250gms (approx. 2 cups) Chocolate Chips or chunks 12 oz (1 1/2 Cup) fine Sugar 1 tsp Vanilla extract 2 Cups of all purpose Flour 2 tsps Baking Powder 6 large Eggs 1 Cup of chopped Walnuts or Almonds (optional) Method: 1.
Salted chocolate fudge bacon brownies: Celebrate National Brownie Day! -... Today is National Brownie Day, so celebrate!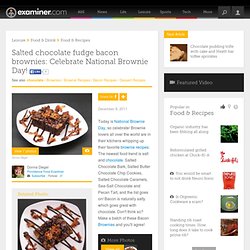 Brownie lovers all over the world are in their kitchens whipping up their favorite brownie recipes. The newest food trend is salt and chocolate. Salted Chocolate Bark, Salted Butter Chocolate Chip Cookies, Salted Chocolate Caramels, Sea-Salt Chocolate and Pecan Tart, and the list goes on! Bacon is naturally salty which goes great with chocolate. Don't think so? Food Wishes Video Recipes. Cinnamon swirl buns + so much news. Friends, we have so much catching up to do.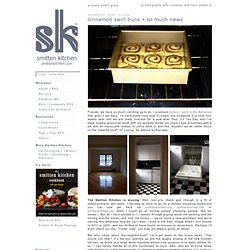 I promised before I went to the Bahamas that when I got back, I'd have some cool stuff to share, but somehow it is over four weeks later and we are really overdue for a pow-wow. Plus, it's Tax Day and I've been moping around all week with my pockets inside out since I was presented with a bill with an impossible number of zeros after it, and hey, wouldn't we all rather focus on the cheerful stuff? Of course. Cheesecake-marbled brownies. Rumor has it that pregnancy doesn't just lead to swollen ankles, an insatiable need for peanut butter and a belly that causes what I will have to assume are otherwise polite people to ask if you're having twins.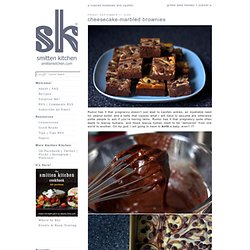 Rumor has it that pregnancy quite often leads to teacup humans, and those teacup human need to be "delivered" from one world to another. Oh my god, I am going to have to birth a baby, aren't I?! Fortunately for all of us, this is not the kind of blog where I would subject you to the details of delivery, in part because I plug my ears and say "la la I can't hear you" when anyone brings them to my attention and in part because I'm in the practice of encouraging appetites and well… you know. Crazy Domestic: Melted Snowman Cookies. I saw a picture of these the other day on Allrecipes.com and thought it was such a cute idea, I had to try it.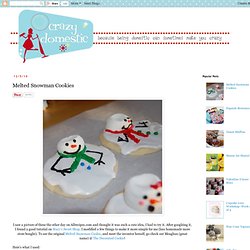 After googleing it, I found a good tutorial on Stacy's Sweet Shop. I modified a few things to make it more simple for me (less homemade more store bought). Eclair Dessert | Chocolate Pudding Graham Cracker Dessert. Peanut Butter Pie. I made this pie today as a tribute to a fellow food blogger.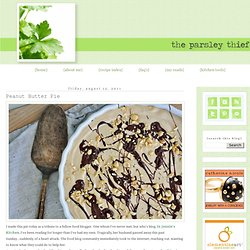 One whom I've never met, but who's blog, In Jennie's Kitchen, I've been reading for longer than I've had my own. Tragically, her husband passed away this past Sunday...suddenly, of a heart attack. The food blog community immediately took to the internet, reaching out, wanting to know what they could do to help her. Amazingly, she posted to her blog this week, to talk about her husband and to ask her readers to make this pie today. Sweet saturday: one minute peanut butter cake & Food & back to her roots. Picture this scene: it's 8:30 in the evening.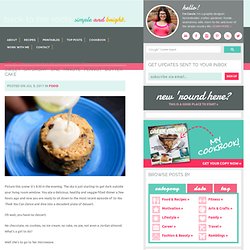 The sky is just starting to get dark outside your living room window. You ate a delicious, healthy and veggie-filled dinner a few hours ago and now you are ready to sit down to the most recent episode of So You Think You Can Dance and dive into a decadent plate of dessert. Oh wait, you have no dessert. No chocolate, no cookies, no ice cream, no cake, no pie, not even a Jordan almond. What's a girl to do? Cinnamon Sugar Pull-Apart Bread | Zoom Yummy. Looks yummy, right? And let me tell you, this cinnamon bread really is yummy! Immensely! I am actually so impressed by it that I would call it a gift from heaven. Okay, maybe not exactly from heaven since the original recipe was born in Joy the Baker's kitchen.
Twix Trifles. TGIF, friends. Hope that you all have had a lovely week, and that a relaxing weekend lies ahead. I'm looking forward to some friend's-birthday-celebrating, farmers-marketing, coffee-(friends)-dating, cake-baking, church-enjoying, and sleeping-inning here in my little corner of the world this weekend. OH, and the thing I'm perhaps most excited about — choir-directing. Once Upon a Plate: Samoas ~ The Girl Scout Cookie Clone. Chocolate & peanut butter does a body good & Slow Like Honey. (Update- I entered this recipe into The Peanut Butter Boy's 3rd PB Exhibition Event!
Check out his great site for all things Peanut butter inspired) This is the kind of cake that brings out your inner child. You know what I mean? The kind of cake that brings out your worst 5-year-old behavior. Yum Alert: Bittersweet Chocolate Tartlets. Yum Alert: Bittersweet Chocolate Tartlets By Ashley • Jul 18th, 2011 • Category: Dining, Food, FOOD AND TRAVEL, Recipes Bittersweet chocolate = everything that is right with the world. Bittersweet Chocolate Tartlets Recipe from GroupRecipes.com makes (8) 4-in tartlets or about (24) 2-in mini tartlets.
---