Desserts
Chocolate and Berries Yogurt Dessert Recipe | Flickr - Photo Sharing!
Ice Cream Chocolate Chip Cookies! | Picky Palate
28 Dec 2011 One of the perks of being a student (and right now as I'm in the middle of college applications and interviews there don't seem to be many) is that you get a long Christmas break. This is what I've done since Christmas: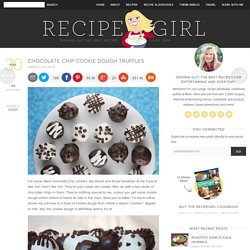 Chocolate Chip Cookie Dough Truffles I've never liked chocolate chip cookies. Go ahead and throw tomatoes at me if you'd like, but I don't like 'em. They're just a plain old cookie, after all, with a few studs of chocolate chips in them.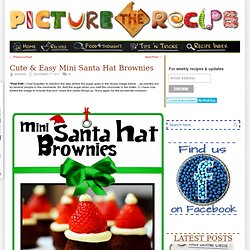 *Post Edit:- I had forgotten to mention the step where the sugar goes in the recipe image below….as pointed out by several people in the comments. So, Add the sugar when you melt the chocolate in the butter. =) I have now edited the image to include that and I hope this clears things up. Sorry again for the accidental omission. Makes: 48 mini muffin sized brownies or 24 regular muffin sized brownies. Fudge Brownie Recipe Ingredients: 250gms (2 1/2 Sticks) Butter 250gms (approx. 2 cups) Chocolate Chips or chunks 12 oz (1 1/2 Cup) fine Sugar 1 tsp Vanilla extract 2 Cups of all purpose Flour 2 tsps Baking Powder 6 large Eggs 1 Cup of chopped Walnuts or Almonds (optional) Method: 1.
Salted chocolate fudge bacon brownies: Celebrate National Brownie Day! -...
Friends, we have so much catching up to do.
cinnamon swirl buns + so much news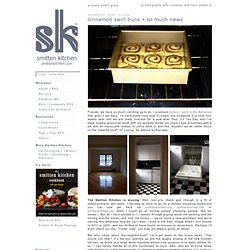 Rumor has it that pregnancy doesn't just lead to swollen ankles, an insatiable need for peanut butter and a belly that causes what I will have to assume are otherwise polite people to ask if you're having twins.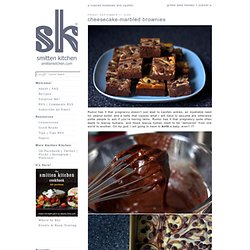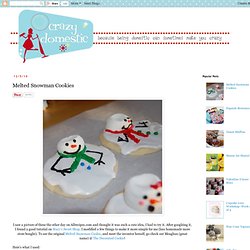 I saw a picture of these the other day on Allrecipes.com and thought it was such a cute idea, I had to try it. After googleing it, I found a good tutorial on Stacy's Sweet Shop. I modified a few things to make it more simple for me (less homemade more store bought).
Eclair Dessert | Chocolate Pudding Graham Cracker Dessert | A Nut in a Nutshell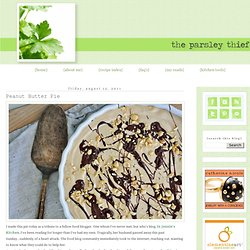 I made this pie today as a tribute to a fellow food blogger. One whom I've never met, but who's blog, In Jennie's Kitchen, I've been reading for longer than I've had my own. Tragically, her husband passed away this past Sunday...suddenly, of a heart attack. The food blog community immediately took to the internet, reaching out, wanting to know what they could do to help her. Amazingly, she posted to her blog this week, to talk about her husband and to ask her readers to make this pie today.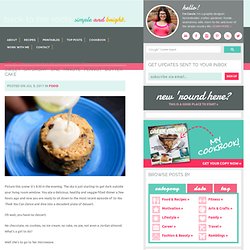 Picture this scene: it's 8:30 in the evening. The sky is just starting to get dark outside your living room window. You ate a delicious, healthy and veggie-filled dinner a few hours ago and now you are ready to sit down to the most recent episode of So You Think You Can Dance and dive into a decadent plate of dessert. Oh wait, you have no dessert. No chocolate, no cookies, no ice cream, no cake, no pie, not even a Jordan almond. What's a girl to do?
Looks yummy, right? And let me tell you, this cinnamon bread really is yummy! Immensely! I am actually so impressed by it that I would call it a gift from heaven. Okay, maybe not exactly from heaven since the original recipe was born in Joy the Baker's kitchen.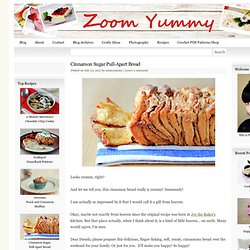 There seems to be a theme when I talk with friends (especially bloggers) about new year's resolutions this year: time management. I know — what's new, right? But this year, I'm one of 'em. I wrote about it a little bit in my post about choosing a "word" for the year instead of a resolution.
Twix Trifles
For a PRINTABLE copy of the recipe, you'll find it on my recipe blog. Click below:Once Upon a Plate RecipesIf you like the Girl Scout Cookies Samoas (also known as Caramel De-lites), I'm quite certain you will like these! I found the recipe on the excellent website "Baking Bites", and posted by a wonderful baker named Nicole.
chocolate & peanut butter does a body good & Slow Like Honey
(Update- I entered this recipe into The Peanut Butter Boy's 3rd PB Exhibition Event! Check out his great site for all things Peanut butter inspired) This is the kind of cake that brings out your inner child. You know what I mean? The kind of cake that brings out your worst 5-year-old behavior.
Yum Alert: Bittersweet Chocolate Tartlets | The Luxury Spot
Yum Alert: Bittersweet Chocolate Tartlets