Practical Objects
Plastic Animal Bookends. First of all, thank you so much to all of you who voted on the first round of So You Think You're Crafty.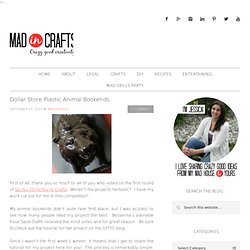 Weren't the projects fantastic? I have my work cut out for me in this competition! My animal bookends didn't quite take first place, but I was ecstatic to see how many people liked my project the best. Besserina's adorable Flour Sack Outfit received the most votes and for great reason. Apartment Projects. Stacked End Table Shelf. Double Dovetail Box. After admiring the double and double-double dovetail joints that are capable with the Incra and other jigs, I started thinking, "Why not try this by hand?"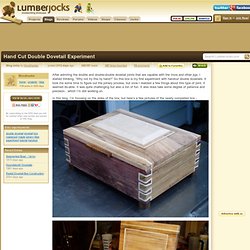 So this box is my first experiment with handcut double dovetails. It took me some time to figure out the joinery process, but once I realized a few things about this type of joint, it seemed do-able. It was quite challenging but also a ton of fun. It also does take some degree of patience and precision…which I'm still working on. In this blog, I'm focusing on the sides of the box, but here's a few pictures of the nearly completed box - Adding a Hidden Compartment. Adding a Hidden Compartment The current issue of Woodsmith (No. 127) features a drawer with a hidden compartment that's built into the back of the drawer.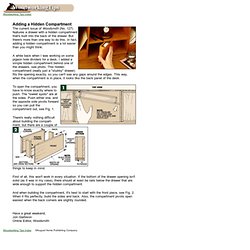 But there's more than one way to do this. Charging Cell Phone Holder. My husband and I both have cell phones.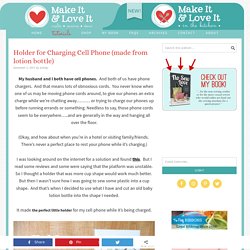 And both of us have phone chargers. And that means lots of obnoxious cords. Hula Hoop Rug. This photo originally appeared in FamilyFun Magazine Total Time 2 to 3 hours Ages school-age What does it take to transform a pile of old T-shirts into spectacular works of woven art?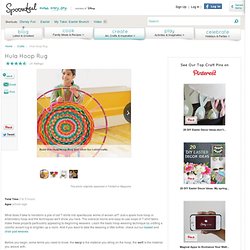 Just a spare hula hoop or embroidery hoop and the techniques we'll show you here. The oversize looms and easy-to-use loops of T-shirt fabric make these projects particularly appealing to beginning weavers. Piggy Pillow. As promised, I have completed the tutorial and the pattern for the "Be My Valentine – Piggy Pillow", which was published 3 weeks ago.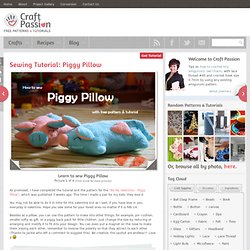 This time I made a pair for my kids, they love it. You may not be able to do it in time for this valentine but as I said, if you have love in you, everyday is valentine. Hope you sew some for your loved ones no matter if it is Feb 14. Sock Teddy Bear. Bean Bag. Looking for hours of entertainment?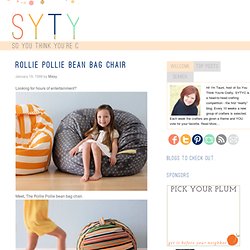 Meet, The Rollie Pollie bean bag chair. It's a chair, it's a toy, it's your favorite pillow. Bean Bag. Whether it's extra seating you need or a plush spot to put your feet up, this cozy circular beanbag pouf fits the bill.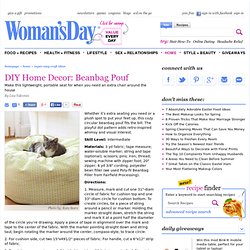 The playful dot pattern adds retro-inspired whimsy and visual interest. Skill Level: Intermediate Materials: 3 yd fabric; tape measure; water-soluble marker; string and tape (optional); scissors; pins; iron; thread; sewing machine with zipper foot; 20" zipper; 6 yd 3/8" cording; polyester bean filler (we used Poly-fil Beanbag Filler from Fairfield Processing).
---