writing
Get flash to fully experience Pearltrees
Twenty years ago, a friend and I walked around downtown Portland at Christmas. The big department stores: Meier and Frank… Fredrick and Nelson… Nordstroms… their big display windows each held a simple, pretty scene: a mannequin wearing clothes or a perfume bottle sitting in fake snow. But the windows at the J.J.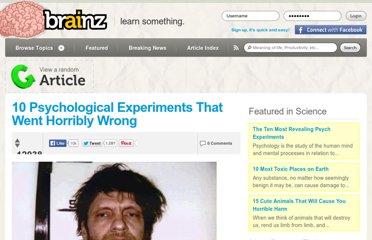 Psychology as we know it is a relatively young science, but since its inception it has helped us to gain a greater understanding of ourselves and our interactions with the world. Many psychological experiments have been valid and ethical, allowing researchers to make new treatments and therapies available, and giving other insights into our motivations and actions. Sadly, others have ended up backfiring horribly — ruining lives and shaming the profession.
So…I saw your tweet.