Music
Songs for the Dirty Dirty.
► Aminals by Baths | Ugh your ears will love it | woahtori | 8tracks
Motivation Speeches | thedjraz | 5,000+ likes | 27
► Spectrum (Calvin Harris Mix) by Florence + the Machine | mashup hard, remix harder | em_H14 | 8tracks
Shredding the Pow! | sshastings114
Drunken sing-a-long | sgapinski
panty dropping dubstep.
For those nights you're feelin' classy | Harry_elder | 147 likes | 1,100
Eargasmic euphoria | gabrielb | 8tracks
► Sail by Awolnation | Wow, I may feel even more epic | NetteLives | 8tracks
Sexy Voices Remixed | Willi2k | 8tracks
sleepless nights and wishful thinking | suwonoob | 8tracks
Songs for When You Need Something to Keep You Going | bofstedal | 8tracks
Search for Music Using Your Voice by Singing or Humming, View Music Videos, Join Fan Clubs, Share with Friends, Be Discovered and Much More For Free! - midomi.com
Legit Dubstep | angelcrack | 392 likes | 3,500
Jazz for a Rainy Night in the City | DukeWilbury | 8tracks
Deep sleep | Panacea | 1,754 likes | 18,000+ listens
Late-night Epiphanies | clairitin | 8tracks
Checking your Google account... Checking your Facebook account... Everyone's Mixtape's celebrates the art of creating mixtapes. You can add to an existing mix, or start one of your own. Share with the world, your friends, or that girl from science class. Everyone's Mixtape is not about adding songs and hitting shuffle.
Everyones Mixtape
Dirty Dubstep Remixes | billbo675 | 8tracks - StumbleUpon
Fuckstep | DKdangles | 8tracks - StumbleUpon
Wow, I feel epic | NetteLives | 8tracks - StumbleUpon
Songs to lie on your bed and stare at the ceiling to | lytebryte25 | 35,000+ likes | 556
The Unicorns
Mix # 029 | alepasternak | 32 likes | 294 listens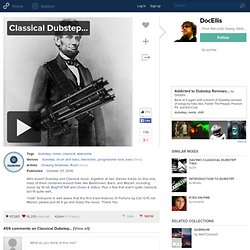 Drop files here to add tracks or artwork to your mix Who knew? Dubstep and Classical music, together at last...Eleven tracks on this one, most of them centered around folks like Beethoven, Bach, and Mozart...including music by 16 bit, BogTroTTeR and Chase & Status. Plus a few that aren't quite classical, but fit quite well... *note* Everyone is well aware that the first track features O Fortuna by Carl Orff, not Mozart, please just let it go and enjoy the music.
Classical Dubstep... | DocEllis | 8tracks - StumbleUpon