Thought Catalog
Why You Shouldn't Tip (At All) Recently, a four year old blog post has been getting a lot of attention on social media.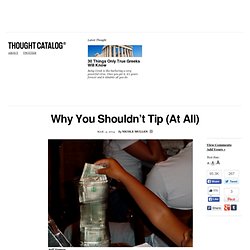 Sometime in 2009, a man named Bhagwad Jal Park posted an excoriation on tipping entitled, Five Reasons I Won't Tip If You're A Waiter. The responses to the original post were mostly negative, and the article is being shared on Facebook as an example of how shitty people can be. 46 Most Iconic LGBT Moments of 2013. 40 Things We Loved In 2013. 17 Of The Most Universally Admirable Qualities People Can Have. 1.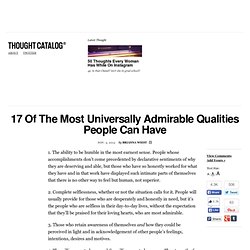 The ability to be humble in the most earnest sense. People whose accomplishments don't come precedented by declarative sentiments of why they are deserving and able, but those who have so honestly worked for what they have and in that work have displayed such intimate parts of themselves that there is no other way to feel but human, not superior. The 30 Most Epic Zingers From Famous People Throughout History. 1.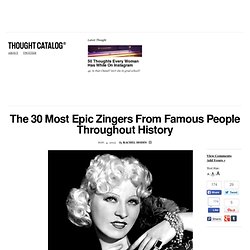 His mother should have thrown him away and kept the stork.Mae West 2. I am enclosing two tickets to the first night of my new play; bring a friend. If you have one.George Bernard Shaw to Winston Churchill. How And Why To Keep A "Commonplace Book" The other day I was reading a book and I came across a little anecdote.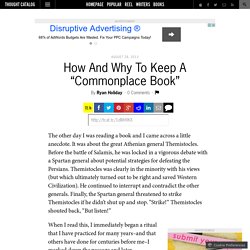 It was about the great Athenian general Themistocles. Before the battle of Salamis, he was locked in a vigorous debate with a Spartan general about potential strategies for defeating the Persians. Themistocles was clearly in the minority with his views (but which ultimately turned out to be right and saved Western Civilization). He continued to interrupt and contradict the other generals. Finally, the Spartan general threatened to strike Themistocles if he didn't shut up and stop.
10 Movies That Will Permanently Change The Way You Think About The World. Movies have the remarkable ability to stay with us–not only on our dusty DVD shelves, but in our hearts and minds.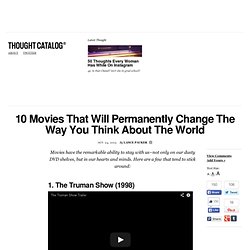 Here are a few that tend to stick around: 1. The Truman Show (1998) "We accept the reality with which we're presented." But what if that reality is a sham? 33 Things Only Baristas Will Understand. 1.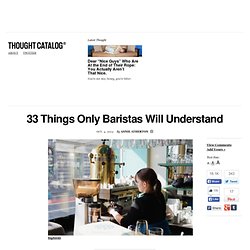 You've felt the sometimes painful, sometimes serene feeling of waking up before the rest of the world. It's still dark and there's a cold mist that muffles the anxious tempo of modern life. 43 Alleged Reputation-Ruining Stories About Famous People Everyone Loves. Redditors share deplorable stories that will make you think twice about these people and their esteemed statuses.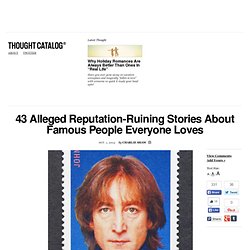 We can't confirm their veracity, but you can join the conversation over on Reddit. 1. foxymcfox. 75 Books Everyone Must Read, According To David Bowie. In tandem with the opening of "David Bowie I," the most recent David Bowie-themed exhibit at the Art Gallery of Ontario, which will run from September 25th to November 27th, curators Geoffrey Marsh and Victoria Broackes released a list of David Bowie's top 100 favorite books of all time.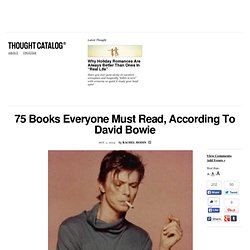 Here, 75 of his 100 favorite books. Tagged Alberto Denti di Pirajno, Anatole Broyard, Angela Carter, Ann Petry, Anthony Burgess, Arthur C. 7 Must-See Clips Of Jennifer Lawrence Before She Was Famous. 1.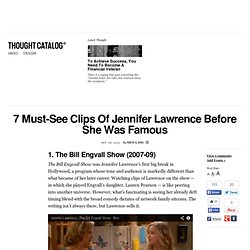 The Bill Engvall Show (2007-09) The Bill Engvall Show was Jennifer Lawrence's first big break in Hollywood, a program whose tone and audience is markedly different than what became of her later career. 59 Quick Slang Phrases From The 1920s We Should Start Using Again. Get ready to "know your onions," readers.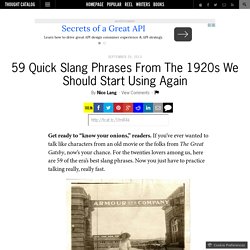 If you've ever wanted to talk like characters from an old movie or the folks from The Great Gatsby, now's your chance. For the twenties lovers among us, here are 59 of the era's best slang phrases. Now you just have to practice talking really, really fast. Flickr/Sam Fam. Warning: This Video Of Joseph-Gordon Levitt Will Give You A Sexual Heart Attack. Joseph Gordon-Levitt is the gift that keeps on giving. This week, the actor, writer, director and star of your sex dreams appeared on Jimmy Fallon to promote his new movie, Don Jon, in which he looks buff and delicious as hell. Joseph Gordon-Levitt/SNL. 11 Lesser-Known Joseph Gordon-Levitt Movies You Need To Watch. With Joseph Gordon-Levitt's directorial debut, Don Jon, due out in theatres next month, it's about time we take a look back on the versatile writer-director's very long filmography, featuring two decades' worth of classics. Sure, you've seen the big name stuff like (500) Days of Summer, 10 Things I Hate About You, Inception and The Dark Knight Rises, but true JGL fans know there's much more to our favorite 3rd Rock alum than Heath Ledger and Christopher Nolan.
The man's got depth. Here are 11 JGL movies that you should pull up on that Netflix of yours. If it's not streaming there, there's this thing called the internet. 10 Great Movies On Netflix You Might Have Missed. 1. The Rules Of Attraction (2002) After he co-wrote Pulp Fiction and before he went to jail for vehicular manslaughter/DUI, Roger Avary directed a somewhat underrated and thoroughly entertaining Bret Easton Ellis novel adaptation starring Dawson's Creek's James Van Der Beek. It's a very stylish and good movie. Bonus points for the inclusion of Donovan's "Colours" on the soundtrack. 2.
61 Hilariously Honest Jennifer Lawrence Quotes That Will Make Your Day. If Jennifer Lawrence isn't already your power animal, she should be. America's motor-mouthed sweetheart is a forever quotable and gifable treasure, whose penchant for off-the-cuff honesty is second only to how down-to-earth and relatable she is. Without further ado (or more ass-kissing), these are the just some of the most awesome Jennifer Lawrence quotes. It's not a best list by any means, because every Jennifer Lawrence quote is the best Jennifer Lawrence quote. 1. "I wish this was like Mean Girls and I could just break this up and throw it at all of you!" 55 Brilliant Louis C.K. Quotes That Will Make You Laugh And Think.
Louis C.K. is often compared to Woody Allen (whose new movie he's even starring in), but to me, C.K. is this generation's George Carlin, a savagely funny comedian who isn't afraid to touch on real issues. Carlin was something of a people's philosopher, who just happened to swear a lot, and C.K. has touched on issues ranging from politics, environmentalism, consumption, race, class, education and masturbation, one of his personal favorite subjects. He's also just about the only male comedian I know who deals with sexual assault well. Louis C.K. just gets it. Here's 55 of his greatest quotes, presented in no particular order. 1. Is This The Best Craigslist 'Missed Connection' Ever Written? 29 Things From The 90s You Might've Forgotten About.
25 Things To Do Before You Turn 25. Here's A Video Of Two Men Experiencing Labor Contractions. 11 Books You Should Read If You're A Woman In Your 20s. 5 Things I Want Girls To Wear More Of. Shia LaBeouf Livetweets An Acid Trip. A Brief History Of Sexual Encounters. On Bed-Stuy, Brownstones, And Gentrified Brooklyn. 2012′s Most Beautiful Inventions — So Far. Let's Remember What's Really Important. A Local's Guide To Some Of The Best Brunch Spots In NYC.
Are They Already Taken? Then Don't Date Them. 14 Old Words That Should Still Be Used Today. I Don't Know How To Be In A Relationship. You Are My Muse. Why I Stalk Your Ex-Girlfriend Online. A Letter To My Long-Distance Crush. When You Miss Someone Who Lives In A Different State. Who Is Your Unicorn? Introduction To Rachmaninoff. How You Know.
---