Social Media
My Tech Style Sweepstakes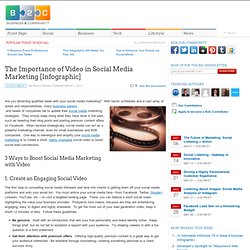 Are you attracting qualified leads with your social media marketing? With hectic schedules and a vast array of duties and responsibilities, many business owners and heads of companies fail to update their social media marketing strategies. They simply keep doing what they have done in the past, such as tweeting their blog posts and posting premium content offers on Facebook. When tackled strategically, social media can act as a powerful marketing channel, even for small businesses and B2B companies.
The Importance of Video in Social Media Marketing [Infographic]
Traditionally, a TV show's success has been judged by its Nielsen ratings. But now more and more, a show's social cachet plays heavily into the definition of 'success.' Measurements including how many fans a show has, the level of conversation surrounding a show, and fan engagement (offline and online) have all become part of the equation for a show's 'reach'— instead of just how many people tuned in to watch.
TV Show Gets Re-Cut As Webisode Based On Social Network Comments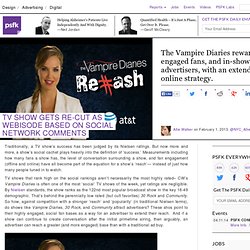 Photo by valentino328
5 Ways Pepsi's Use of Social Media is Right On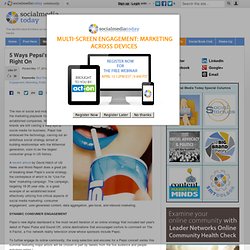 The rise of social and mobile is rewriting the marketing playbook for even the most established companies. While many brands are still casting a wary eye at social media for business, Pepsi has embraced the technology, carving out an ambitious social strategy aimed at building relationships with the Millennial generation, soon to be the largest consumer group in US history. A recent article by David Hatch of US News and World Report does a great job of breaking down Pepsi's social strategy, the centerpiece of which is its "Live For Now" marketing campaign. The campaign, targeting 18-35 year olds, is a great example of an established brand effectively utilizing five critical aspects of social media marketing: consumer engagement, user-generated content, data aggregation, geo-local, and inbound marketing.
Hi! I want to learn more about foursquare! on Vimeo
Pinterest is growing fast, and 80% of the site's users are women ages 25-44. Laura Skelton, owner of Prix-Prix, told me about Pinterest months ago when we met up one chilly Chicago morning for brunch. "Have you tried Pinterest?" she asked me with a glint of excitement in her eyes. I shook my head no. "Try it out, but be careful, you'll get addicted."
What Pinterest is Doing that Facebook Isn't
The 1 percent have long had smartphones from Porsche and Vertu to quench their high-end thirst, but when it comes to dual-SIM handsets, the elite have had to settle for something a little more ordinary. For those in need, Gresso created Azimuth, the first dual-SIM luxury handset. Starting at $2,000, the phone is made of titanium, with both the keys and logo crafted out of 18K or white gold.