Social Media
My Tech Style Sweepstakes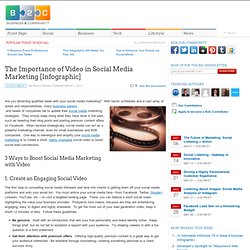 Are you attracting qualified leads with your social media marketing?
The Importance of Video in Social Media Marketing [Infographic]
Traditionally, a TV show's success has been judged by its Nielsen ratings. But now more and more, a show's social cachet plays heavily into the definition of 'success.'
TV Show Gets Re-Cut As Webisode Based On Social Network Comments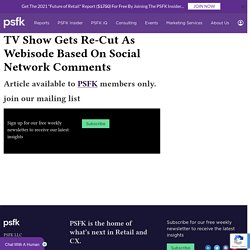 Photo by valentino328
5 Ways Pepsi's Use of Social Media is Right On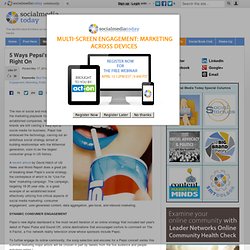 The rise of social and mobile is rewriting the marketing playbook for even the most established companies. While many brands are still casting a wary eye at social media for business, Pepsi has embraced the technology, carving out an ambitious social strategy aimed at building relationships with the Millennial generation, soon to be the largest consumer group in US history. A recent article by David Hatch of US News and World Report does a great job of breaking down Pepsi's social strategy, the centerpiece of which is its "Live For Now" marketing campaign. The campaign, targeting 18-35 year olds, is a great example of an established brand effectively utilizing five critical aspects of social media marketing: consumer engagement, user-generated content, data aggregation, geo-local, and inbound marketing.
Hi! I want to learn more about foursquare! on Vimeo
Pinterest is growing fast, and 80% of the site's users are women ages 25-44.
What Pinterest is Doing that Facebook Isn't