iPad
Get flash to fully experience Pearltrees
Le document joint à cet article a pour but de vous aider à vous approprier le iPad dans un contexte pédagogique. Il a pour but de vous aider un peu au sujet du COMMENT faire ceci ou cela au tout début, mais surtout du QUOI faire, en classe, avec les élèves afin de bien exploiter le potentiel pédagogique de cet outil merveilleux. Merci à Karine St-Georges qui a réalisé un document similaire pour sa CS (CSDC) qui a grandement inspiré celui-ci. En plus de ce document qui n´offre que quelques informations de base au sujet de certaines configurations techniques, il y a cette page Web qui pointe vers l´ensemble des ressources locales et techniques en lien avec l´utilisation des iPad à la CSVDC (aide à la configuration, etc.)
Il y a longtemps que je désirais vous écrire et ce matin je prends le temps de le faire. Premièrement, merci à tout le monde pour votre collaboration quotidienne à mon travail... vos réflexions, vos questions et vos réponses sont lues et grandement appréciées. Si vous saviez combien de vos réponses m'ont été utiles. Alors, c'est à mon tour de tenter de contribuer à votre beau travail.
Description With all the augmentative and alternative communication (AAC) apps currently available, where should you start? Right Here. Speech Button is an app expertly created by a speech-language pathologist and a registered school psychologist (who are also parents!) to help children and adults with special needs who are non-verbal or who have difficulty speaking to communicate.
Applications en adaptation scolaire pour iPad et iPod touch Publié le 27 septembre 2011 Cet article ne sera plus édité. Je vous invite à consulter le blogue AppsEHDAA . Il faut noter que j'ai testé toutes les applications avant de les déposer dans ce catalogue.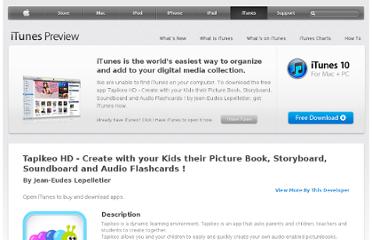 Description Tapikeo is a dynamic learning environment. Tapikeo is an app that asks parents and children, teachers and students to create together. Tapikeo allows you and your children to easily and quickly create your own audio-enabled picturebooks, storyboards, visual schedules, memory aids, audio flashcards, and more using a versatile grid style layout. Create engaging combinations of your own photographs and narration for pre-reading children to enjoy independently, or watch the imagination of your older children soar with this unique method of creative expression.