Archaeology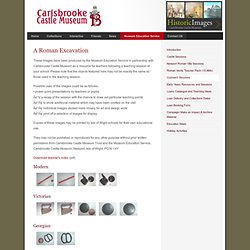 A Roman Excavation
These images have been produced by the Museum Education Service in partnership with Carisbrooke Castle Museum as a resource for teachers following a teaching session at your school. Please note that the objects featured here may not be exactly the same as those used in the teaching session. Possible uses of the images could be as follows:• power-point presentations by teachers or pupilsâ?¢ a recap of the session with the chance to draw out particular teaching pointsâ?¢ to show additional material which may have been omitted on the visit â?¢ individual images studied more closely for art and design workâ?
UK Archaeology Map
Underwater Archaeology | The Museum of Underwater Archaeology | Shipwreck | Maritime
Interactive Dig - Archaeology Magazine's Online Excavations
Museum of London - MOLA
Age 16+
History - Games
Teaching Resources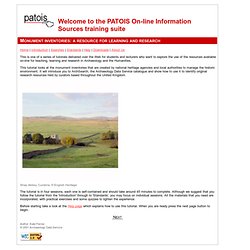 PATOIS: Publications and Archives in Teaching - Monument Inventories
This is one of a series of tutorials delivered over the Web for students and lecturers who want to explore the use of the resources available on-line for teaching, learning and research in Archaeology and the Humanities. This tutorial looks at the monument inventories that are created by national heritage agencies and local authorities to manage the historic environment. It will introduce you to ArchSearch, the Archaeology Data Service catalogue and show how to use it to identify original research resources held by curators based throughout the United Kingdom. Shap Abbey, Cumbria. © English Heritage The tutorial is in four sessions, each one is self-contained and should take around 45 minutes to complete.
GeoTime - Simple and easy to use OFFLINE geological time scale. Relative time (chronostratic) subdivisions of the Earth's geology versus absolute time (chronometric) in millions of years for the entire Phanerozoic. No advertisement - simply freeware. Some basic information on climate, animals and geology are included. GeoTime is freeware - and will be forever.
Geological Time Scale - Android Market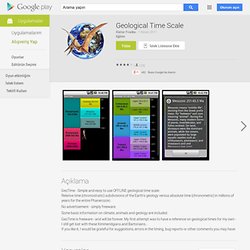 iGeology App | Britain's rocks in your pocket | British Geological Survey (BGS)
Home | Hieroglyphs | Pyramids & Temples | Rebuilding Temples | Kings & Queens | Mummification | Site MapHieroglyphic Typewriter | Search This SiteAncient Egyptian Videos | Discovering Egypt Shop Hieroglyphic Typewriter hieroglyphics translator write your name in the ancient Egyptian script The Software's functions include the ability to make greetings cards, T-Shirts and posters. The tool set allows you to make text, lines, squares and ellipses. You can import your own images and adjust them in the picture editor. The greetings card function gives you four different card types and the T-shirt function will automatically reverse your text and images for printing on transfer paper.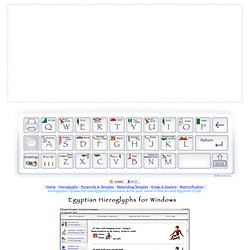 Hieroglyphic Name Translator