Scienze
Get flash to fully experience Pearltrees
This page illustrates that our visual perception cannot always be trusted.
Have you ever stopped and wondered what version of the world your beloved dog or cat sees the world in? How is their perception colored and how do they perceive you? Most of us take for granted the gift we are granted with sight, but it may surprise some of you to find out that many animals actually have much better vision than we do. In fact, some see the world with some precision and accuracy, they put our eyesight abilities to complete shame. Read on to learn more about the unique ways our animal friends see the world…
Amusement Park Physics Explores how the laws of physics play a role in the design of amusement park rides.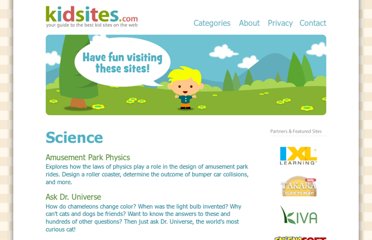 Cancel Edit Delete Preview revert Text of the note (may include Wiki markup ) Could not save your note (edit conflict or other problem). Please copy the text in the edit box below and insert it manually by editing this page .
allora grossomodo: Subphylum Vertebrata Superclasse Agnatha (pesci senza mascelle) Classe Myxini (come le missine) Classe Cephalaspidomorphi (come le lamprede)