Social studies
World Geography Games - Let's play and learn about the world. The Economics of Seinfeld. World Geography Games - Let's play and learn about the world. Visualizing Slavery: The Map Abraham Lincoln Spent Hours Studying During the Civil War. If you look closely at Francis Bicknell Carpenter's 1864 painting "First Reading of the Emancipation Proclamation by President Lincoln" (see above — click image for a larger version) you will notice a map in the lower right-hand corner, next to the group that includes Lincoln and his cabinet.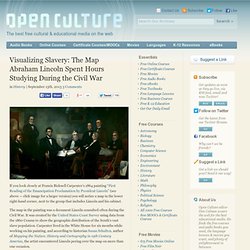 The map in the painting was a document Lincoln consulted often during the Civil War. It was created by the United States Coast Survey using data from the 1860 Census to show the geographic distribution of the South's vast slave population. Carpenter lived in the White House for six months while working on his painting, and according to historian Susan Schulten, author of Mapping the Nation: History and Cartography in 19th Century America, the artist encountered Lincoln poring over the map on more than one occasion.
My Old Radio - The best OTR resource on the web. The Civil War. Old Pictures. World Digital Library Home. Too Late to Apologize: A Declaration. DocsTeach. Mission US | THIRTEEN.
---