Illustration Portfolio
The Surreal Paintings of Vladimir Kush. The Surreal Paintings of Vladimir Kush posted by Damian M. under Photography on Mar 21st, 2010 with 32 Comments 21 Mar.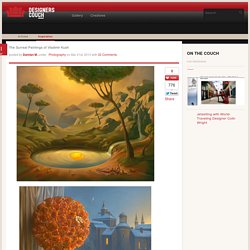 Cristiana couceiro. Imp Head Color 1. Ten Stone Tea was a bit of an adventure for me.
I had been feeling artistically weighed down with a seemingly endless parade of freelance jobs not to mention my full time, nine to five job. After I finally got a little bit of time for myself I decided that to keep myself fresh and to recharge my batteries I would do a painting just for me. This is the result. To tell you the God's honest truth I wasn't really sure of what to paint when I started and frankly most of the elements in this painting are stuff I put in on the fly. Ilustrações Conceituais de Tang Yau. Illustrations by Charlie Immer. Awesome stuff by Diego Fernandez. Artist Day: Isaiah Stephens. This is the portfolio of an interesting artist: Isaiah Stephens, also known as "isaiahs" on deviantart.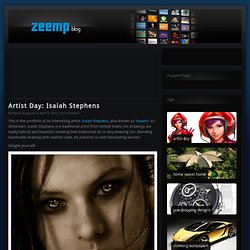 Isaiah Stephens is a traditional artist from United States; his drawings are really natural and beautiful showing that tradicional art is very amazing too. Blending handmade drawing with realistic style, he presents us with fascinating women. Delight yourself. Markus Neidel. Awesome Illustrations and Sketches by Mike Henry. Uniquely Styled Comic Book Heroes by Chris Uminga. Crazy Illustrations By Chow Hon Lam | Pokkisam blog. Freelance Illustrator. Dominique Salm Gallery. Awesome Illustrations by Serge Birault | Pondly. Awesome Illustrations by Serge Birault | Pondly. Photorealistic Pictures Drawn With a BIC Pen. EmailEmail At first sight they may look like some pretty sharp blue photographs, however all those pictures are actually hand drawn with a simple Bic ballpoint pen!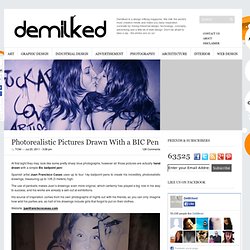 Spanish artist Juan Francisco Casas uses up to four 14p ballpoint pens to create his incredibly photorealistic drawings, measuring up to 10ft (3 meters) high. The use of penballs makes Juan's drawings even more original, which certainly has played a big role in his way to success, and his works are already a sell-out at exhibitions. His source of inspiration comes from his own photographs of nights out with his friends, so you can only imagine how wild his parties are, as half of his drawings include girls that forgot to put on their clothes. Website: juanfranciscocasas.com. :: maggie taylor ::
Chelsea Brown. I'm starting the week off with these wonderful collection of acrylic, colored pencil and ink paintings by Chelsea Brown.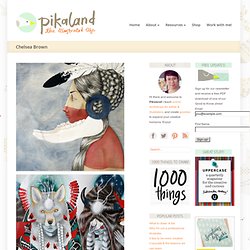 Her current theme explores women, warriors, horns and animals; all of which are elements she explores via Native American folklore steeped in symbolism and the supernatural. From Voice of Project Ethos : "Women dominate Brown's pieces, painting them in their natural, nude state. This is meant to empower women, suggesting innate strength when women are organic. Also, the lines between man and animal are often blurred as Brown blends the two together seamlessly. This is because in Native American culture, humans, animals and nature cannot be separated.
The Cybernetic World of Shichigoro-Shingo. MAIN : Marion Bolognesi. Sagaki Keita. (click images for detail) Artist Sagaki Keita was born in 1984 and lives and works in Tokyo.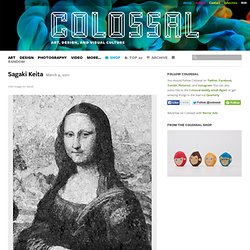 His densely composited pen and ink illustrations contain thousands of whimsical characters that are drawn almost completely improvised. I am dumbstruck looking at these and love the wacky juxtaposition of fine art and notebook doodles. See more of his work here, and be sure to click the images above for more detail. Thanks Sagaki for sharing your work with Colossal! Alex Solis. ANNIE WU: Sketches. Фото и рисунки, арт и креативная реклама.
---