Web Ads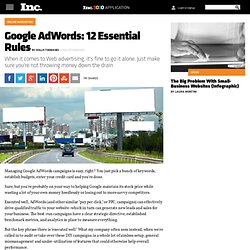 Managing Google AdWords campaigns is easy, right? You just pick a bunch of keywords, establish budgets, enter your credit card and you're done. Sure, but you're probably on your way to helping Google maintain its stock price while wasting a lot of your own money heedlessly or losing out to more savvy competitors.
Google AdWords: 12 Essential Rules
World's Largest In-Image Advertising Platform | Advertisers
This article originally appeared on TechCrunch. Banner Ads. They first started in 1994 and are therefore almost as old as the Web itself. They were very effective back then, with the original ad garnering a 78% click-through rate (CTR)! I guess from there we had nowhere to go but down. Nowadays banner ads get on average 0.2% CTR meaning for every 1,000 ads that are served up only 2 people click on them.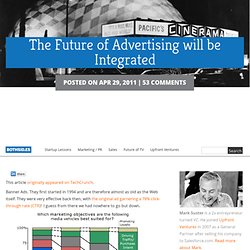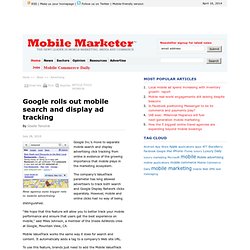 Google rolls out mobile search and display ad tracking - Mobile Marketer - Advertsing
By Giselle Tsirulnik July 28, 2010 New agency eyes bigger role in mobile advertising Google Inc.'s move to separate mobile search and display advertising click tracking from online is evidence of the growing importance that mobile plays in the marketing ecosystem.
Google Adwords is a very important tool if you want to advertise your business online. In this article, I have listed down the important & most frequently use terms in Google Adwords, which you need to get familiar while using Google Adwords. Once you get familiar with all these terms then you will have less problem creating & managing campaigns. Campaign
A Crash Course in Creating Campaigns with Google Adwords