Fantasy
How You Can Support This WebcomicHey everyone! Are you enjoying the webcomic so far? Would you like to see more?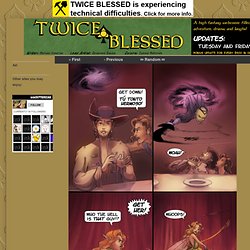 Twice Blessed
Author's Comment Done! Sorry about the wait.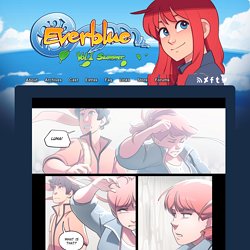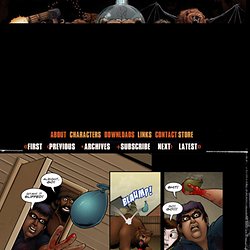 Every once in a while I come up with a sound effect that I feel just nails the sound an item would make in the circumstances. I think a slippery water balloon fumbling off a bear would definitely make a "blaump" sound. Well, the Patreon campaign has been very encouraging. I am almost to the point of another reward tier and will release another free PDF once I reach $100/page. But the bad news is that I am in the heat of a deadline with an Axe Cop book that has to take precendence right now, and this page was my last one finished in the reserved. So we will be missing a few weeks while I get caught up on Axe Cop.
Some of this may need to be edited in the near future when I wake up, and I do apologize for that – I just returned from working overnight and may overlook a few things. So, let's talk Amya, starting with the country that the comic is currently in and the one in which we began. Perennion, the Machinist's State.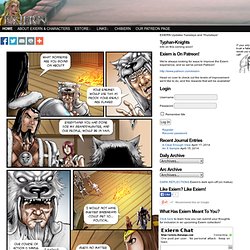 Hello. It's community enemy #1 again. Careful with the tomatoes, they stain the soapbox terribly. The reader base of Exiern is a very varied group, perhaps much more so now than ever since I muddied up the perfectly decent waters and started bringing in new folks to the party. There's a old hymn that goes, "Make new friends, but keep the old, one is silver and the other's gold."
Exiern
Tuesday — April 8th, 2014 New designs at Hey Chickadee September 27th, 2013 I've got some new designs in the Hey Chickadee shop, check it out! http://www.heychickadee.com/collections/jessfink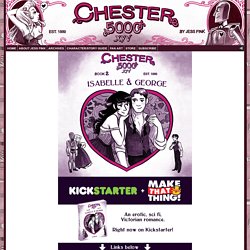 Doctor Voluptua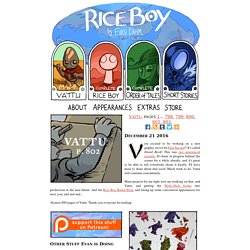 attu is 500 pages long as of today, which might be around halfway through the story but I'm not sure yet: I know all the important things that have yet to happen but I don't know how long they'll take. Thank you everyone for reading, and for bearing with this occasionally idiosyncratic and slow-moving project. The contents of the second book of Vattu, tentatively titled Sword & Sacrament, are heading towards a close now.
Wednesday - April 16th, 2014 - 12:36:49 So first things first! I want to thank everyone for donating and requesting commissions from me! It really helped out TREMENDOUSLY and I can't thank all of you enough.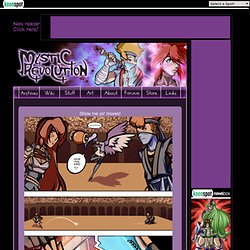 Mystic Revolution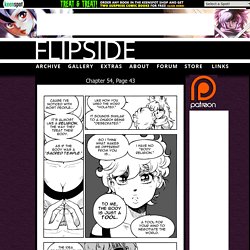 4/16/14 Page 28 is done.4/16/14 Tonight at 7pm, Jen and I will be streaming some more The Longest Journey on twitch tv! And this time we will try to make sure that the audio doesn't sound terrible! http://www.twitch.tv/flipsider994/14/14 Page 27 is done.4/11/14 Page 26 is done.4/9/14 Page 25 is done.4/7/14 Page 24 is done.4/4/14 Page 23 is done.4/2/14 Page 22 is done.4/1/14 Flipside has now changed focus! It will no longer be a webcomic... from now on, it will be devoted to Animalcast! Watch animals play video games, 24 hours a day, 7 days a week!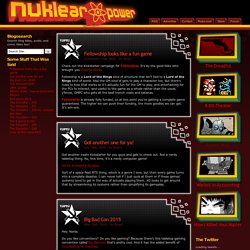 Hey, remember when I used to do webcomics? Fucked up but true! In other webcomics news, Mr. Matt Speroni will be back on The Dreadful pretty soon now that he wrapped up a side project that turned into a not-so-side project. Look for more updates in your near future.
I went to the Ottawa Pop Expo last weekend, figuring I'd get a small dose of geekness and check out the guests, cosplayers and attend a few panels. There were a number of apparently famous Montreal cosplaying beauties walking around the con (girls like Bianca Beauchamp, Ariane St-Amour, Marie-Claude Bourbonnais, etc.), but I didn't expect to run into one of my fantasy pin-up girls: Jenny Poussin herself. I'm not sure if she was dressed as a character from a particular show, but she was wearing a small (undersized!) white blouse, a plaid skirt, and a loose tie around her neck.
Dominic Deegan: Oracle for Hire, THE COMPLETE SERIES, Volume 1 is now available to order! Here are some questions you may have, as well as some hopefully enlightening answers: I ordered all of your previous books, so I already own most of the stories included in this first omnibus. Why should I order this?
To minimize the differences, I've gone with Supergirl as our female superhero up for a sexy make over. Supergirl has always been one of those characters that doesn't really have a lot going for her except being the female version of Superman. And that's all well and good, but it really has lead to her really seeking an identity as a character, which you can see in frequent wardrobe changes throughout the years. Unlike the iconic Superman uniform, Supergirl's costume changes practically with every story line, artist, writer, title, crisis, or drop of a hat. Most of the designs wind up being more or less Superman's uniform but as a dress. Some of them get more creative than others, but ultimately she always seems to come back to "what if Superman was a girl, and a cheerleader?"