Veggie recipes
Leftover Parmesan Mashed Potato Patties. These parmesan mashed potato patties are so good, you'll want to make sure you have leftovers next time you make mashed potatoes!!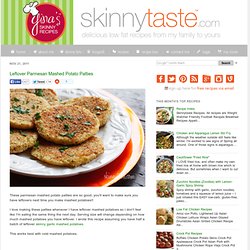 I love making these patties whenever I have leftover mashed potatoes so I don't feel like I'm eating the same thing the next day. Serving size will change depending on how much mashed potatoes you have leftover. I wrote this recipe assuming you have half a batch of leftover skinny garlic mashed potatoes. This works best with cold mashed potatoes. Leftover Parmesan Mashed Potato Patties. Parmesan Roasted Potatoes. Crispy potato roast. I fell for a photo this week.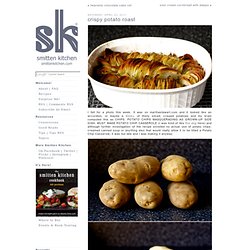 It was on marthastewart.com and it looked like an accordion, or maybe a Slinky, of thinly sliced, crisped potatoes and my brain computed this as CHIPS. POTATO CHIPS MASQUERADING AS GROWN-UP SIDE DISH. MUST MAKE POTATO CHIP CASSEROLE (I was kind of like this dog here) and although further investigation of the recipe unveiled no actual use of potato chips, creamed canned soup or anything also that would really allow it to be titled a Potato Chip Casserole, it was too late and I was making it anyway. Plus, I was looking for a gratin alternative for potatoes for my family's Seder on Monday night and this fit the bill perfectly.
Sweet Potato Puree With Maple. Garlic Roasted Potatoes Recipe : Ina Garten. Sweet Pea and Potato Pasta. Roasted Sweet Potatoes and Chickpeas. I'm on my parents' couch, drinking English breakfast tea and watching Law and Order (LA).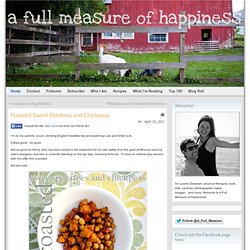 It feels good. So good. Not as good for Henry, who has been locked in the basement for his own safety from the giant wolfhound (and my dad's allergies), and who is currently standing on the top step, meowing forlornly. I'll have an intense play session with him after this is posted. Healthy Sweet Potato Skins. Well, it happened.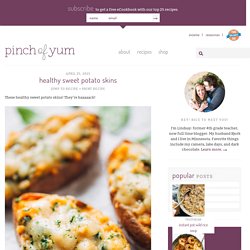 I bought my first pair of jeggings. (jeans+leggings= superstretchy skinny jeans that are questionable for people older than 19) As a… 25 year old, I was skeptical. Whipped Sweet Potatoes and Bananas with Honey Recipe : Tyler Florence. Directions You can roast the potatoes and bananas ahead of time, then put it all together just before serving.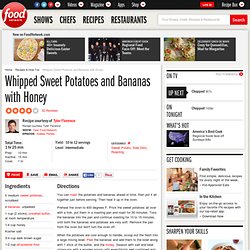 Then heat it up in the oven. Mashed Sweet Potatoes Brulee. Mashed sweet potatoes with a hint of cinnamon and nutmeg, topped with a caramelized brown sugar crust.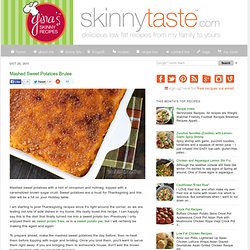 Sweet potatoes are a must for Thanksgiving and this dish will be a hit on your Holiday table. I am starting to post Thanksgiving recipes since it's right around the corner, so we are testing out lots of side dishes in my home. We really loved this recipe, I can happily say this is the dish that finally turned me into a sweet potato fan. Previously I only enjoyed them as sweet potato fries, or in a sweet potato pie, but I will certainly be making this again and again. To prepare ahead, make the mashed sweet potatoes the day before, then re-heat them before topping with sugar and broiling. Lentils and Brown Rice – A Healthy and Comforting One-Pot Dish | Wishful Chef. One of my favorite staples I have in the kitchen is lentils and I usually rely on a lentil dish if I'm not sure what to cook for dinner.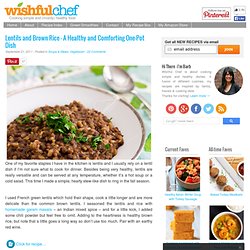 Besides being very healthy, lentils are really versatile and can be served at any temperature, whether it's a hot soup or a cold salad. This time I made a simple, hearty stew-like dish to ring in the fall season. I used French green lentils which hold their shape, cook a little longer and are more delicate than the common brown lentils. I seasoned the lentils and rice with homemade garam masala – an Indian mixed spice – and for a little kick, I added some chili powder but feel free to omit. Recipe for Sausage and Lentils with Fried Sage. (Updated with better photos and added to Recipe Favorites, October 2011) I first made this comforting dish of Sausage and Lentils with Fried Sage back in 2006.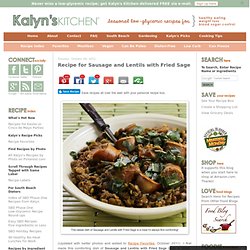 That recipe definitely needed an update, so recently Jake and I made it again to take new photos and we also enjoyed eating it! The recipe was inspired by one in The Silver Spoon, a classic Italian cookbook that I think every serious cook should own. The addition of fried sage was my idea after seeing it on restaurant menus, and the fried sage was a wonderful addition to this dish. Zucchini, Five Ways | Apartment Therapy The Kitchn. Zucchini With Quinoa Stuffing Recipe. Artichoke and Tomato Casserole Recipe @CDKitchen. Recipe at a glance time: 30-60 minutesserves/makes: 6recipe id: 29056 ingredients 2 cups plain bread crumbs1/2 cup olive oil3/4 cup Romano cheese, grated garlic powder, to taste salt and pepper, to taste3 (16 oz.) pkgs. frozen artichoke hearts, sliced28 ounces can peeled tomatoes, chopped and drained directions.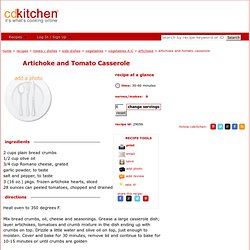 Stuffed Tomatoes Recipe. Slow-Baked Tomatoes. Ripe, Red & Juicy: 12 Tomato Salads for Summer Recipe Roundup | Apartment Therapy The Kitchn. Tomato Cakes Recipe. Poppy Happy Hour | The Cookbook Chronicles. Creole Aubergine. 1.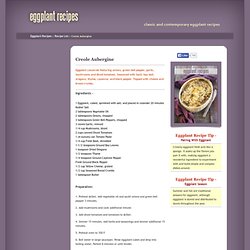 Preheat skillet. Add vegetable oil and sauté onions and green bell pepper 3 minutes. Eggplant Pomodoro Pasta. Garlic butter roasted mushrooms. A repeat offender in the lede-burier category, let me begin with what matters: this is absolutely my new favorite quick and obsessively delicious way to prepare mushrooms. And now, a story. Once upon a time, I was a vegetarian who loved going to steakhouses.
A friends birthday would approach and out of kindness to me, they'd start talking about gathering friends at a restaurant that had vegetarian options and I'd beg them to go to a steakhouse instead. "It's your birthday! Herb Butter Mushrooms With Smoked Mozzarella. A few months ago when a friend requested I make mushrooms for an office potluck, I was instantly reminded of a recipe I had from my rounds at the city's chic restaurants where the chefs demonstrate recipes, let you sample some and give you copies of the recipe. I loved going for these and making local foodie friends. Most places gave a bag of goodies and even spread out a buffet of the food demonstrated (much to my glee). At one such restaurant, I had the most delicious stuffed mushrooms topped with Danish mozzarella. Full of flavour and distinctly garlicky – YUM!
So as soon as mushrooms were requested, I went looking for my recipe file. Mushroom Channel Stroganoff- My Delicious New Gig. Melt 2 tablespoons butter in a large Dutch oven set over medium heat. Add the shallots and cook, until softened; about 5 minutes. Stir in the garlic, cooking an additional minute more. Next add the thyme, salt, pepper, mustard, and Worcestershire sauce. Stir to combine. Lower the heat and add the mushrooms, stirring until slightly wilted; about 10 minutes.
Black Bean Burrito with Cilantro-Lime Rice. Remember that Eddie Murphy routine in "Raw" when he talks about how his mom promised to make him a burger that was "better than McDonald's"? I'm not going to tell you this Black Bean Burrito with Cilantro-Lime Rice is better than Chipotle's, because that would be madness. BUT, depending on how crazy you get with the toppings, it can definitely be cheaper, more nutritious, and low enough in calories that you could eat the whole thing without feeling like a slug marooned on a sidewalk.
Plus, when your family's tired of having the same-old stuff for dinner, it's nice to prep a bunch of burrito ingredients and let everyone make their own. An easy way to keep your vegans, vegetarians, carnivores, omnivores, flexitarians and cannibals satisfied. Sauteed Spinach With Basil. The best baked spinach. Lemon-Braised Artichokes. Rotkohl (German style red cabbage) Recipe DiveFan. Okra, 5 Ways. Baked Asparagus with Balsamic Butter Sauce Recipe.
---