Recipes
Steamed Asparagus with Almonds. Good Cheap Eats — Enhanced Recipe Search.
Holiday
Breads and muffins. Free Mr. Food Holiday eCookbooks. Lunchbox. Alison_snow| Cooks | Better Recipes. Alison_snow alison_snow RECENT RECIPES Macaroni and Cheese Casserole Cooked macaroni is combined with butter & cheddar cheese in a baking dish, and topped with a saucy mixture of soup, milk, mayo and pimiento. 07/25/2008 03:24 AM Protein Smoothie A healthy breakfast or quick pick-me-up smoothie--chocolate, bananas, strawberries, soy milk, and protein powder. 07/25/2008 03:27 AM Pork Chop Hashbrown Bake Add a salad to this casserole and dinner is complete.
Potatoes, pork, a great sauce and cheese make this casserole worth it. 07/25/2008 03:31 AM Mexican Dish A simple Mexican casserole with flour tortillas, ground beef and tomatoes in a creamy cheese sauce. 07/25/2008 03:32 AM Chicken Chili with Roasted Corn Spicy chorizo sausage adds a kick to this comforting chili. Roasting the vegetables brings out a smoky flavor. 12/31/2010 03:00 AM.
Recipezaar. Wings. Best Copycat Recipes to Try at Home. CopyKat Recipes. Recipe Goldmine recipes, cooking tips, food preparation, kitchen charts. Recipe Center: Top Recipes for Professional Chefs & Home Cooks | Chef 2 Chef. Craving an adventure for your taste buds?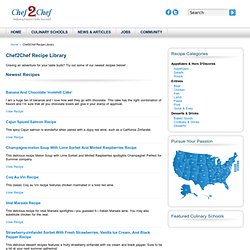 Try out some of our newest recipes below! Banana And Chocolate 'molehill Cake' I am a huge fan of bananas and I love how well they go with chocolate. This cake has the right combination of flavors and I'm sure that all you chocolate lovers will give it your stamp of approval. View Recipe.
Sauce/dressing
Recipes from friends | recipe message board | thousands of free food recipes | free cooking recipes. Sands. Sides. Good Cheap Eats — Cooksgarden.com. Welcome to Tre Stelle. Beet. Meal plans. General. Freezer cooking. Fish. Kids treats. Zucchini. Pork. Slow cooker. Desserts. Canning. Soup. Beverages. Salad. Indian.
Brunch. Healthy. Chicken. Veggies.
---