Food
Nutuk kaç sayfa. Refika'nın Mutfağı'ndan tavuk tarifi - Ödül tavuğuRefika'nın Mutfağı. Önce tüm malzemelerimizi kesip hazır hale getirelim.
Biberleri 4 cm.lik şeritler halinde doğrayın. 3 diş sarımsağı ince ince doğrayın, 2 diş sarımsağı da bütün olarak bırakın. Pancarı da küçük dikdörtgenler halinde doğrayın. Son olarak tavukları da küçük kuşbaşı olarak doğrayın. Şimdi pişirme işlemine başlayabiliriz. Tavanızı ısıtmak için ocağa koyun ve ısınınca 3-4 çorba kaşığı zeytinyağı ekleyin. Prepara Herb Savor: Kitchen & Dining. 27 Ways To Make Your Groceries Last As Long As Possible. Kitchencheatsheet.gif (GIF Image, 900×5870 pixels) Best Soup Recipes - Easy Homemade Recipes for Soup. How to Make Soup From Scratch. The best swedish meatballs. 1.3K Flares Facebook 1K Google+ 280 Pin It Share 0 4K+ Twitter 12 Email -- Email to a friend Filament.io 1.3K Flares × This recipe for Swedish meatballs is actually pretty easy, and they are incredible!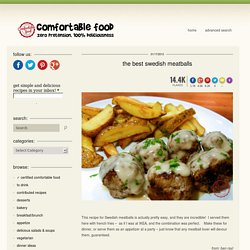 I served them here with french fries - as if I was at IKEA, and the combination was perfect. Make these for dinner, or serve them as an appetizer at a party – just know that any meatball lover will devour them, guaranteed. from: ben rayl.
Canning diced tomatoes recipe. Recipe: diced tomatoes (canning) More tomatoes?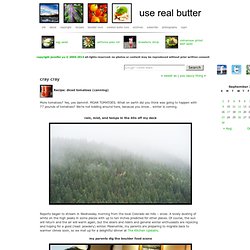 Yes, yes dammit. MOAR TOMATOES. What on earth did you think was going to happen with 77 pounds of tomatoes? We're not kidding around here, because you know… winter is coming. Hamur işleri. Patates :) Tavuk. Basic Meals—Just Add Water. A simple zucchini soup.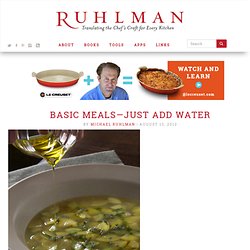 Photo by Donna Turner Ruhlman. Last week I wrote about our first meal in Italy with the Motturas—the fineness of the meal and the pleasures of sitting down to many courses. But many courses didn't mean many elaborate courses but rather food of the simplest order. The first course was composed of nothing more than day-old bread and a few garden vegetables, seasoned with vinegar and oil. Ev Cini: Yumurta Nasıl Pişirilir? Pazar sabahı, keyifle kahvaltı etmek için masaya oturdunuz.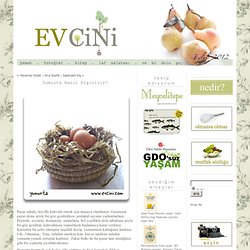 Gazetenin pazar ekine şöyle bir göz gezdirirken, portakal suyunu yudumladınız. Peynirle, zeytinle, domatesle, salatalıkla, bol yeşillikle dolu tabaklara şöyle bir göz gezdirip, kahvaltınıza yumurtayla başlamaya karar verdiniz. PurpleFoodie.com Food Blog - Recipes and Food Photography. Oven-Roasted Tomatoes. Someone around here jumped the gun here on early harvested tomatoes and I came home the other day and found a bowl of les tomates Campari in a little paper sack, in the kitchen.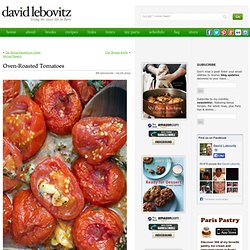 Since they weren't as nice and softened as a full-on ripe tomato should be, instead of eating them on their own, I oven-roasted them, which is a great way to coax out flavor from less-than-pristine tomatoes. This is the perfect technique for both concentrating flavor and preserving tomatoes, something I also do at the end of the season. Then I freeze them in portions to use for a quick pasta or lasagna sauce in the fall and winter.
Recipes. Allrecipes.com - recipes, menus, meal ideas, food, and cooking tips. Foodbuzz - Foodbuzz. Most gawked all-time. Roasted Red Peppers. Roasted red peppers have to be one of my favorite foods and right now the farmers market is filled with perfectly field ripened red peppers that are just waiting to be roasted.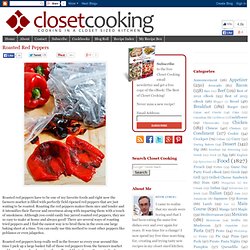 Roasting the red peppers makes them nice and tender and it intensifies their flavour and sweetness along with imparting them with a touch of smokiness. Although you could easily buy jarred roasted red peppers, they are so easy to make at home and always good! There are several ways of roasting tried peppers and I find the easiest way is to broil them in the oven one large baking sheet at a time. You can easily use this method to roast other peppers like poblanos or even jalapeños. 20 brilliant things to make in a jar. Via: mycakies.blogspot.com Start saving your old jam jars!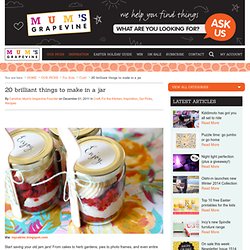 From cakes to herb gardens, pies to photo frames, and even entire meals … here are 20 fantastic things you never knew you could make with a jar. (Above: red velvet cupcakes in a jar. Get the recipe here). Regrowing Green Onions In Your Kitchen. Green onions are one of my favorite ingredients to add to many kinds of recipes, but I find it frustrating to have fresh onions when I need them, but not waste half of the package.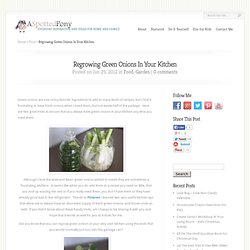 Here are two great tricks to ensure that you always have green onions in your kitchen any time you need them. Although I love the taste and flavor green onions added to meals they are sometimes a frustrating addition. It seems like when you do add them to a recipe you need so little, that you end up wasting the rest or if you really need them, you don't have them or they have already gone bad in the refrigerator. Thanks to Pinterest I learned two very useful kitchen tips that allow me to always have an abundant supply of fresh green onions, and frozen ones as well.
If you didn't know about these handy tricks, am I happy to be sharing it with you and hope that it works as well for you as it does for me. Tarragon Corn Chowder Recipe. This recipe uses whole corn-on-the-cob.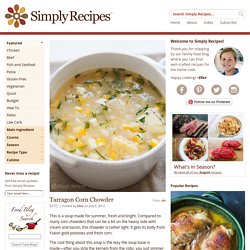 The cobs are used to make a richly corn flavored broth. You can make the chowder with with frozen corn, if you want. If you use frozen corn, you'll skip the cooking of the corn, as frozen corn is already cooked, and you'll need to add some sort of stock, either vegetable stock or chicken stock. If you want to skip the wine, you can, though if you do you may want to squeeze a little lemon juice into the soup to help balance the sweetness from the corn. Spinach cheese empanadas recipe. Recipe: spinach cheese empanadas A lot of our time seems to revolve around friends and food of late. I guess that's no surprise, but it hops onto an accelerated pace in summer when the weather is nice and we don't have to worry about insane winds scaring our dinner guests off or snow and ice closing the canyon.
Spanish Potato Omelet Recipe. Golden-Brown Omelet.
Baking Ingredients and Substitutions. Because the question comes up from time to time, I thought I'd answer some questions about making substitutions in my recipes, and swapping out or deleting ingredients. The short answer is: Ingredients are added to recipes for a specific purpose and there is a reason that they are there. When you substitute or swap out ingredients, results will vary and won't be the same as mine. Some may work, and others won't. Closet Cooking. ÖLÇÜLER : Cafe Fernando – Yemek Tarifleri. Tarif ölçüleri kafanızı mı karıştırıyor? 1 su bardağı un kaç gramdır? Ya da bir su bardağı şeker? Apple vs. peach.
---