Architecture
Screen/Print #11: OASE's "Building Atmosphere" 7 days 2 "Building Tomorrow" Exhibit 5 mins The Architectural League NY - First Friday... 10 mins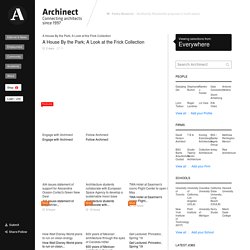 Archinect | Connecting Architects Since 1997
2014 RIBA Research Trust Awards Brandimage Creates New Cards for Europcar Privilege ProgramEuropcar is extending its loyalty program to include new advantages and is launching a new "Elite VIP" category to reward its most loyal customers. Earthquakes: How Well Are We PreparedThe Center for Architecture will host a panel discussion, titled, "Earthquakes How well are we prepared," on March 24. Michael Graves: A Case for Humanistic Solutions in Healthcare DesignThe New York School of Interior Design will host Michael Graves on March 26. Graves will speak about the foundation of his design philosophy and how a personal healthcare tragedy focused his attention on improving healthcare experiences by design.
Dexigner
MoCo Loco - Modern contemporary design & architecture
Artinfo | The Premier Global Online Destination for Art and Culture
Dwell – At Home in the Modern World: Modern Design & Architecture
What would your city look like if it went completely dark? Words like majestic, awe-inspiring and magical come to mind - not as descriptions for the cities themselves, but how some of their most iconic architecture would look as black silhouettes against the bright starry skies of remote places. Artist Thierry Cohen gives us an idea of just who amazing these visuals would be in his series, 'Darkened Cities.'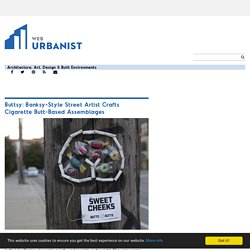 WebUrbanist | From Urban Art & 3D Graffiti to Abandoned Cities
Architecture Design for Architects
swissmiss
A big thank you to Edward Tufte for sponsoring this week's RSS Feed. EDWARD TUFTE, PRESENTING DATA AND INFORMATIONChicago, April 14, 15 San Jose, May 5 San Francisco, May 7, 8, 9 Bethesda, June 3 Arlington, June 5, 6 Seattle, Portland, Denver, August EDWARD TUFTE, THE THINKING EYE Lecture at University of Illinois, Urbana/Champaign, Foellinger Auditorium, April 10, 7pm EDWARD TUFTE, THE COGNITIVE ART OF FEYNMAN DIAGRAMS Art exhibit at Fermilab Art Gallery, Fermi National Accelerator Laboratory, Batavia, IL, April 15 – June 26
CONTEMPORIST
Architonic | architecture and design
Empowering Architecture: architects, buildings, interior design, materials, jobs, competitions, design schools
East Hampton Beach House Renovation by Utopus Studio A full restoration and renovation of an existing summer vacation home in East Hampton, the main requirements called for the restoration of the existing shell throughout the façade. As well as new mezzanine railing, millwork, carpeting, lighting, hardware and finishes in the interior.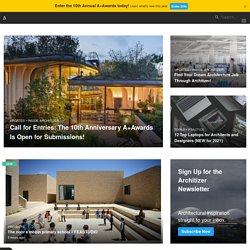 MAKE: technology on your time
NOTCOT.ORG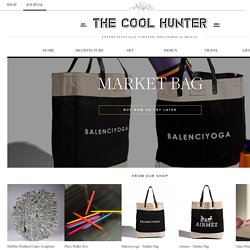 Welcome
More than 400 invited guests attended the opening event of The Art Hunter in Sydney on Tuesday night. The Art Hunter launch is a collaboration between The Cool Hunter and Jaguar, and the opening night was also the Australian debut of the spectacular Jaguar C-X17 concept car. To present The Art Hunter, we engaged our dream team of collaborators, led by the incomparable Natalie Longeon and Peter Pengly from The Artistry (they designed and executed our Summer Lovers Rotate store as well), to transform a 500 m2 warehouse in Alexandria into a genuinely exciting, temporary three-week art exhibition experience. The Art Hunter is not a white-walled space where you quietly walk past pieces of art. Instead, it is an eclectic and vibrant environment where every wall is a different color (by our paint sponsor Taubmans), where there is no natural light and where the work of more than 40 artists, curated by us, is not only on display but also for sale.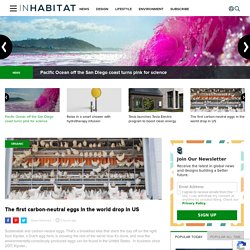 Children in school today spend less time outdoors than ever before, and face increasing rates of obesity, asthma and allergies, ADHD, and other mental and behavioral health problems. At the same time, our civilization is facing catastrophic climate change, which we as a society are totally unequipped to deal with. So how can we improve our children's health and well-being while also teaching them environmental literacy so that they are able to respond to looming ecological problems? How can classrooms be made less toxic and more environmentally friendly? How can school food be made healthier? With these topics in mind, Inhabitat is hosting a panel discussion at the upcoming NYC Green Festival to tackle the challenges faced by parents today when trying to choose the best education for their kids.
Inhabitat - Sustainable Design Innovation, Eco Architecture, Green Building
Tue, 04/10/2012
Dezeen architecture and design magazine
YAMoPo 2012: Yet Another most Popular Architecture Sites Ranking - Designitecture
TreeHugger
ArchDaily | Broadcasting Architecture Worldwide
This article by Marc Kristal from Metropolis Magazine, originally titled "Digital Details," looks at the work of NRI, a New York company that is leading the way when it comes to 3D Printing (or rather, additive manufacturing) – finding that there is a craft in these machine-produced models after all. First things first: The term "3-D printing" is a misnomer according to Arthur Young-Spivey, the digital fabrication specialist at NRI—a 116-year-old, New York–headquartered supplier of reprographic services to architects and their tradespeople. "The correct term is 'additive manufacturing,'" he explains. "People call it 3-D printing because it enables you to wrap your head around it, but in some ways it's confusing." Young-Spivey has a point, as the process by which a digital file is converted into an object isn't "printing" in the commonly understood sense of applying pigment on a substrate.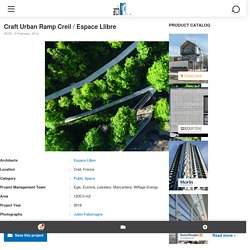 apr 04, 2014 WATCH: naoto fukasawa elaborates on the company's attention to craftsmanship, and his own approach to » 0 shares last week designboom attended the inaugural mextropoli architecture festival in mexico city. the balloon-powered internet system will begin its 2nd lap, where it will traverse over the pacific ocean »
since 1999 home of design culture, leading independent publication for design, architecture, art, photography and graphics