Reports Framework
5 Minute Overview of Pentaho Business Analytics
Mondrian - Interactive Statistical Data Visualization in JAVA
MESI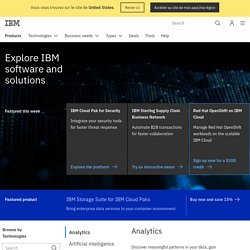 Try out the newest version of IBM Many Eyes! New site design and layout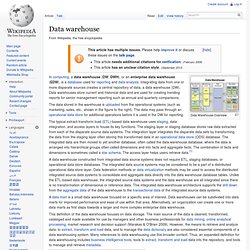 Data Warehouse Overview
Entity–attribute–value model (EAV) is a data model to describe entities where the number of attributes (properties, parameters) that can be used to describe them is potentially vast, but the number that will actually apply to a given entity is relatively modest. In mathematics, this model is known as a sparse matrix. EAV is also known as object–attribute–value model, vertical database model and open schema.
Entity–attribute–value model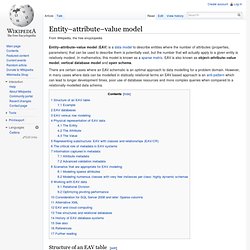 OpenReports
JasperReports
It can be used in Java-enabled applications, including Java EE or web applications, to generate dynamic content. It reads its instructions from an XML or .jasper file. JasperReports is part of the Lisog open source stack initiative.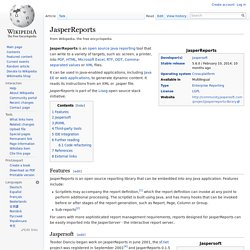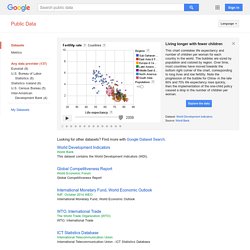 Who enjoys the fastest internet?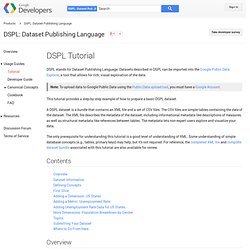 DSPL stands for Dataset Publishing Language.
DSPL Tutorial - DSPL: Dataset Publishing Language - Google Code
Recombinant Data Corp. - Healthcare Data Warehousing
03. Hello World Example - Pentaho Wiki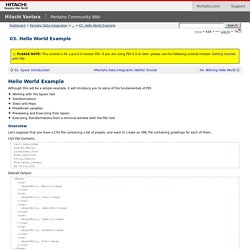 Although this will be a simple example, it will introduce you to some of the fundamentals of PDI:
Loop over fields in a MySQL table to generate csv files
Email When doing ETL work every now and then the exact SQL query you want to execute depends on some input parameters determined at runtime.
Dynamic SQL Queries in PDI a.k.a. Kettle | Adventures with Open Source BI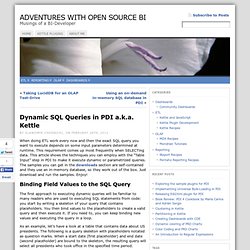 Slowly changing dimension
For example, you may have a dimension in your database that tracks the sales records of your company's salespeople. Creating sales reports seems simple enough, until a salesperson is transferred from one regional office to another. How do you record such a change in your sales dimension?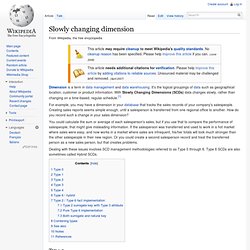 Power Your Decisions With SAP Crystal Solutions
OpenMRS: ETL/Data Warehouse/Reporting
ETL Process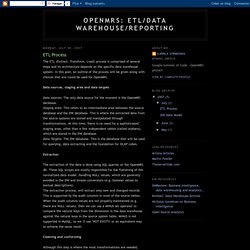 The ETL (Extract, Transform, Load) process is comprised of several steps and its architecture depends on the specific data warehouse system. In this post, an outline of the process will be given along with choices that are/could be used for OpenMRS.
Why would we want to build a data warehouse system?
Another approach for reporting: A Data Warehouse System
DW Data Model
This post is going to describe the data model for the OpenMRS data warehouse. It will be edited frequently to add documentation for the model and to modify it. Star Schemas
You can create three different types of reports: a Period Indicator Report, a Row-Per-Patient Report, or a Custom Report (Advanced). All reports contain a Report Definition which is linked to one or more DataSet Definitions. In the first two options, the link between the Report Definition and the appropriate DataSet Definition is set automatically.
Building Reports (Step By Step Guide) - Documentation - OpenMRS Wiki
openmrs-reporting-etl-olap - A data warehouse system for OpenMRS, based on other open source projects.
Pentaho and OpenMRS Integration
We have a great opportunity to explore how Pentaho can provide ETL, analytics, and reporting benefits to OpenMRS, an open source medical records platform and community interested in global health care.
Pentaho ETL and Designs for Dimensional Modeling (Design Page, R&D) - Projects - OpenMRS Wiki
Abstract OpenMRS has few tools in place allowing for easier analysis of concept, patient, location, encounter or visit data in an aggregated, dimensional manner.
Cohort Queries as a Pentaho Reporting Data Source - Projects - OpenMRS Wiki
Concept Dictionary Creation and Maintenance Under Resource Constraints: Lessons from the AMPATH Medical Record System
Welcome to Apelon DTS
OpenMRS
Advanced Concept Management at OpenMRS
OpenMRS Database Schema
Main Page - MaternalConceptLab