Geocaching
Get flash to fully experience Pearltrees
Contents - Index Special Tags You can use special tags in waypoint names, descriptions, custom URLs, and custom Programs.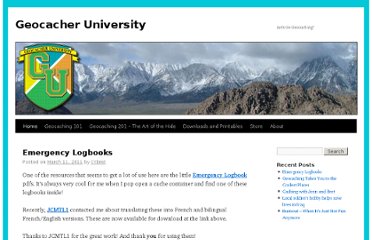 Emergency Logbooks One of the resources that seems to get a lot of use here are the little Emergency Logbook pdfs. It's always very cool for me when I pop open a cache container and find one of these logbooks inside! Recently, JCMTL1 contacted me about translating these into French and bilingual French/English versions.
Download FREE geocaching log sheets for use in a variety of containers – bison tubes (capsule tubes), film canisters, magnetic key holders, and whatever else you can fit them into. Log sheets are available with and without FTF blocks and are available with both color and black Geocaching.com logos. Please do not host these geocache log sheets on another site or link directly to them. All of the geocache log sheets are in PDF format.