Leadership, Management, Influence
MIT Sloan Faculty - John Sterman - Home. 101 of the Greatest Insights and Actions for Work and Life. "To succeed in life, you need three things: a wishbone, a backbone and a funny bone." — Reba McEntire This is a 101 list of some of the best insights and actions for work and life.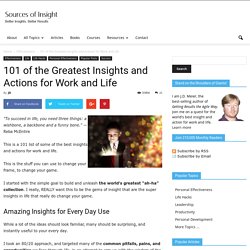 This is the stuff you can use to change your frame, to change your game. I started with the simple goal to build and unleash the world's greatest "ah-ha" collection. I really, REALLY want this to be the gems of insight that are the super insights in life that really do change your game. While a lot of the ideas should look familiar, many should be surprising, and instantly useful to your every day. Marcusaurelius picture on VisualizeUs.
Tumblr_lviaemh2ET1r2n011o1_500.jpg (JPEG Image, 474 × 700 pixels) The Real Leadership Lessons of Steve Jobs. His saga is the entrepreneurial creation myth writ large: Steve Jobs cofounded Apple in his parents' garage in 1976, was ousted in 1985, returned to rescue it from near bankruptcy in 1997, and by the time he died, in October 2011, had built it into the world's most valuable company.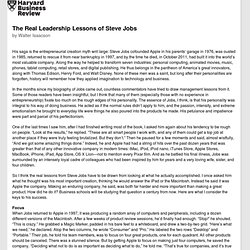 Along the way he helped to transform seven industries: personal computing, animated movies, music, phones, tablet computing, retail stores, and digital publishing. He thus belongs in the pantheon of America's great innovators, along with Thomas Edison, Henry Ford, and Walt Disney. None of these men was a saint, but long after their personalities are forgotten, history will remember how they applied imagination to technology and business.
"The people who are crazy enough to think they can change the world are the ones who do." —Apple's "Think Different" commercial, 1997.
Lean Production
Changing minds and persuasion -- How we change what others think, believe, feel and do. Top 150 Management & Leadership Blogs. Top 150 Management & Leadership Blogs I thought it was time for a new top list on this blog.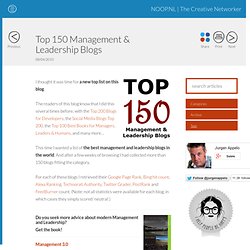 The readers of this blog know that I did this several times before, with the Top 200 Blogs for Developers, the Social Media Blogs Top 200, the Top 100 Best Books for Managers, Leaders & Humans, and many more… This time I wanted a list of the best management and leadership blogs in the world. And after a few weeks of browsing I had collected more than 150 blogs fitting the category.
Business Pundit: Your daily dose of smart business opinion. How to Win Friends and Influence People by Dale Carnegie. Yes! 50 Scientifically Proven Ways to Be Persuasive « alex.moskalyuk. Noah Goldstein's, Steve Martin's (no, not that Steve Martin's) and Robert Cialdini's Yes!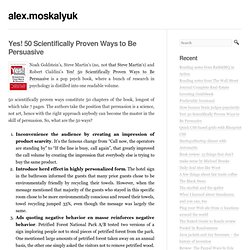 50 Scientifically Proven Ways to Be Persuasive is a pop psych book, where a bunch of research in psychology is distilled into one readable volume. 50 scientifically proven ways constitute 50 chapters of the book, longest of which take 7 pages. The authors take the position that persuasion is a science, not art, hence with the right approach anybody can become the master in the skill of persuasion.
---