Leadership, Management, Influence
MIT Sloan Faculty - John Sterman - Home
101 of the Greatest Insights and Actions for Work and Life
"To succeed in life, you need three things: a wishbone, a backbone and a funny bone." — Reba McEntire This is a 101 list of some of the best insights and actions for work and life.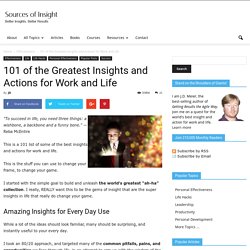 The Real Leadership Lessons of Steve Jobs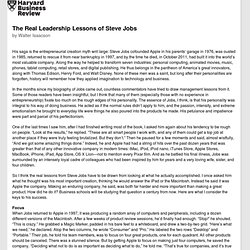 His saga is the entrepreneurial creation myth writ large: Steve Jobs cofounded Apple in his parents' garage in 1976, was ousted in 1985, returned to rescue it from near bankruptcy in 1997, and by the time he died, in October 2011, had built it into the world's most valuable company. Along the way he helped to transform seven industries: personal computing, animated movies, music, phones, tablet computing, retail stores, and digital publishing.
Business Pundit: Your daily dose of smart business opinion
Noah Goldstein's, Steve Martin's (no, not that Steve Martin's) and Robert Cialdini's Yes! 50 Scientifically Proven Ways to Be Persuasive is a pop psych book, where a bunch of research in psychology is distilled into one readable volume. 50 scientifically proven ways constitute 50 chapters of the book, longest of which take 7 pages. The authors take the position that persuasion is a science, not art, hence with the right approach anybody can become the master in the skill of persuasion.