Usability
9 Common Usability Mistakes In Web Design | How-To | Smashing Ma. Advertisement By now, all good designers and developers realize the importance of usability for their work.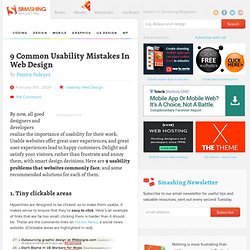 Usable websites offer great user experiences, and great user experiences lead to happy customers. Delight and satisfy your visitors, rather than frustrate and annoy them, with smart design decisions. Userfly — Web usability testing made easy. Adaptive path » product experience strategy and design. User Interface Engineering - Usability Research, Training, and Events - UIE.
EverydayUX — Information Architects. Wireframes Magazine. I ♥ wireframes - The ultimate source of inspiration and collection of resources for wireframes. UXmatters :: Insights and inspiration for the user experience community. UX Magazine | Defining and Informing the Complex Field of User Experience (UX)
Boxes and Arrows: The design behind the design. Alertbox: Jakob Nielsen's Newsletter on Web Usability. January 4, 2012 What is usability?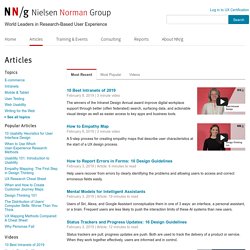 How, when, and where to improve it? Why should you care?
Wireframe. App-design. Example of eye-tracking on Universal Search. UserVoice - Customer Feedback 2.0 - Harness the ideas of your cu.
---