Entrepeunariat
The 3 Revolutions (Agile, Lean, Lean Startup)
What's the secret to staying fresh, lean and mean when you're a hot tech company on a fast growth trajectory? A fascinating document brought to our attention today today by Andrew Mager, hacker advocate at Spotify, answers that question in some detail by telling us how the music streaming juggernaut does it: by dividing up its business into small clusters — which it calls 'squads' — and running each like a startup in its own right.
Here's How Spotify Scales Up And Stays Agile: It Runs 'Squads' Like Lean Startups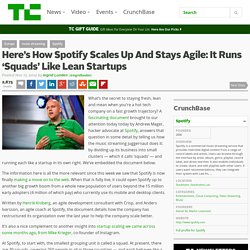 lifehacker
Welcome To The Unicorn Club: Learning From Billion-Dollar Startups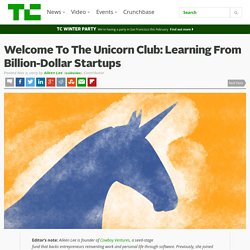 Editor's note: Aileen Lee is founder of Cowboy Ventures, a seed-stage fund that backs entrepreneurs reinventing work and personal life through software. Previously, she joined Kleiner Perkins Caufield & Byers in 1999 and was also founding CEO of digital media company RMG Networks, backed by KPCB.
Want to Work for a Startup? Start Something First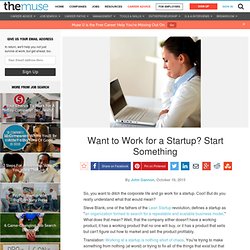 So, you want to ditch the corporate life and go work for a startup. Cool!
Potluck's feed was inspired by what it's like to walk through a party, looking for conversations to hop into. You're looking for several things: a lively conversation with an interesting topic; and a group that has at least a few friends, but also a chance to meet new people. These became the pieces of information that we emphasized in the feed.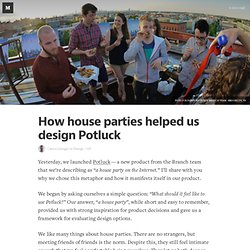 How house parties helped us design Potluck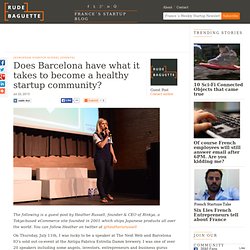 Does Barcelona have what it takes to become a healthy startup community?
The following is a guest post by Heather Russell, founder & CEO of Rinkya, a Tokyo-based eCommerce site founded in 2001 which ships Japanese products all over the world. You can follow Heather on twitter at @heatherarussell
La face cachée de la Silicon Valley
Son billet retour pour la France est programmé pour début août.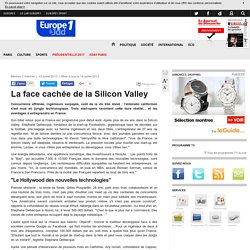 Tout a commencé il y a 7 ans, d'une humeur fort incompatible avec ma hiérarchie et d'un tempérament plutôt entrepreneur je décida un peu par force de me lancer dans l'aventure avec un ancien collègue de travail. Pour resituer le contexte nous sommes en 2003, je bosse pour une boite spécialisée dans l'affiliation sur internet.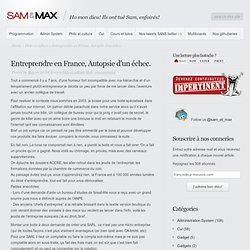 Entreprendre en France, Autopsie d'un échec.
Vie et mort d'une start-up : entretien avec Tristan Nicolas de Ben & Fakto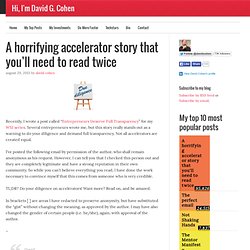 A horrifying accelerator story that you'll need to read twice
Recently, I wrote a post called "Entrepreneurs Deserve Full Transparency" for my WSJ series.
Education Week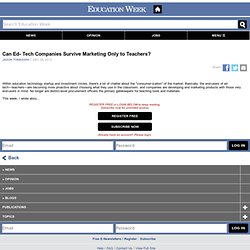 Within education technology startup and investment circles, there's a lot of chatter about the "consumer-ization" of the market.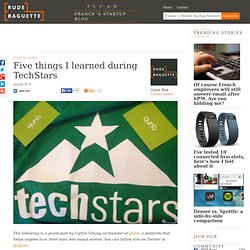 Five things I learned during TechStars
The following is a guest post by Cyrille Vincey, co-founder of Qunb, a platform that helps anyone turn their data into visual stories. You can follow him on Twitter at @cyrvin.
Marcelo Fujimoto • A Brazilian startup's shutdown: Here are our actual data, financials and some tips so that your startup can benefit from what we learned
Berlin Startup Girl in Paris
Berlin Startup Girl In Paris: Less Hype, More Wine
I Don't Want to Meet Your Company at Demo Day
As a new seed fund you might imagine Homebrew hustles to incubator demo days, taking notes and then chasing down founders to make an in-person connection.
Silicon Sentier, which in many ways was a key spark in the evolution of France's tech ecosystem, is moving into a new, bold phase. With a huge new space to housing all its activities and Squid Solutions founder Adrien Schmidt at the helm as their new president, Silicon Sentier is looking to broaden its impact on France's rapidly growing digital economy. I recently caught up with Schmidt, who discussed in detail his association's origins, how it has evolved overtime and their ambitious future plans:
Silicon Sentier's future: bigger space, bigger vision. An interview with Adrien Schmidt.
Why Your Startup Can't Find Developers ⚙ Co
In its first year of business, Hired organized thousands of developer interviews for companies trying to fill spots. It quickly became clear why some companies couldn't hire.
Why CTOs shouldn't write code at work
Two Models of Success for European Startups
In the 18th century, the French philosophers invented l'esprit critique.
Lima's $1.2M KickStarter joins the Top 10 most funded campaigns. What's next?
Infographic: why everyone will become an entrepreneur
57 startup lessons
The Ups & Downs: How Startup Life is Like a Rollercoaster
La start-up ForgetBox récolte plus de 600 000$ sur Kickstarter
What Was The Most Valuable Experience You Gained From Y Combinator?
Ten things about being a founder I wish I knew two years ago.
Do Things that Don't Scale
How the Productivity Myth is Killing Your Startup — about work
Jonathan Benassaya :«Aux Etats-Unis, un bon patron est celui qui s'entoure de personnes meilleures que lui. Il est reconnu à la qualité des gens qui travaillent avec lui»
Daniel Marhely | TR35 France
Rude VC: The misplaced pride of no marketing
Vimeo Founder Says Never Sell Your Company. Really?
STARTUP BEGINS - On a été pitché par Elaia Partners ! (open office)
The strange story of etherpad
Leaving my startup to join Dropbox by Pranav's blog
Inside Pocket: how a startup beat its rivals to build the 'DVR for everything'
The Danger of Pitching VCs Too Early
The Danger of Pitching VCs Too Early
Founder Showcase - Phil Libin Keynote on Vimeo
An App Store Experiment
Dans la tête d'un entrepreneur: quand génie rime avec hypomanie
Joe Gebbia of Airbnb (YC W09) interviewed at LeWeb London 2013: "From nothing, you can start something" - Y Combinator Posthaven
OPINION: How to Succeed in Education Technology
.@twadhwa: Approach Life Like an Entrepreneur - The Accelerators
Why VCs and Foreign Founders Want the 'Entrepreneur Visa' - Venture Capital Dispatch
Strikingly, BuildZoom and Bitnami Lead Hottest Y Combinator Winter 2013 Startups
2X Entrepreneur Turned Venture Capitalist | Both Sides of The Table
Considering Convertible Debt? Don't Sell Yourself Short
Coming to America: the 5 Best Visa Options for Startup Entrepreneurs
JDN : Web & Tech, Media, Management, Business, Patrimoine, Vidéos, Premium et Emploi
Cruise Ships | Chris Zacharias
Startup Metrics for Pirates
Silicon Valley 2.0: Lots of Little Bets
Moved Temporarily
[Blogger Bus Tour] Les incubateurs de la Silicon Valley, entre coaching, mécénat et big business
5 minutes inside #5: Leeaarn
Technique - J'ai participé au hackathon "MakeSense" (2/2)
Portraits de technomades : Tommy, entre Asie, Amsterdam et Paris
Le nouveau Myspace arrive !
Présentation - J'ai participé au hackathon "MakeSense" (1/2)
EmoSon - agence spécialisée en identité sonore
Comment savoir si un développeur est bon quand on y connait rien ?
French Revolutionary - Forbes.com