Health & Self Monitoring
Personality100: PhD-certified Personality Test
Pantheon, a project from the Macro Connections group at The MIT Media Lab, explores cultural influences across countries and domains. To make our efforts tractable, Pantheon will not focus on culture, as it is understood in its broadest sense, but on cultural production. In a broad sense, culture can be understood as all of the information that humans—or animals [1]—generate and transmit through non-genetic means [2]. At Pantheon, however, we do not focus on the entire range of cultural information, but in a subset of this information that we define narrowly as cultural production. That is, we do not focus on cultural information such as passed on family values or societal trust [3], but on cultural production as proxied by the biographies of notable historical characters.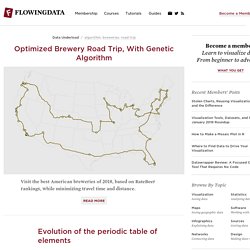 "How do you feel right now?" Such a short question can lead us toward profound insights into our lives. But how do we ask ourselves that question?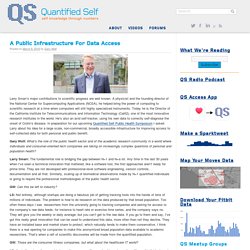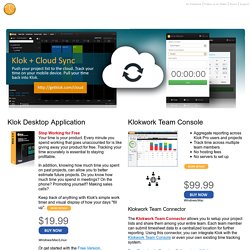 Aggregate reporting across Klok Pro users and projects Track time across multiple team members No hosting fees No servers to set up Windows/Mac Klokwork Team Connector The Klokwork Team Connector allows you to setup your project lists and share them among your entire team. Each team member can submit timesheet data to a centralized location for further reporting. Using this connector, you can integrate Klok with the Klokwork Team Console or even your own existing time tracking system.
makes time tracking and time management as easy as it gets!
"CureTogether seriously changed my life." — Christopher "I just wish doctors got this information and applied it..." — Amanda "I thought I was the only one with these kinds of symptoms." — Faren "Your website is helpful beyond words...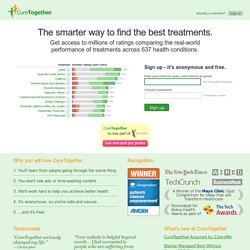 TallyZoo > Home Page
Votre Fitbit One continue d'analyser vos performances, même lorsque l'écran est en veille. Appuyez sur le bouton pour afficher vos statistiques. Votre fleur s'agrandira ou se rétrécira en fonction de votre niveau d'activité. Le nombre de calories dépensées inclut les calories brûlées au repos et pendant vos activités. Les statistiques de vos activités qui sont affichées sur votre appareil sont réinitialisées à minuit.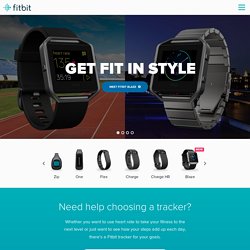 Home- PHILIPS DirectLife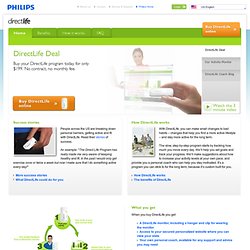 With DirectLife, you can make small changes to bad habits – changes that help you find a more active lifestyle – and stay more active for the long term. The slow, step-by-step program starts by tracking how much you move every day. We'll help you set goals and track your progress.
Start - Silva