Lists/Resources
How To Completely #Unplug Your Morning Routine. "Just as noise is meaningless without quiet," Fabrica CEO Dan Hill once observed, "connectivity becomes meaningless when pervasive, when it is without a few 'sanctuary spaces' as contrast.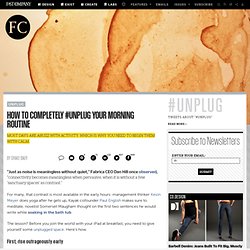 " For many, that contrast is most available in the early hours: management thinker Kevin Meyer does yoga after he gets up, Kayak cofounder Paul English makes sure to meditate, novelist Somerset Maugham thought on the first two sentences he would write while soaking in the bath tub. The lesson? Before you join the world with your iPad at breakfast, you need to give yourself some unplugged space. Here's how. 10 Questions To Ask Before You Sign A Lease. There are a lot of moves happening this month at Apartment Therapy, Beth shared her tips for mapping out a new home and how to prep for the movers so we'd like to share some tips that came in handy for our own move on what to ask the landlords before signing the lease:1.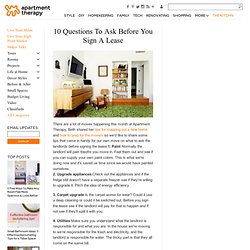 Paint Normally the landlord will pain tbeofre you move in. Feel them out and see if you can supply your own paint colors. 11 Things You Should Never Put On Your Resume. A new batch of December graduates is getting ready to fly the coop in search for a job and we hope they've already heard the bad news: There are a lot of unemployed people out there.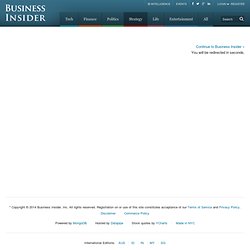 If the market far exceeds demand, how do you make sure you get past the resume screening process into the interviewing round? By making sure your resume is flawless. "Somewhere between 95 to 99% of resumes have stuff that shouldn't be on there," Eli Amdur, senior coach and adviser from the Amdur Coaching and Advisory Group, told us. "The general rule is if you put anything on there that distracts the reader from your real accomplishments, then don't do it. Market Intelligence in the Consumer & Retail Sector Has the Potential to Help Companies Weather Economic Hard Times. December 6, 2011.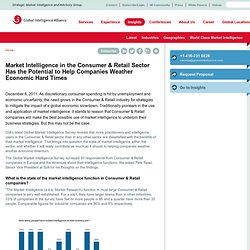 As discretionary consumer spending is hit by unemployment and economic uncertainty, the need grows in the Consumer & Retail industry for strategies to mitigate the impact of a global economic slowdown. Traditionally pioneers in the use and application of market intelligence, it stands to reason that Consumer & Retail companies will make the best possible use of market intelligence to underpin their business strategies. But this may not be the case. GIA's latest Global Market Intelligence Survey reveals that more practitioners and intelligence users in the Consumer & Retail sector than in any other sector are dissatisfied with the benefits of their market intelligence.
How to Get More Out of Limited Market Intelligence Budgets. December 12, 2011.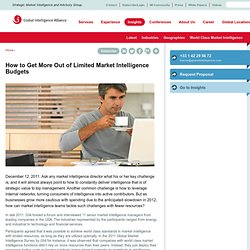 Ask any market intelligence director what his or her key challenge is, and it will almost always point to how to constantly deliver intelligence that is of strategic value to top management. Another common challenge is how to leverage internal networks; turning consumers of intelligence into active contributors. How to Get Involved | Alumni Association | Pepperdine University. 10 Ways Universities Are Engaging Alumni Using Social Media. Vadim Lavrusik is a new media student at the Columbia University Graduate School of Journalism.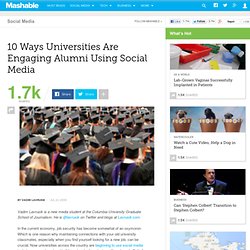 He is @lavrusik on Twitter and blogs at Lavrusik.com. In the current economy, job security has become somewhat of an oxymoron. Which is one reason why maintaining connections with your old university classmates, especially when you find yourself looking for a new job, can be crucial. Now universities across the country are beginning to use social media tools to engage alumni and build a network of graduates with a shared affinity for the institution. Top 10 Facebook Apps for Fan Engagement and Building Community. Are you looking for ways to better engage Facebook fans and build your community?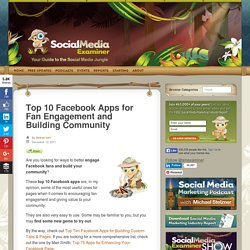 These top 10 Facebook apps are, in my opinion, some of the most useful ones for pages when it comes to encouraging fan engagement and giving value to your community. They are also very easy to use. 21 Tactics to Increase Blog Traffic (Updated 2012) It's easy to build a blog, but hard to build a successful blog with significant traffic.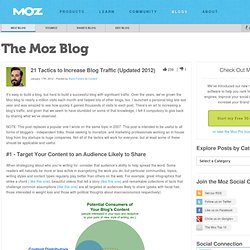 Over the years, we've grown the Moz blog to nearly a million visits each month and helped lots of other blogs, too. I launched a personal blog late last year and was amazed to see how quickly it gained thousands of visits to each post. There's an art to increasing a blog's traffic, and given that we seem to have stumbled on some of that knowledge, I felt it compulsory to give back by sharing what we've observed.
NOTE: This post replaces a popular one I wrote on the same topic in 2007. 20 Jaw-Dropping WordPress Photography Themes. The 20 Most Beautiful Bookstores in the World. [Editor's note: In celebration of the holidays, we're counting down the top 12 Flavorwire features of 2012.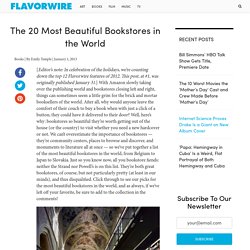 This post, at #1, was originally published January 31.] With Amazon slowly taking over the publishing world and bookstores closing left and right, things can sometimes seem a little grim for the brick and mortar booksellers of the world. After all, why would anyone leave the comfort of their couch to buy a book when with just a click of a button, they could have it delivered to their door?
---