Natur
Earth from Above a collection of aerial photography. "Earth From Above" is the result of the aerial photographer Yann Arthus-Bertrand's five-year airborne odyssey across six continents.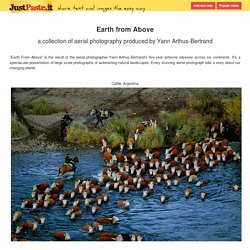 It's a spectacular presentation of large scale photographs of astonishing natural landscapes. Every stunning aerial photograph tells a story about our changing planet. Coal mine in South Africa. 22 Incredible Photos of Faraway Places. Thailand Chances are you already know Steve McCurry as the man who took one of the most iconic photos of our time.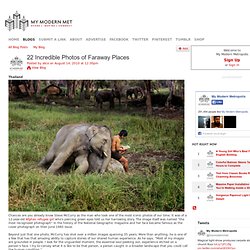 It was of a 12-year-old Afghan refugee girl who's piercing green eyes told us her harrowing story. The image itself was named "the most recognized photograph" in the history of the National Geographic magazine and her face became famous as the cover photograph on their June 1985 issue. Beyond just that one photo, McCurry has shot over a million images spanning 35 years. More than anything, he is one of a few that has that amazing ability to capture stories of our shared human experience. Kenneth Parker Photography.
---