Knitting
Get flash to fully experience Pearltrees
Click to zoom BLUE TIT (Bird) Materials: (A) white yarn (B) blue yarn (C) black yarn (D) olive yarn (E) yellow yarn 4 double-pointed needles batting (fiber-fill) 2 black beads soft jewelry-making wire small pliers (optional)
Techniken, Anleitungen und Nützliches Deutsch tichiro.net Dieser private Blog von Martina Hees bietet viele sehr interessante Informationen rund ums Stricken , die oft sonst kaum zu bekommen sind. www.garnstudio.com Die Homepage des Garnherstellers "Drops" bietet viele kostenlose Anleitungen und eine sehr umfangreiche Übersetzungsliste , die auch Sprachen wie zum Beispiel Finnisch, Estnisch, Tschechisch, Dänisch, Isländisch und Italienisch umfasst. anleitungen.bestrickendes.de Hier gibt es viele, kostenlose Strickanleitungen . www.ls-liane-stitch.de Neben dem Sticken mit der Nähmaschine ist das Patchwork-Stricken nach Horst Schulz eine von Liane Schommertz' Leidenschaften.
If you're a beginning knitter, you can start with our 45 minute "How to Knit" series. This 3 part introduction to knitting walks the new knitter step-by-step through the knitting basics: Long Tail cast-on and the knit and purl stitches and basic knit bind-off and finishing your knitting.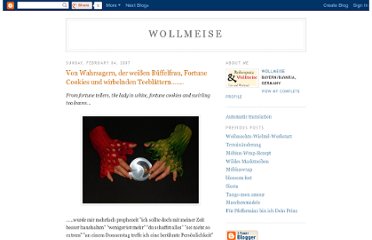 From fortune tellers, the lady in white, fortune cookies and swirling tea leaves... .....wurde mir mehrfach prophezeit "ich sollte doch mit meiner Zeit besser haushalten" "weniger ist mehr" "du schaffst alles" "sei nicht so extrem" "an einem Donnerstag treffe ich eine berühmte Persönlichkeit" "mein kleiner Zeh wackelt" "und alles wird gut". Wie das alles zusammen passen soll ist mir zwar ein Rätsel, aber ein Körnchen Wahrheit steckt überall drin und sein Naturel ändert man nur schwer. Seither trinke ich auch seltener Tee, die wirbelnden zukunftsweisenden Teeblätter machen mich nervös. .....has it been propheted to me: "I should manage my time better", "less is more", "you can make it all", "don't be too extreme", "on a Thursday, you willl meet a famous celebrity", "you've got loose ends" and "everything will be fine". How it all fits together is still quite quizzical to me, but a grain of truth is everywhere in there and it's difficult to change your nature.
An easy leaf-shaped washcloth that makes a great quick gift. A good project for the beginner knitter who's ready to move beyond the square. Make them in leafy colors, or get zany with rainbow cotton. The finished size depends on what weight of yarn you choose. finished measurements